Armenian News Network / Groong
---
THE EMPTY BOWL:
A little-known prize-winning poster from 1920 designed by Kirill Zdanevich,
future father of the Avant-Garde Russian Cubo-Futurism school of Painting
Armenian News Network / Groong
July 1, 2021
by Eugene L. Taylor and Abraham D. Krikorian
Probing the Photographic Record
LONG ISLAND, NY
---
Not being great fans of modern art, we will not pretend that we knew anything about Cubo-Futurism before we embarked on some research about the artist of a very dramatic and heart-rending poster, Kyrill Zdanevich. The poster was used by the Near East Relief (NER) to solicit funds on behalf of starving Armenian children in the Caucasus after World War I. See https://en.wikipedia.org/wiki/Cubo-Futurism.
Kirill Zdanevich (1892-1962) was Georgian by birth with a Polish father and Georgian mother. He spent time in Tiflis and became identified with Tiflis, the Georgian capital. Eventually he became considerably well-known for his activities in producing various kinds of avant-garde and neo-primitive art, and unusual and distinctive book and music covers and the like. Even so, for all his labors, one gets the idea that he was not solvent financially. He was more than likely one of the many versions of the 'starving artist' known throughout history.
His younger brother Ilya was for all intents and purposes a cohort, colleague and comrade in arms in the pursuit of futurism. In that period of the late 1918/19 and early 1920's, there was considerable movement of Russian artists to Europe. The products of these emigres came to be known as Russian art-in-exile. The Zdanevichs were among some of these and at least for a while, moved more than a few times. Marc Chagall was one of the artists from that period and is probably the best known of those migrant Russian artists who moved, but even in his case, it took time for him to become appreciated.
<![if !vml]>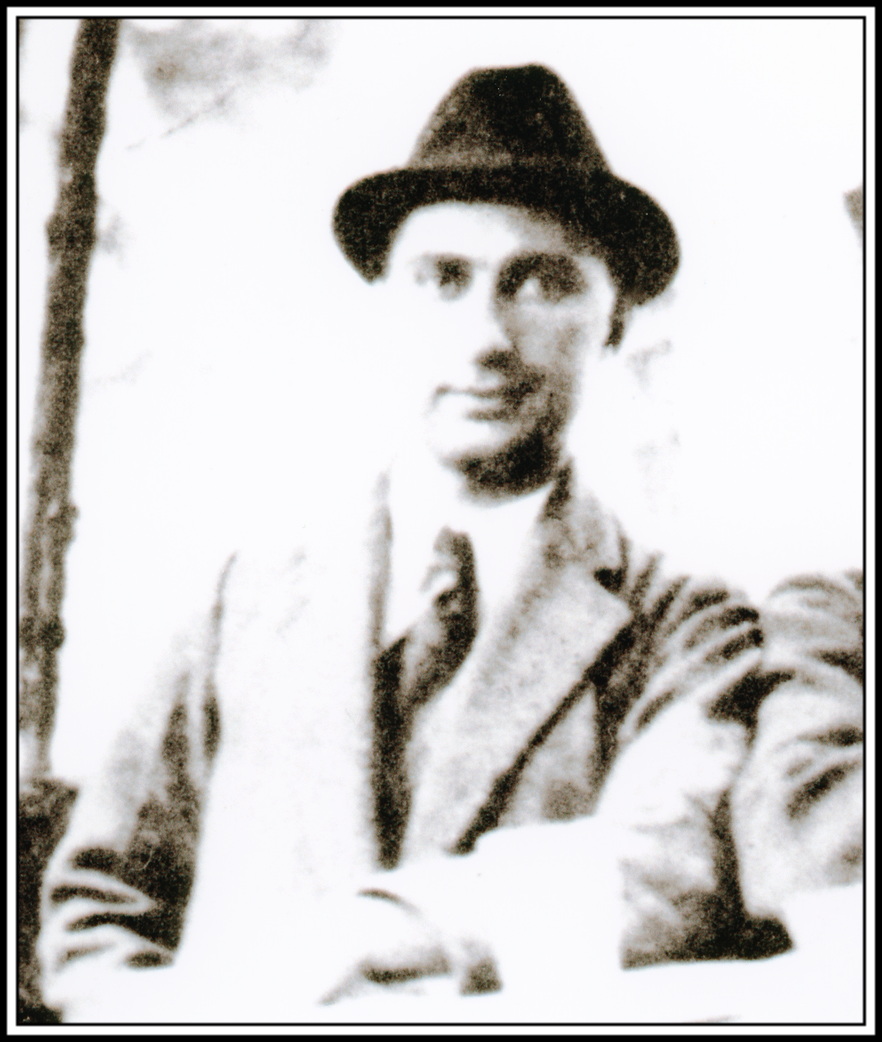 <![endif]>
Fig. 1.
Kyrill Zdanevich.
Cropped from a photograph taken with his younger brother Ilya at his side.
(See: frontispiece image in the book entitled
41° Ilya and Kyrill Zdanevich, 1991 (San Francisco: Modernism)
Readers will know that a fair amount has been written about the range of fund-raising posters used by the American Committee for Relief in the Near East (A.C.R.N.E.) and the Near East Relief (NER). In fact, we have posted several in-depth articles related to fund-raising posters on Groong. (See Appendix for some references).
Many would agree that Dicran K. Kassouny's book entitled "100 Years Strong: the Armenian Genocide in Posters 1915-2015" (2015, Burbank, CA; Kassouny Design) is the most detailed and up to date book on the subject. But Zdanevich's poster which we present in this article was not included in the book.
The story begins with the December 1921 issue of the New Near East magazine published by the Near East Relief (volume VII, no. 11.) The title page had a statement requesting interested artists to submit posters that would be judged in a competition that awarded cash for first, second and third prizes. See Figs. 2a and 2b.
<![if !vml]>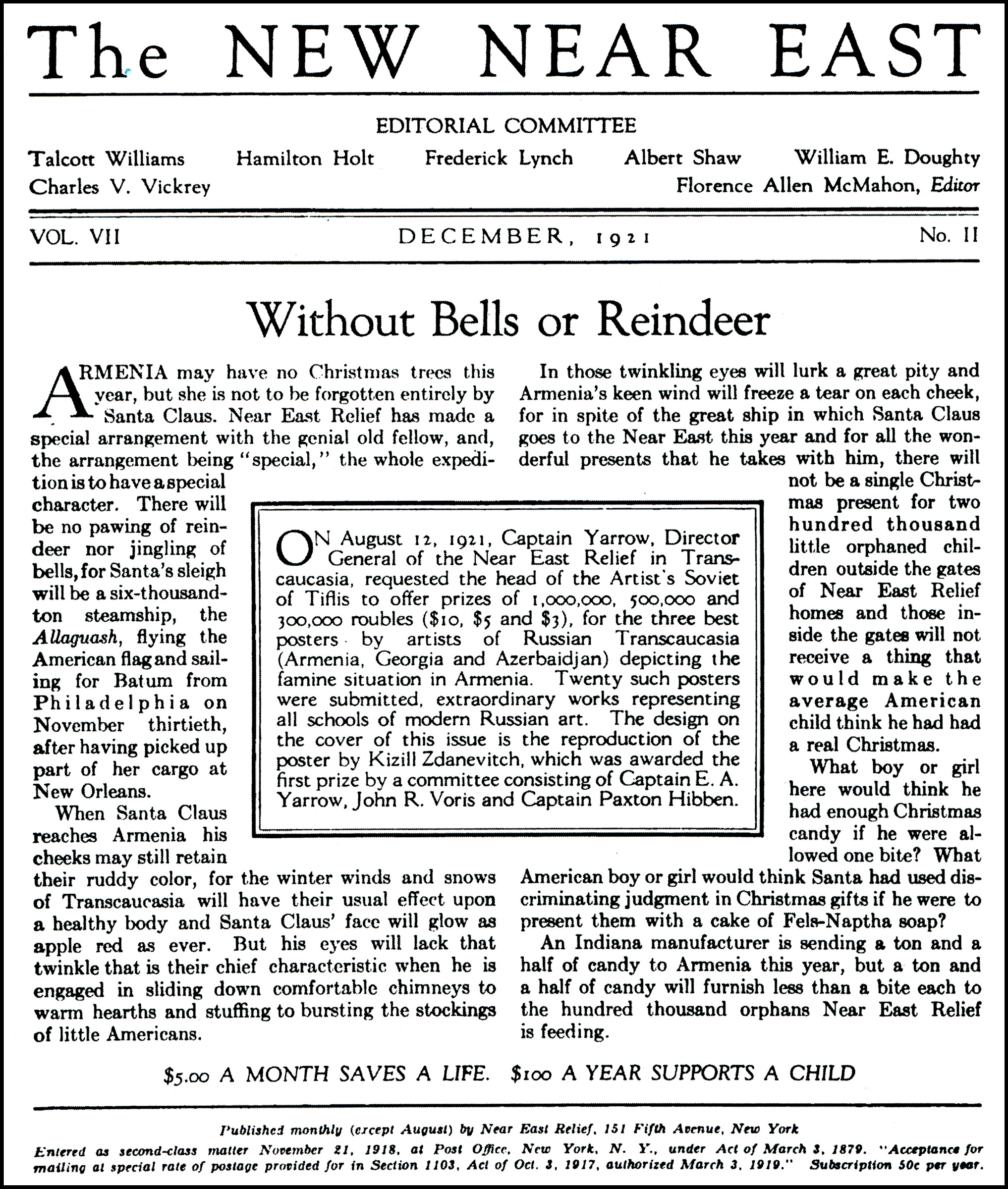 <![endif]>
Fig. 2a.
<![if !vml]>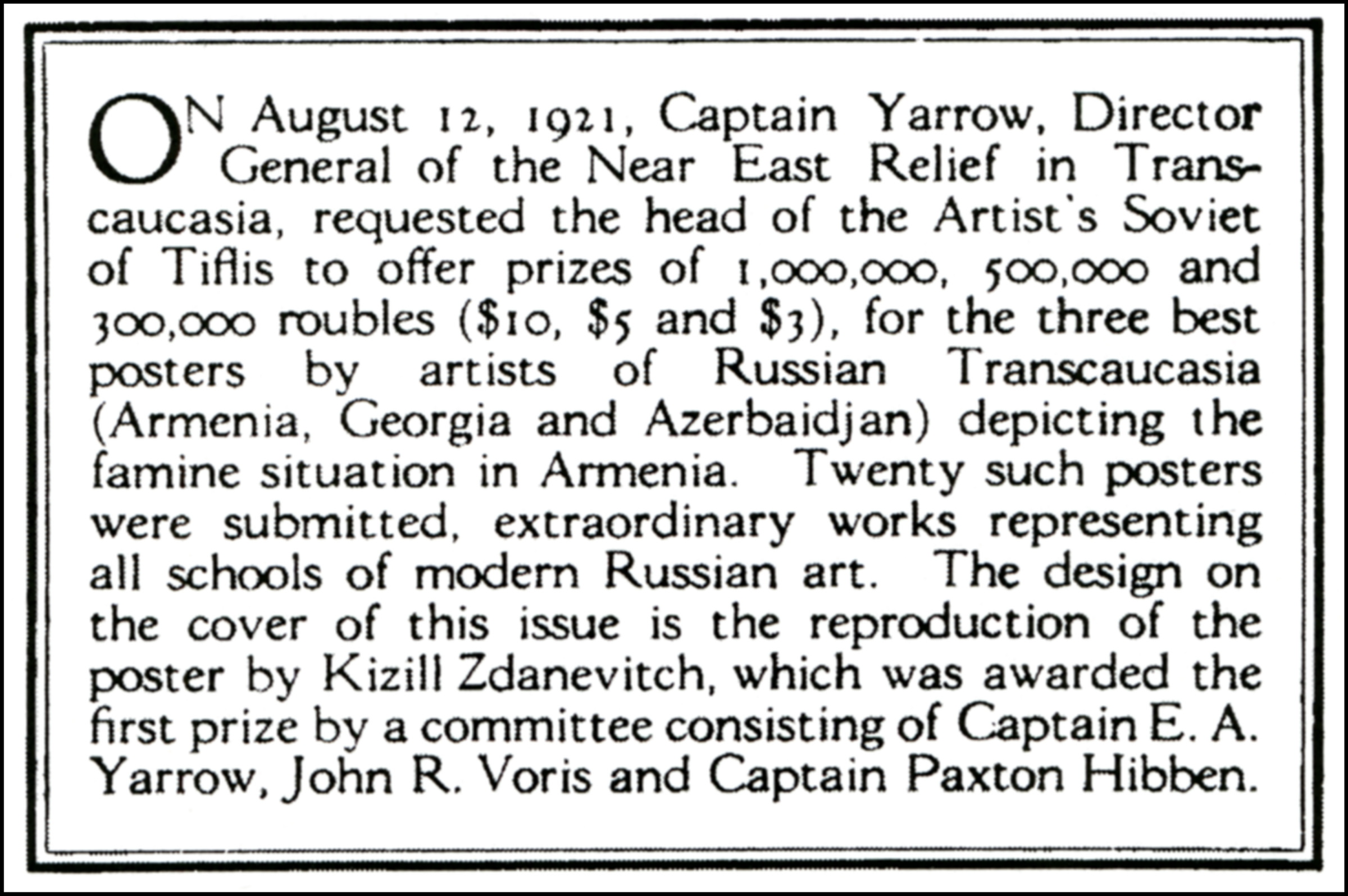 <![endif]>
Fig. 2b.
Kirill Zdanevich won the first prize of 1 million rubles which was equivalent to $10 US at the time. His poster was displayed on the cover of the December 21, 1921, issue of The Near East Relief in what seems to have been the original color. (Fig. 3.)
The dimensions of the original artwork are approximately 23 inches in height by 13 inches in width. The poster is not in the modern style, and one can hardly discern a hint of what was to emerge as avante-grade art or neo primitivism. One could easily argue that the topic portrayed was much too grim to make light of it.
<![if !vml]>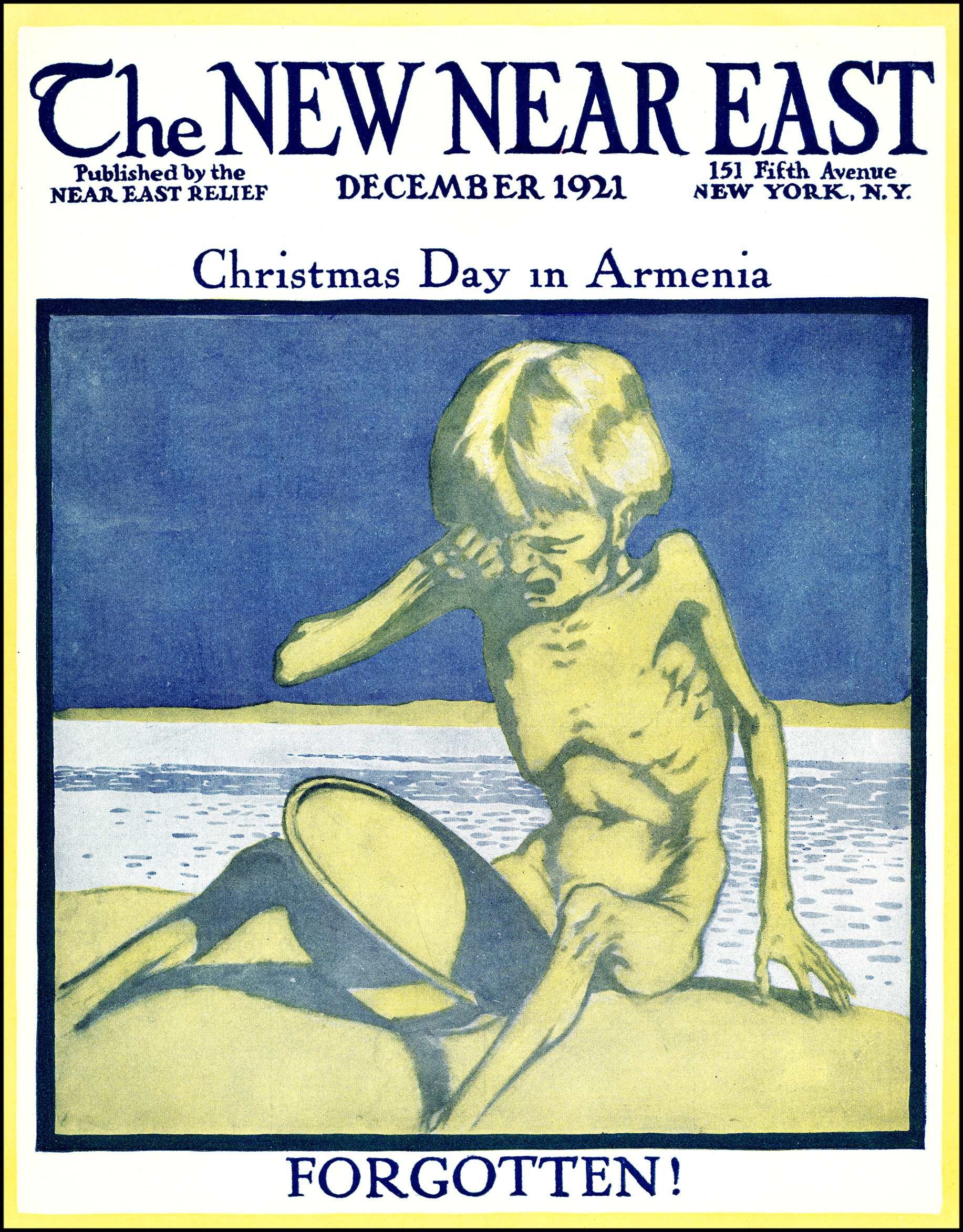 <![endif]>
Fig. 3.
If one seeks to undertake a study of those collections that might have a copy of the "Empty Bowl" poster among their works, one discovers that it is a very rare poster indeed. For example, the Hoover Institution which has a collection of especially extensive political posters, does not have a copy. Neither does the Library of Congress or the New York Public Library.
Not only is there a shortage of posters retained in various archival collections, there is hardly any mention of the "Empty Bowl" poster in the press at large.
Fig. 4. below is a poster of the "Empty Bowl" which we own and had framed.
<![if !vml]>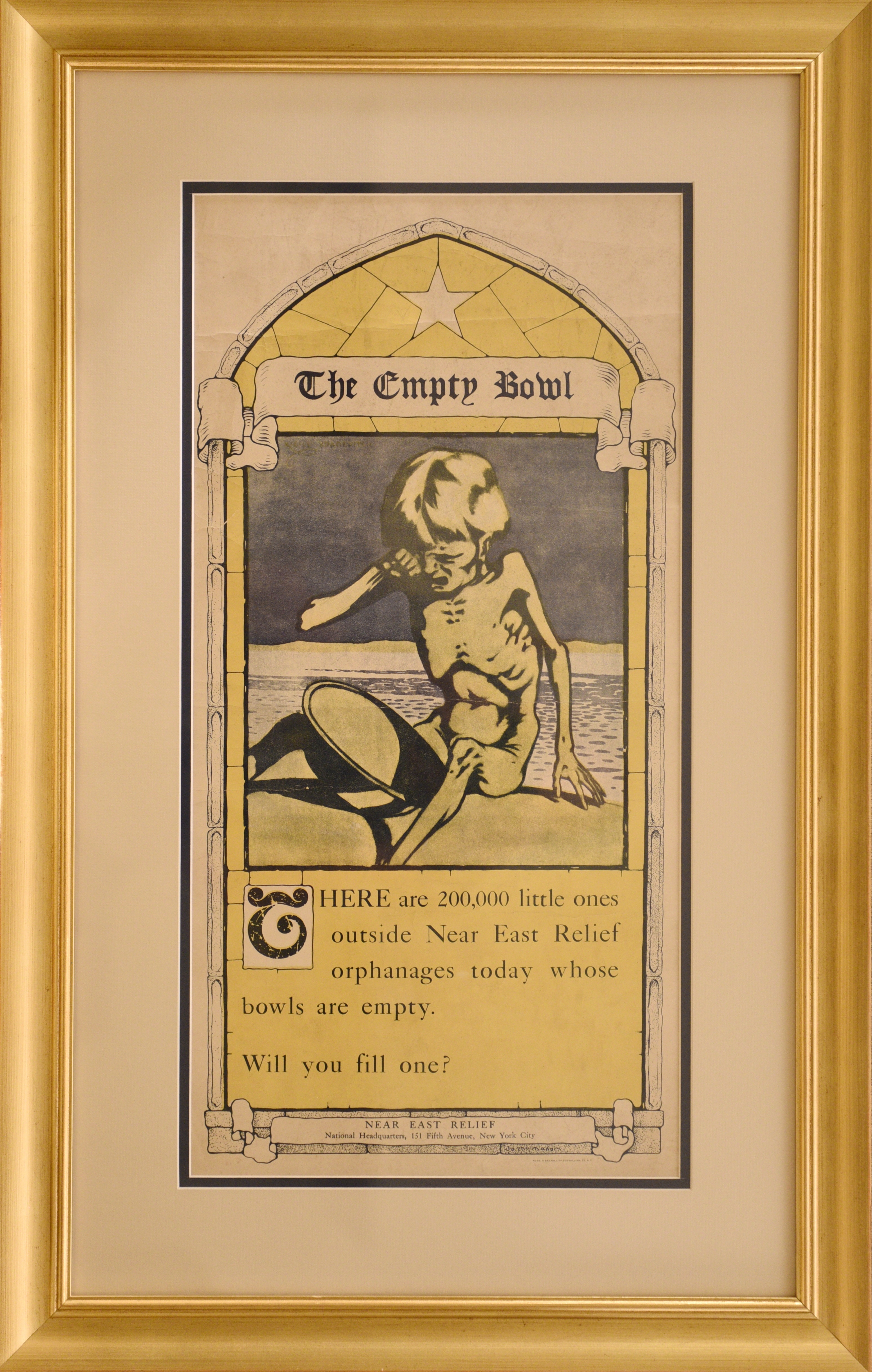 <![endif]>
Fig. 4.
"The Empty Bowl"
It takes some careful examination of the poster to see Kyrill Zdanevich's signature and thus confirmation that he drew and designed it.
Fig. 5a. shows an enlargement of the signature in blue at the upper left area of the original poster. Fig 5b. shows the same signature viewed as "inverted' through Photoshop to render it perhaps a bit easier to read. In either case, it is the signature on the original piece.
<![if !vml]>

<![endif]>
Fig. 5a.
<![if !vml]>

<![endif]>
Fig. 5b.
Mabel Farrington explains in an article printed in the Hawaii-Tribune Herald (Hilo, Hawaii) January 25, 1922, pg.1, that "On August 12, 1921, Captain Yarrow, Director of the Near East Relief in trans-Caucasia, requested the head of the Artist's Soviet of Tiflis to offer prizes of 1,000,000, 500,000, and 300,000 rubles for the three best posters of artists of Russian transCaucasia depicting the famine situation in Armenia. Twenty such posters were submitted, representing extraordinary works from all schools of modern Russian art. The design in the Near East Relief ad is the reproduction of the poster by Kizill [read Kirill] Zdanevitch which was awarded the first prize of one million roubles which at the present rate of exchange, is $10." (Fig. 6.)
<![if !vml]>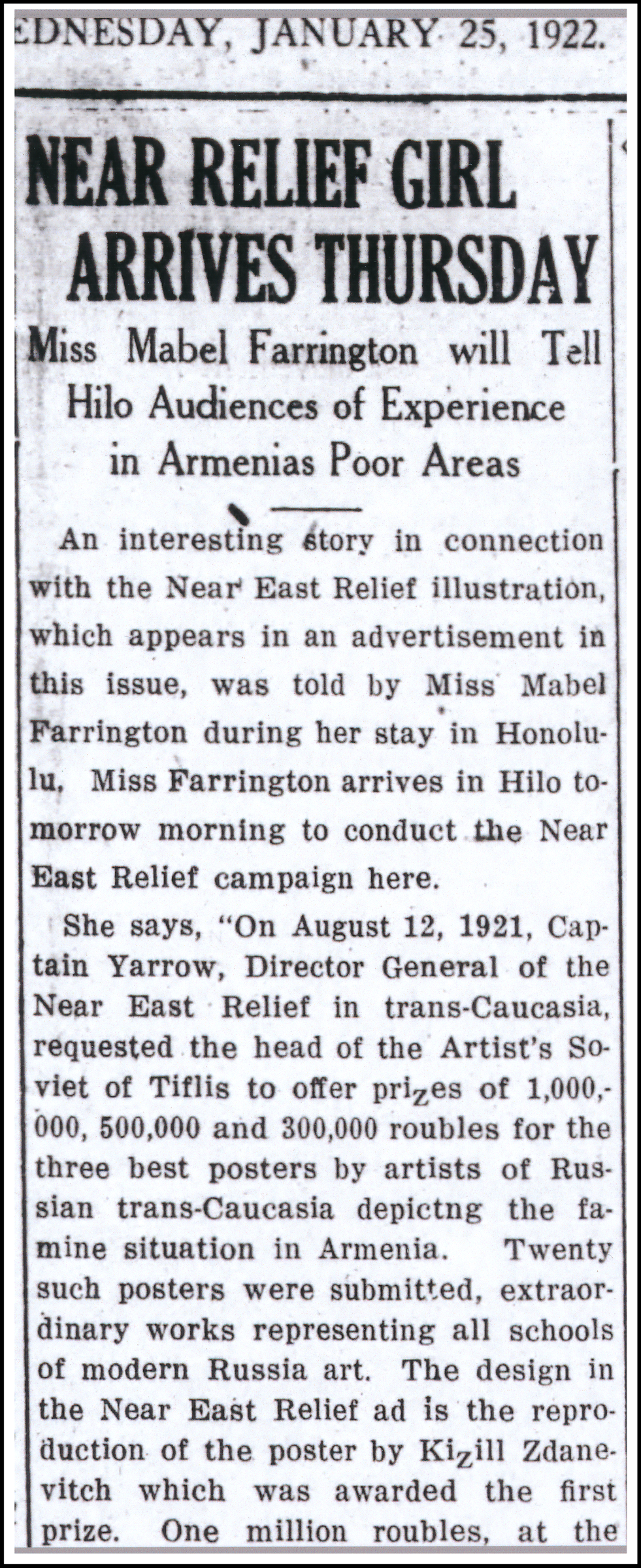 <![endif]>
Fig. 6.
On page 2 of the same newspaper, we see that the image from the poster has been included in line diagram outline and captioned "FORGOTTEN?" Perhaps it has been forgotten in more than one way. (Fig. 7.)
<![if !vml]>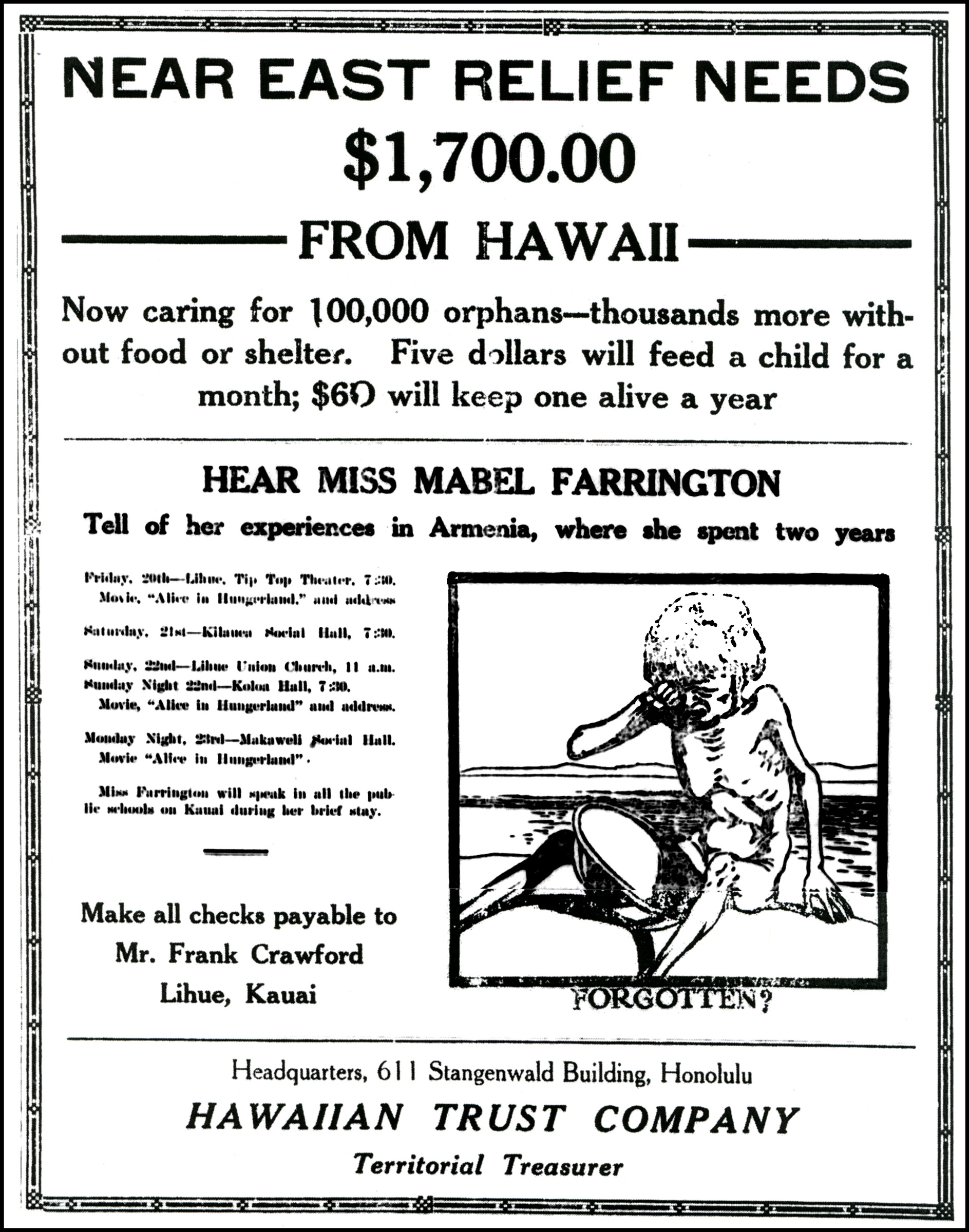 <![endif]>
Fig. 7.
 "Appendix"
(Titles and URLs of our postings related to posters on Groong)
An Orphan of the Armenian Genocide: A Valentine's Day Armenian Poster Child
February 14, 2014
by Abraham D. Krikorian and Eugene L. Taylor
https://groong.org/orig/ak-20140214.html
Dutch 'Cartoonist' Louis Raemaekers' Poster of 1916 entitled "The Lord Mayor London's Appeal for Help for the Armenian People": filling in some details, and a call for input as to where 'Originals' might be located.
October 26, 2015
by Abraham D. Krikorian and Eugene L. Taylor
https://groong.org/orig/ak-20151026.html
A Rare Poster of an Armenian Boy Used in Fund Raising for the Near East Relief: rare because very few of these posters exist, and still fewer of any of the 'NER posters' depict a "real Armenian"
Abraham D. Krikorian and Eugene L. Taylor
September 15, 2017
https://groong.org/orig/ak-20170915.html
The power of a photograph and its recycling over time
April 23, 2021
by Abraham D. Krikorian and Eugene L. Taylor
https://groong.org/orig/ak-20210423.html
Adapting an existing work of art for use as a fund-raising poster simply by adding text
April 24, 2021
by Eugene L. Taylor and Abraham D. Krikorian
https://groong.org/orig/ak-20210424.html
Poster Soliciting Funds to Support Armenians using Armenian survivors of the genocide as Illustrative Models
April 25, 2021
by Eugene L. Taylor and Abraham D. Krikorian
https://groong.org/orig/ak-20210425.html
© Copyright 2021 Armenian News Network/Groong and the authors. All Rights Reserved.
---
| Home | Administrative | Introduction | Armenian News | Podcasts | Feedback |