Close-up Views of an Original "Ravished Armenia"
Single Sheet Movie Poster:
Finding an appropriate place for it on the spectrum of
Armenian Genocide Imagery
Armenian News Network / Groong
January 12, 2023
by Abraham D. Krikorian and Eugene L. Taylor
Probing the Photographic Record
Photographs and images of all sorts have always been part of the armamentarium of those wishing to make a special point or advocate a cause. It has even been stated that a critically selected picture can dominate an otherwise very well-crafted message. This is certainly true of communicating barbarity at its worst in various situations such as genocide.
As researchers who have long been interested in assembling, communicating, and effectively teaching as wide a range of people as possible about the Armenian Genocide, we have always been on the lookout for items or approaches that will maximize impact or help develop fresh visual approaches that improve the meeting of 'teacher' or 'student' needs. Recognizing that we would have to face the reality that actual film footage from that earliest period is an exceedingly rare commodity, we thought that any footage that might symbolize realistically what happened even if it did not capture the actual specific event as it was really happening could be very useful. In other words, the suffering of the Armenians and other Ottoman Christian subjects would still be honestly depicted and the nature of the crime of genocide exposed, and from this it hopefully would follow to never allow such to happen again.
It had a major impact on honing our thinking when various successful high school teacher friends told us half in jest but still in all seriousness that in order to really get a young person's attention one first had to show some bare flesh. Preferably, the more the better. Things are certainly much more open than when we were in high school!
Lacking the availability of what might be crudely called 'period skin flicks,' the other approach is, we are told by 'expert sociologists and psychologists' that we, as advocates of imagery, should consider succumbing and catering to the extant widespread morbid fascination. We should even capitalize on inevitable preoccupation with lots of graphic violence and piles of dead bodies. None of this was easy for us to come to grips with because we had long felt that delving into the 'how' and 'when' and 'where' of specific imagery constituted one thing, indeed a necessary and worthy thing. On the other hand, if we exposed them widely in full view, we would be committing a serious profanation. That judgement we suppose is why many atrocity and genocide museums do not allow photography by visitors.
Anyone who has viewed any of the many horrifying films that show real film footage of the victims of Naziism cannot help but have burned into their minds the scope of violence and organized barbarity associated with mechanized industrial scale mass murder. The actual historic footage makes it come alive brutally. No doubt, quite a few (probably a half) were directly murdered. Others were murdered on a more technically manipulated and enhanced scale. But, so engrained has it become that although there were more than a few extermination camps located all over the Nazi empire, the name Auschwitz-Birkenau in Poland is a place name which has become a synonym of the Holocaust.<![if !supportFootnotes]>[1]<![endif]>
The reality remains that no remotely equivalent movie film footage exists of what the Armenians and other Christian minorities like the Assyrians and Greeks of the Ottoman Empire were exposed to before, during and after the late Ottoman Genocides of the World War I period. We feel certain that availability of movies would help better frame the genocides and help viewers understand what their Armenian ancestors endured.<![if !supportFootnotes]>[2]<![endif]>
Before going into some detail on 'our' recently found "Ravished Armenia" film promotional poster, we will try to discuss some genocide-related imagery at large and why we believe that images can and should play a major role in enhancing any presentation even though a particular selection of any imagery may have some shortcomings. We shall also see that the old proverb "necessity is the mother of invention" can come into play and be drawn upon by any imaginative mind to fill a need as well as "plug any hole or shortcoming." If we consider a presentation involving use of imagery as a centerpiece or art form, and we believe that it indeed is an art form, we must believe that a broad net can be cast anew, but that old, traditional, time-tested techniques can still be drawn upon and placed in a sort of "mix," and end up with an amalgam that can allow one to come up with something novel yet effective and honest, but first and foremost one that can still be very respectful of the victims by describing as exactly as possible what is being shown. Since exceptional imagery for the Armenian case is in relatively short supply, we have routinely kept an eye out for unexpected availability or surfacing on the ephemera market of still better materials. Acquisition or collecting of relevant materials turns out to be a progressive and never-ending objective or activity. Periodically checking eBay has been helpful in this task.
As implied above, an item which we have long been keeping an eye out for, has only recently surfaced and we believe that it goes far towards meeting our long-expressed 'wished for' requirements. We will show a bit later in this presentation the detailed, almost larger than life size, art work of a 1919 spectacular "Ravished Armenia" film poster. The close-ups to be shown, faithful as to original colors and even lithographic texture, deserve broad coverage and this is why we decided to share this information with the readers of Groong. Although this poster has already been the object of a fair amount of discussion and study, it should also be emphasized that availability of the poster on the market has proven until now to be virtually non-existent, and even the paper print issue of The Saturday Evening Post is nigh impossible to locate. It is lamentable that what we assert in no uncertain terms is exceptional artwork, but equally true, it has been in very short supply for years. The movie magazines of the period when the film "Ravished Armenia" was screened early on, or even considerably later, do not show the poster in any of their notices and advertisements. We have spent more than a little time checking this assertion out.
One immediately asks, "Does it not seem curious that a poster which we feel is particularly important for delivering the message of the Armenian genocide and the anguish associated with it, seems to have been an uncommon item all along its murky 'career.'" Surely it is not because our personal 'taste' is so much more different from the more usual taste. No, we have been told by dealer after dealer that availability of paper ephemera is inevitably very much limited by the fact that it was not intended to be a "collectible art form." Things like posters and lobby cards intended for use outside and inside movie theaters, or as fundraising posters etc., were indeed widely used, but more often than not, after use they were relegated to the dust bin or trash. another possibility or factor might be that the availability of the colored poster did not fully synchronize with the availability or release of the movie. We do not know the exact date of the release of 'our' colored lithographic poster or copyright issues.  January 19, 1919 was the date of first screenings nationwide.
To make matters more obscure and difficult to untangle, the silent film which the poster is not only associated with but actually coupled to, is today largely lost. Like so many nitrate-based films it has disintegrated. We had a personal experience on this front some time back wherein a few frames from the film thought to be "Ravished Armenia" was located for us with the help of the Library of Congress at a storage facility outside Washington, D.C. The fellow in charge (who was soon to retire but was very gracious and went out of his way to help us) tried to use all his talents and experience, but the film literally fell apart before his eyes upon exposure to air. We show two poor quality, yellowed images in our files obtained from that experience.
Figs. 1a and 1b are scans from very short fragments we got in the course of our search in the USA for film footage of "Ravished Armenia."
<![if !vml]>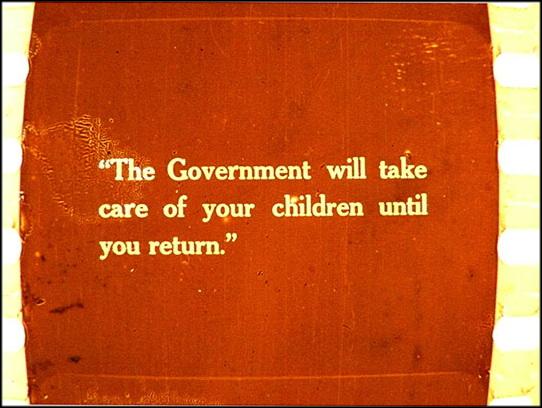 <![endif]>
Fig. 1a
<![if !vml]>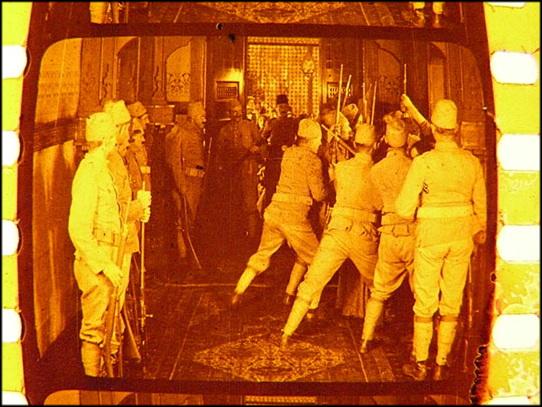 <![endif]>
Fig. 1b
We won't speculate whether an intact full film of "Ravished Armenia" might one day by miracle surface, but merely hasten to say that there are examples of other vintage period films that were not known to exist but only recently came to light through an unexpected and totally circuitous route. Some silent film footage of the supposedly unsinkable ocean liner RMS Titanic complete with descriptive captions was found in a garden shed of the widow of a movie theater projectionist (see https://www.dailymotion.com/video/x7w6jse).
The silent film "Ravished Armenia" has justifiably been described as the first full length movie dealing with the Armenian Genocide, an "Armenian Genocide Film" as it were.  Availability of twenty-four minutes of film is certainly nothing to boast about but that doesn't change that assessment.
Figs. 2a, 2b and 2c below give descriptions of that film as presented in two different film catalogues. Note that it is called "Auction of Souls" rather than "Ravished Armenia."  We believe that "Ravished Armenia" is more telling for the average individual or reader nowadays rather than the obtuse and somewhat vague designation "Auction of Souls."  As an aside, when we were growing up, the verb to ravish meant to violently seize and rape a woman.<![if !supportFootnotes]>[3]<![endif]> We will not take issue here with any points made in either of these 'encyclopedic' film catalogue entries but it might be noted that the Mardiganian family came from the medium size village of Çemisgadzek in Dersim subprovince, not the considerably larger but still small city "Harpout" in Mamuret ulAziz Province or Vilayet.
<![if !vml]>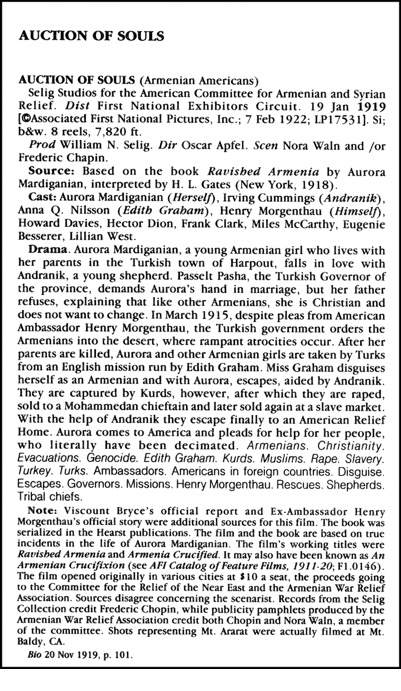 <![endif]>
Fig. 2a
An entry on the film "Auction of Souls/Ravished Armenia."
<![if !vml]>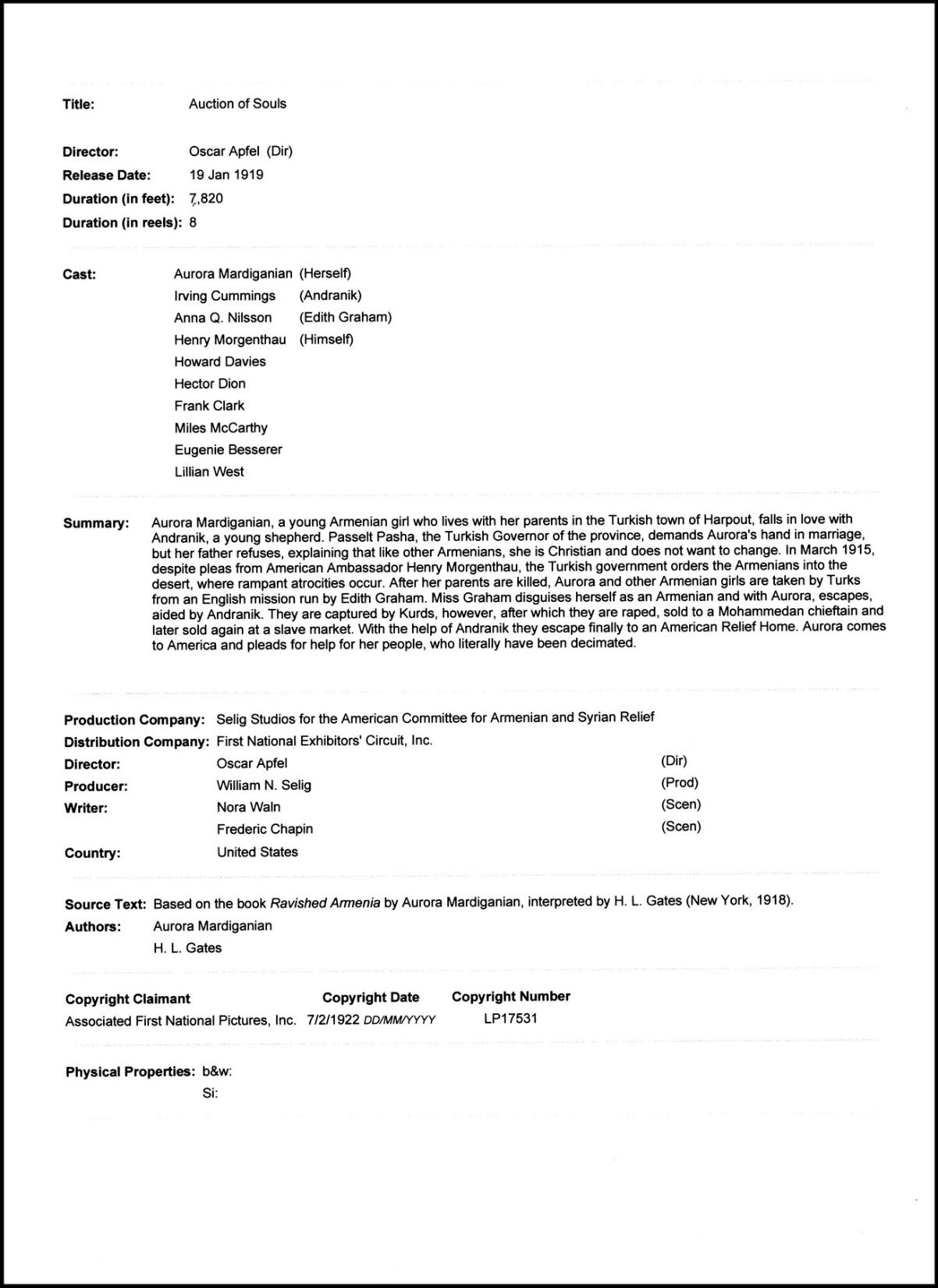 <![endif]>
Fig. 2b
First page of a later entry on the film.
<![if !vml]>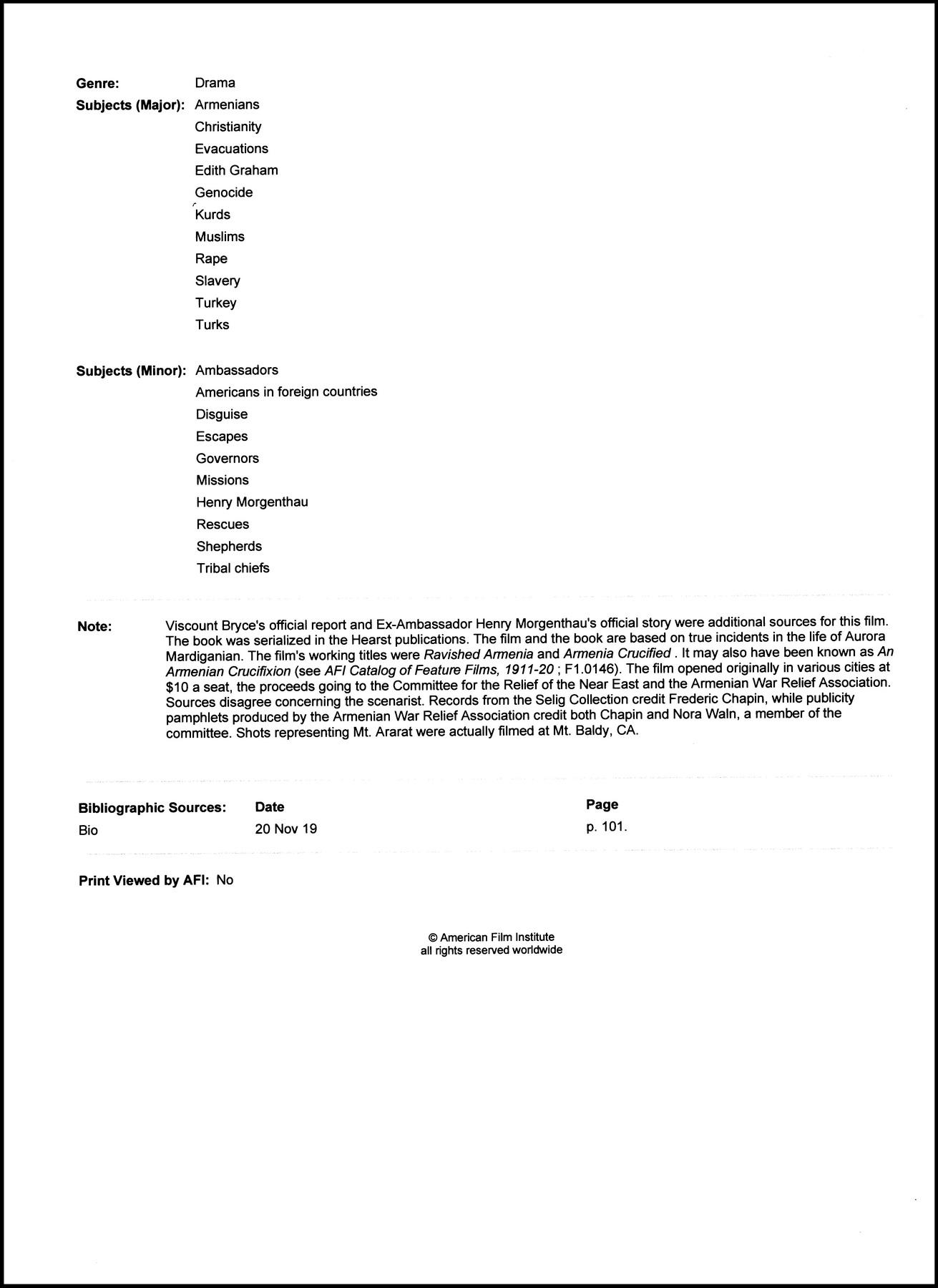 <![endif]>
Fig. 2c
Last page of the later entry on the film.
Fig. 3 below shows a copy of the poster published full page in The Saturday Evening Post, January 18, 1919. It shows all details and nuances clearly in shaded black and white.
<![if !vml]>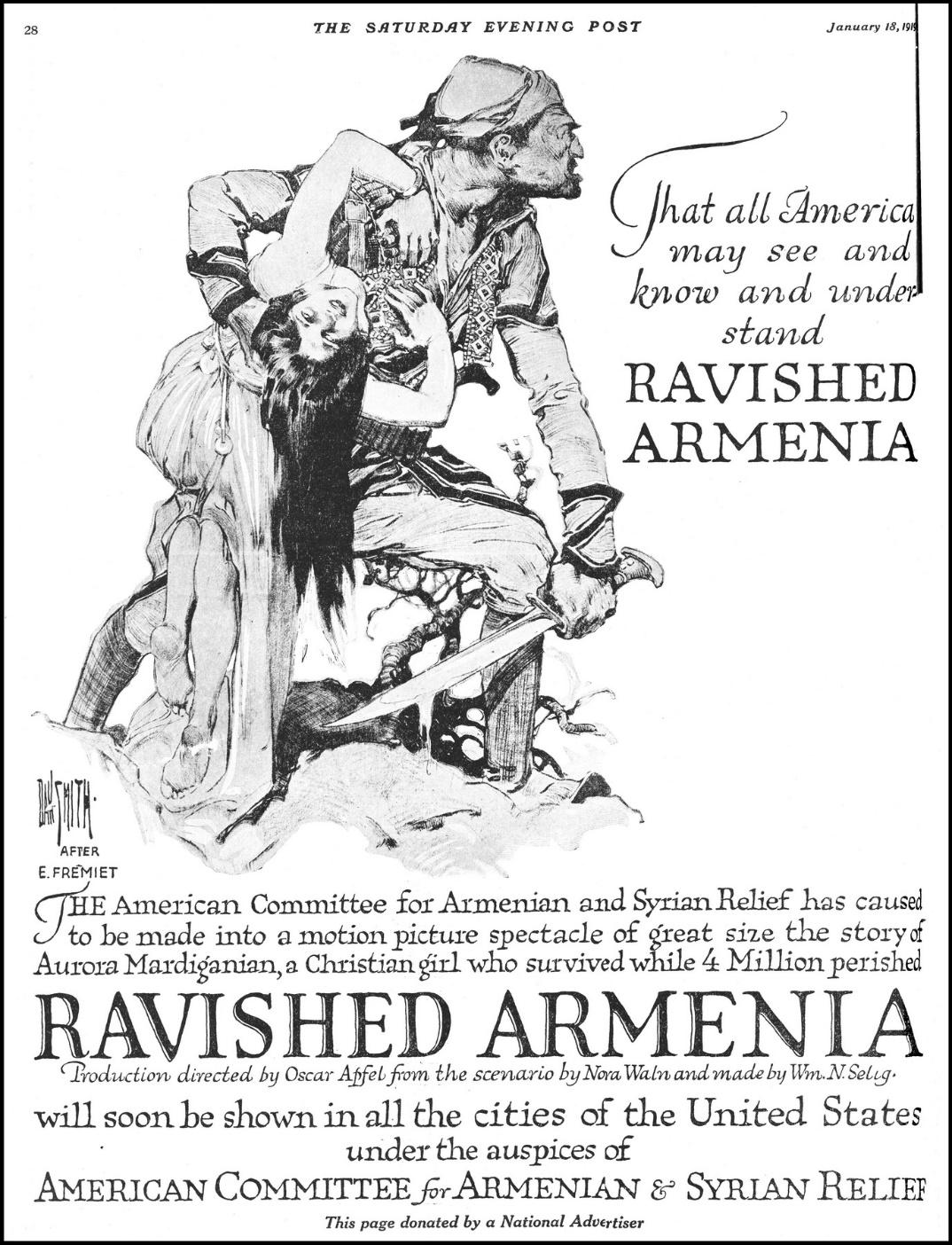 <![endif]>
Fig. 3
We have never minimized the fact that it was this line drawing of the "Ravished Armenia" film poster which clinched our understanding of the image and all the text associated with it. Many of the sources where the poster was reproduced up to that point were mainly in color and were not the best quality, since they were probably copies of copies; therefore, an accurate reading was inevitably difficult.
Everything that we ourselves think we have uncovered and already reported about "Ravished Armenia" has inevitably raised more questions than it has answered. Perhaps the most important question is whether the existing movie remnant or the intact poster matches what we might call the theoretical considerations with the empirical verifiable evidence. Our short answer is: - We believe that the match so far as we have seen is very faithful. In fact when we viewed a 'semi-restored' 24 minute version of the film we noted how faithfully our own considerable understanding of the Armenian genocide directly from survivors was covered, and in considerable depth at that.
We Repeat that The Gripping Imagery of the Sophisticated Color Film Poster
Used to Advertise the Silent Movie "Ravished Armenia" is the highlight of this posting
Even so, we try to weave that remarkable image into a broader whole.
There is a general feeling that the younger generation of Diaspora Armenians and their children seem not want to draw their group identity solely from the Genocide in which many if not most of their elder ancestors perished in the 'Old Country', or the experiences of those immediate, usually much younger, ancestors who endured as part of a pitiful remnant of survivors during the years of World War I and immediately thereafter. These younger diasporan Armenians clearly have spent time developing other ways of dealing with their knowledge of the past persecutions of relatives and family friends and ultimately the mass murder of the Armenian Nation in its historic homeland in the confines of Ottoman Turkey by concentrating on the more important pressing requirements of the present.
Many younger people are, indeed, moving away from long established forms of what some sociologists have called 'victim nationalism', and are now embedding any memory of the genocide in a more comprehensive global political landscape of commemoration.
We ourselves have dedicated considerable time to the task of preserving as much detail as possible on all kinds of imagery both closely and broadly related to the genocide, and preserving the memory of what was lost, and trying to fathom the sheer magnitude of the horror and evil behind it. In the very least, we hope that we have done more than a bit towards properly recording facts as we have researched them for the sake of history.  This is how we want the Armenian Genocide to be remembered and taught.  For us, it is no longer possible that the Armenian Genocide be disputed.  The Turks feared they had a precarious hold on power and since then have had difficulties with the truth.  By contrast, most Americans for instance, once they hear the truth, inevitably turn their backs on attempts to deny truth once it is aired.  (Even so, 'most Turks' cannot handle it.<![if !supportFootnotes]>[4]<![endif]>
We have learned that globally speaking, even those individuals who are determined to tell the story of their ancestors and ancestor-survivors and the story of Armenian nationhood are very often not too concerned with or committed to details. That is a pity because the number of tools available to those who wish to study details today are more numerous than ever, and researchers often have access to an unequalled array of pertinent materials. For us, lack of concern for details amounts to being willing to 'negotiate' their identity as descendants of victims and even 'negotiate' the steadfastness of their commitment. For us, this has played a role in why the too-long hidden history has stayed too long hidden.
Nevertheless, it is always satisfying that individuals like noted historian Arnold Toynbee (1889-1975), the much-respected Englishman who had put together the reports, and did much of the groundwork writing about the treatment of the Armenians in World War I. He put it simply and clearly and wrote a chapter in 1916 bearing the unambiguous title "Extermination of the Armenians." <![if !supportFootnotes]>[5]<![endif]>
What Arnold Toynbee wrote from the very beginning of his career as a so-called junior but key collaborator of Lord James Bryce (Viscount Bryce since 1914) working on the Blue Book was clearly at odds with the distorted and manufactured rendering of what came to be called the Armenian genocide. The leaders of the Young Turk government tried to spin and shape the narrative into their contrived context. As a consequence, much effort was and continues to be exerted on the denial of the facts documented in the Blue Book. From the very beginning, the Ottoman government all the way to the Republic of Turkey and successive governments it has all been denied. The propagandistic nature of the work has been a key component of their denial plan for quite a few years. What the 684-page volume of the Blue Book contained and strove to communicate was of course fastidiously constructed. Those who have been always concerned with the truth know that the Turkish point of view has been long exposed as having frequently been doctored and dishonest.  The Turkish lies associated with it are still unashamedly continued to the present as truth. What is particularly interesting to us is that there seems to be resolute attachment to discrediting the Blue Book from its first appearance in late 1916.  Periodically it is pulled from 'back-burner storage' by those espousing the "Turkish Point of View" and waved around so to speak hoping they will keep their point of view in the picture despite it being totally and repeatedly discredited.<![if !supportFootnotes]>[6]<![endif]>
It continues to amaze us that the late Dean of Armenian genocide scholars and pioneer of comparative genocide studies, Vahakn Dadrian (1926-2019) provided in print what amounts to an elaborately detailed framework, a 'roadmap' if you will, for carrying out Armenian genocide studies that do not utilize Armenian sources. Statements made by combatants and victims should, on this view, be ignored on the basis that they emanate from the enemies of the Ottoman Empire and are therefore highly biased.
Professor Dadrian enumerated in 2001 what we ourselves rudely call an "idiot's guide to effective denial strategies for the Armenian Genocide", there is little to justify and validate those guidelines nowadays, if there was indeed ever any justification.<![if !supportFootnotes]>[7]<![endif]>  Genocide victim literature is very rich in detail and can be used responsibly.
Most people nowadays tuned into many of the realities of a degrading world, freely admit that there is a degradation of truth, and a crisis of honesty and conscience facing us all.
One can therefore justifiably ask "Will there ever be a moment of reckoning and justice?" Our response: "One can hope, for without hope there is no possibility whatever."
Towards the end of his life as an author, and in a major multifaceted narrative work which was completed in 1973 but posthumously published in 1976, Arnold Toynbee wrote that "All wars are atrocities including [those now referred to as] Bismarkian short wars with limited objectives. The atrociousness of the two great twentieth-century wars was aggravated by 'genocide' (i.e. the wholesale extermination of civilian populations.) In the First World War I the Turks committed genocide against the Armenians; in the Second World War the Germans committed genocide against the Jews." <![if !supportFootnotes]>[8]<![endif]>     
Arnold Toynbee knew of course that genocide, although not yet identified by that word, had been routine policy on the part of victors during and after wars throughout world history. But not since the early years of 13th century Turco-Mongol leaders like Genghis Khan and his ilk, had it occurred and been achieved on such a scale in the modern era as that of the genocide against the Armenians.<![if !supportFootnotes]>[9]<![endif]> Most people would agree that such a clear statement made by Toynbee, a prolific and widely read scholar and acclaimed historian in one of his final books, constituted the "last word" so far as he was concerned. When confronted in correspondence by Professor Dadrian with a direct enquiry late in his life, Toynbee again acknowledged that genocide had indeed been committed on the Armenians. <![if !supportFootnotes]>[10]<![endif]> See Fig. 4 below.
<![if !vml]>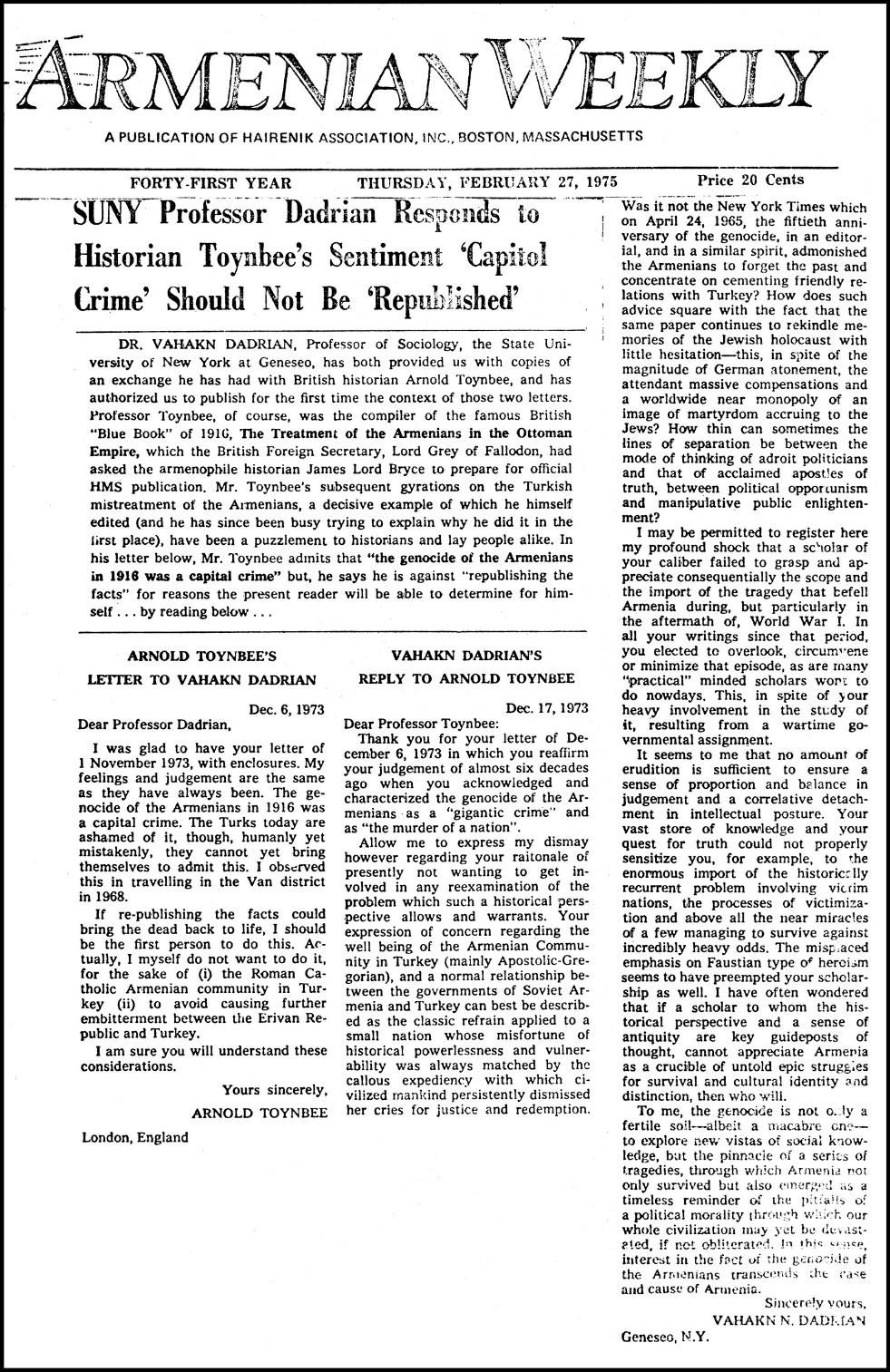 <![endif]>
Fig. 4
Nowadays, the Nazi Holocaust is well-recognized virtually everywhere and the word "Holocaust" spelled with a capital "H" has securely found itself in dictionaries and encyclopedias and all manner of Data Bases. For example, a guide some 117 pages long published by the National Archives entitled The Holocaust, Israel, and the Jews: Motion Pictures in the National Archives (1989) constitutes a filmography relating to Jewish history in the 20th century. The listing consists of many newsreels, footage filmed by U.S. Army units, the U.S. Counsel for Prosecution of Axis Criminality, foreign sources (e.g., British. Polish, Russian, French) as well as a wide range of Nazi propaganda material.
By way of contrast and comparison, visual, that is to say specifically photographic documentation, much less any movie film of the late Ottoman Genocides that took place from 1915 to 1923 broadly speaking, must be described as very poor at best. Adolf Hitler encouraged photography at all levels and wanted his thousand-year Reich documented fully through film for history's sake. In Turkey small cameras were not yet widely available, either among the military or among civilians. This was certainly so in remote rural environments where much of the mass atrocity was carried out nominally out of view. Moreover, photography was nominally prohibited in all zones thought to be militarily sensitive [nonsense since the real motive was only to avoid unwanted publicity] but this prohibition extended to even those which were not. <![if !supportFootnotes]>[11]<![endif]>
We ourselves have tried to locate, study, and delve into many of these photographs seriously, but must report here that they are disappointingly few in number, and fewer still are those that meet the most rigid of standards of attestation and attribution.
Visualizing the late Ottoman genocides accurately, much less comprehensively is a real challenge. <![if !supportFootnotes]>[12]<![endif]> What actually went on is inevitably vastly more pernicious and malicious and gruesome than one might imagine, especially if viewers have already been exposed to images that have been inevitably sanitized by deliberate selection for use in generally very sanitized presentations. And, given the hard-to-believe sophisticated capability that one has via today's modern digital photo editing programs like Photoshop and ACDSee, researchers and potential image users are constantly challenged today to critically analyze imagery very carefully. That is harder to do than one might think. One might even ask whether there is any 'real' justification for attempting to verify or confront the late Ottoman genocides with images? For the most part, they necessarily fall far from presenting the true story and the very stark reality of the truth.<![if !supportFootnotes]>[13]<![endif]>
Those individuals interested in Armenian genocide imagery and motion picture film have only recently begun to organize and consolidate their different talents vis à vis imagery of a wide range of kinds.<![if !supportFootnotes]>[14]<![endif]> Inevitably, and fortunately this portends very well for the future of organized and rigorously interpreted imagery. The more people involved of course, the greater the chance for real progress.
As a starter, we have pointed out many times that the photographs of the Armenian atrocities that are available do not show any of the specifics and murders taking place. We have, however, been able to study photographs of those massacred Armenians who had been fairly 'freshly' dispatched in remote eastern Turkey. These photographic views may be categorized as photos which fall early on in the spectrum of genocidal events that started as is widely known, with the initial arrest of potential leaders of any resistance or, views associated with actual deportation or forced displacement, all the way to the graphic horrors and hardships typifying the falsely-claimed supposedly well-intentioned activities on the part of the Turk government to 'safeguard its minority subjects in war zones by moving them out and relocating them.' (See Fig. 1a).  Perhaps use of the terms for photographs as "bridging or straddling" events or stories is not perfect here but photos showing murdered bodies almost from the beginning in the events do challenge contrived contentions that the main intention of the government was to relocate safely the Armenians.  Are we to believe that clear-cut large scale murders of Armenian civilians just 'happened' 'to have happened' and very soon after they were forcibly displaced at that?
Although the total number of critically identifiable genocide photos are relatively few, there are nevertheless, some scattered collections of good imagery consisting of photographs taken mostly by responsible foreign civil servants like Consuls (including many Americans), missionaries and relief workers. These photographs are of varying genocide-related subjects, but the coverage varies quite a lot in quality. <![if !supportFootnotes]>[15]<![endif]>
It will be appreciated that those interested in Nazi Holocaust films are fortunate in a distressing way to have an immense store of film materials to draw upon. <![if !supportFootnotes]>[16]<![endif]> However, for reasons already stated, the availability of films on the Armenians or other Ottoman Christian genocide victims pales in comparison. But there is, fair to say, an increasing body of more recent interpretative films on what happened that have been produced. <![if !supportFootnotes]>[17]<![endif]>
Early relevant films that one might have thought would have been made available for study and evaluation long ago but apparently have not been, are presented here in our posting as an Endnote much as we have found them listed and published. The list itself is unusual and very helpful in allowing the reader to know at least a good measure of what was produced. <![if !supportFootnotes]>[18]<![endif]>
Ravished Armenia
We have had a more than a passing interest for a long time in a promotional film poster advertising a silent film entitled "Ravished Armenia" (also called "Auction of Souls," especially in Great Britain but also in the USA – more on that later). The film is now largely lost, so we have had to adopt the mindset of trying to understand better any imagery and background integral to it by whatever means we could. Only about 24 minutes of the original 85 minute or so long film has so far been found. Therefore, until more is found, one is forced to piece bits and pieces using whatever resources one can. It takes quite an effort to get a proper assessment of what the film is and what it is not. Reading a movie script has its limitations.  "Ravished Armenia" and the Story of Aurora Mardiganian is the real-life tale of a lovely teenage Armenian girl who was caught up in the 1915 Armenian genocide, deemed by many to be the first genocide in modern history. <![if !supportFootnotes]>[19]<![endif]>
Throughout all of our investigations on images and photographs, we are constantly asking ourselves whether an effective, yet authentic story might emerge from any detailed knowledge or rational understanding.<![if !supportFootnotes]>[20]<![endif]>
Some readers will know that entire books have been written on a single photograph during the period of the Nazi-perpetrated Holocaust.  The famous photograph of the young Jewish boy in Poland with his hands held high in surrender to a threatening Nazi soldier has been the subject of countless pages. We are not yet convinced that such can be achieved with any 'Armenian genocide' photograph. <![if !supportFootnotes]>[21]<![endif]>
Some Additional Background to the Film "Ravished Armenia"
and Advertising It
Our friend Pamela Apkarian-Russell, an antique dealer with broad experience covering all kinds of antiques, artifacts and ephemera, including things pertaining to Armenia and Armenians because of her heritage, told us she had offered a substantial money award to any one of her many contacts who found film footage, or any sort of important paper ephemera connected with the film. In a business career spanning well-over half a century nothing showed up. 
It was of great interest to us when we learned almost by accident while working at Hoover Archives at Stanford University that there was a Ravished Armenia movie poster in their collection (US 4187 Hoover Institution Archives, Stanford University.) We were told at Hoover that the majority of these poster items, which incidentally are remarkably well inventoried and described, are not controlled by copyright and formal permissions to publish images are not required. All this incentive prompted us to begin a serious search for materials relating to the poster in the broadest sense possible (see page 185 of Taylor and Krikorian, 2010 at Endnote 13 in that reference.)
We published a paper in 2020 that provided a detailed and firm footing as to what the colored lithographed poster at Hoover represented. <![if !supportFootnotes]>[22]<![endif]>
We got a definitive break in our research efforts aimed at finding fresh print materials on "Ravished Armenia" when we came across and were able to buy a fine copy of The Saturday Evening Post vol. 191, January 18, 1919. On page 28 of that issue there is an excellent drawing of "Ravished Armenia." Aside from the fact that the full-page image in The Saturday Evening Post is not colored, it was vastly more easy to examine than any colored image that we had hitherto accessible to us.
The theme and message of this large colored poster is, of course, very sad and disheartening because it shows dramatically what has 'happened' has already happened <![if !supportFootnotes]>[23]<![endif]>, but it is also a poignant example of how art can be used to draw attention to a crime and even provide educational publicity for it.  The genocide, carried out beginning in 1915, was indeed still occurring when the poster was released in 1919 to advertise the soon-to-be acclaimed 8-reel film.
Several years back as we travelled by automobile touring across the USA, we used the opportunity to locate in America a bronze of Fremiet's gorilla statue upon whose theme, artist Dan Smith based a large part of his Ravished Armenia poster. The bronze, faithful in all important respects with the French ones, was skillfully positioned in the woods at the University of Illinois's property at Allerton Park.
Another original Frémiet gorilla bronze outside France is to be found in Melbourne Australia.  Had we known of its existence we could have seen that specimen as well given the fact that we have been to Australia several times and have a very good friend in Melbourne city.<![if !supportFootnotes]>[24]<![endif]>
We'll attempt here to give a few examples of how the general theme of Emmanuel Frémiet's gorilla and woman morphed into artwork intended to vilify the Germans of Kaiser Wilhelm II's army and military in general, and from that, ultimately into the terrible Turk and unruly thug that ravished a beautiful Armenian maiden who symbolized the Christian Armenian nation.  See Figs. 5, 6, 7, and 8 below. We believe they are self-explanatory.
<![if !vml]>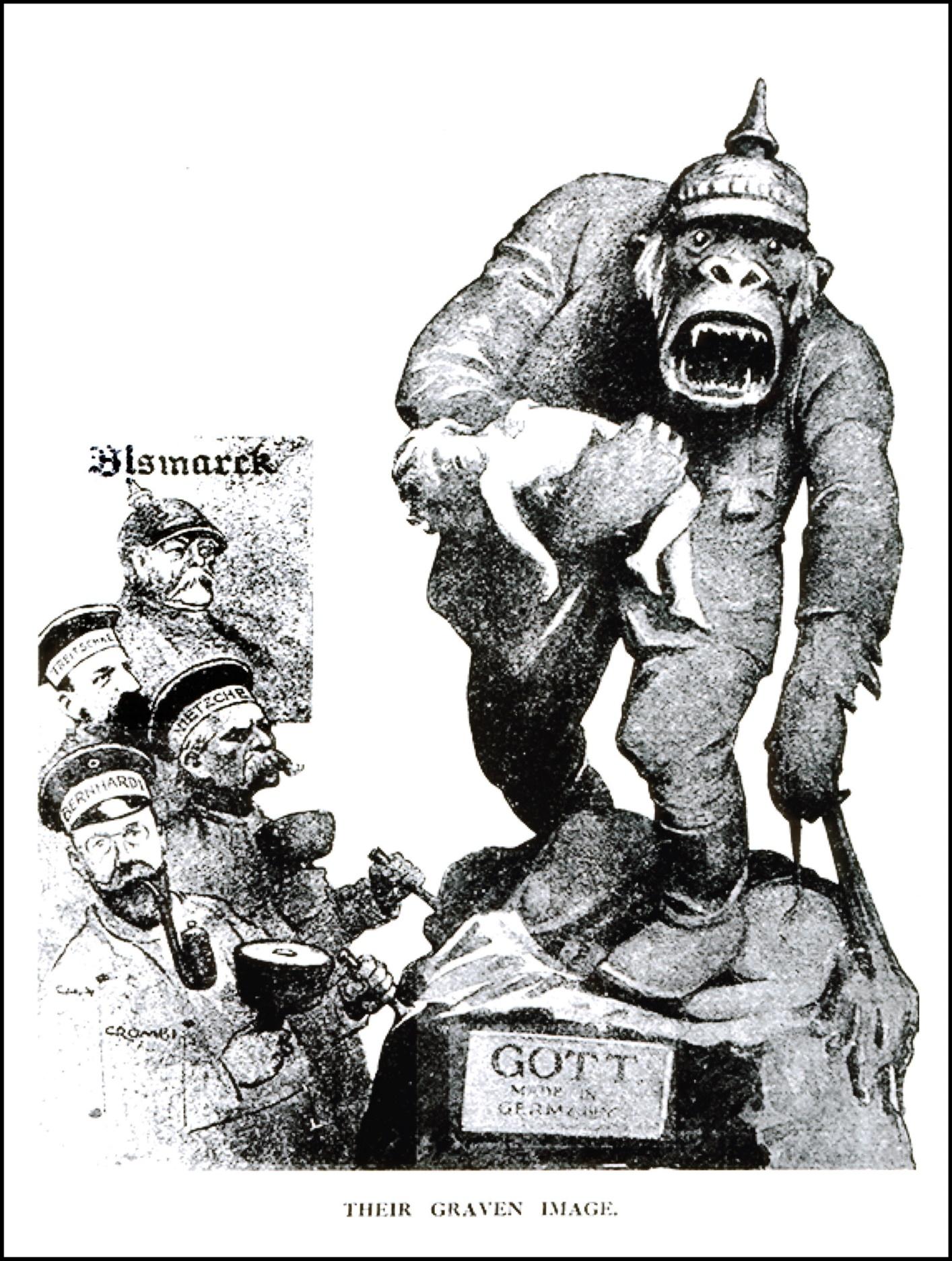 <![endif]>
Fig. 5
From The Passing Show (1915). On the left we see the sculptors wielding their chisels to produce their graven image and the plaque "God" "Made in Germany."
<![if !vml]>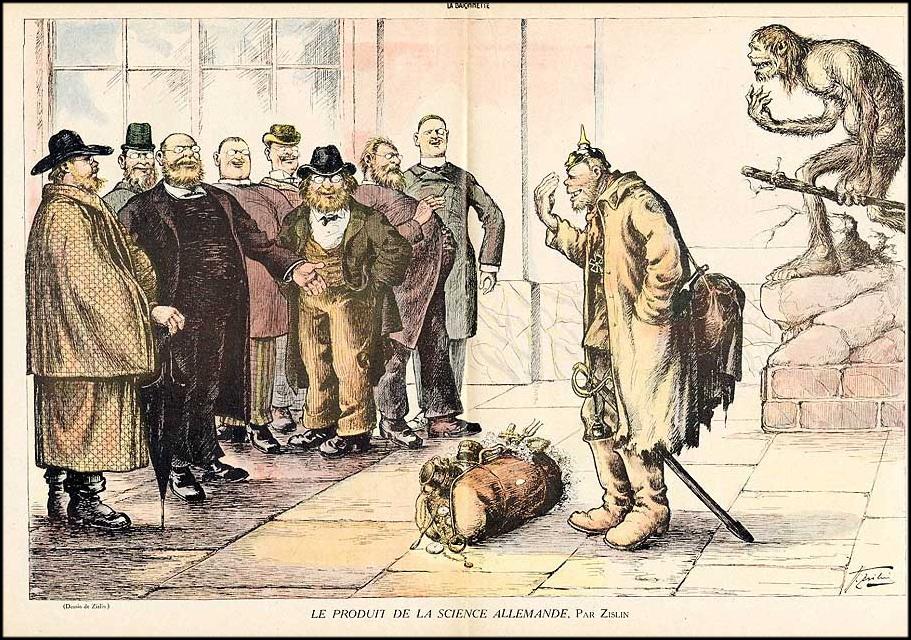 <![endif]>
Fig. 6
"Product of German Science" by French satirical artist Henri Zislin (1875-1958).  In La Baїonnette no. 25 Thursday, 2 March 1916.
<![if !vml]>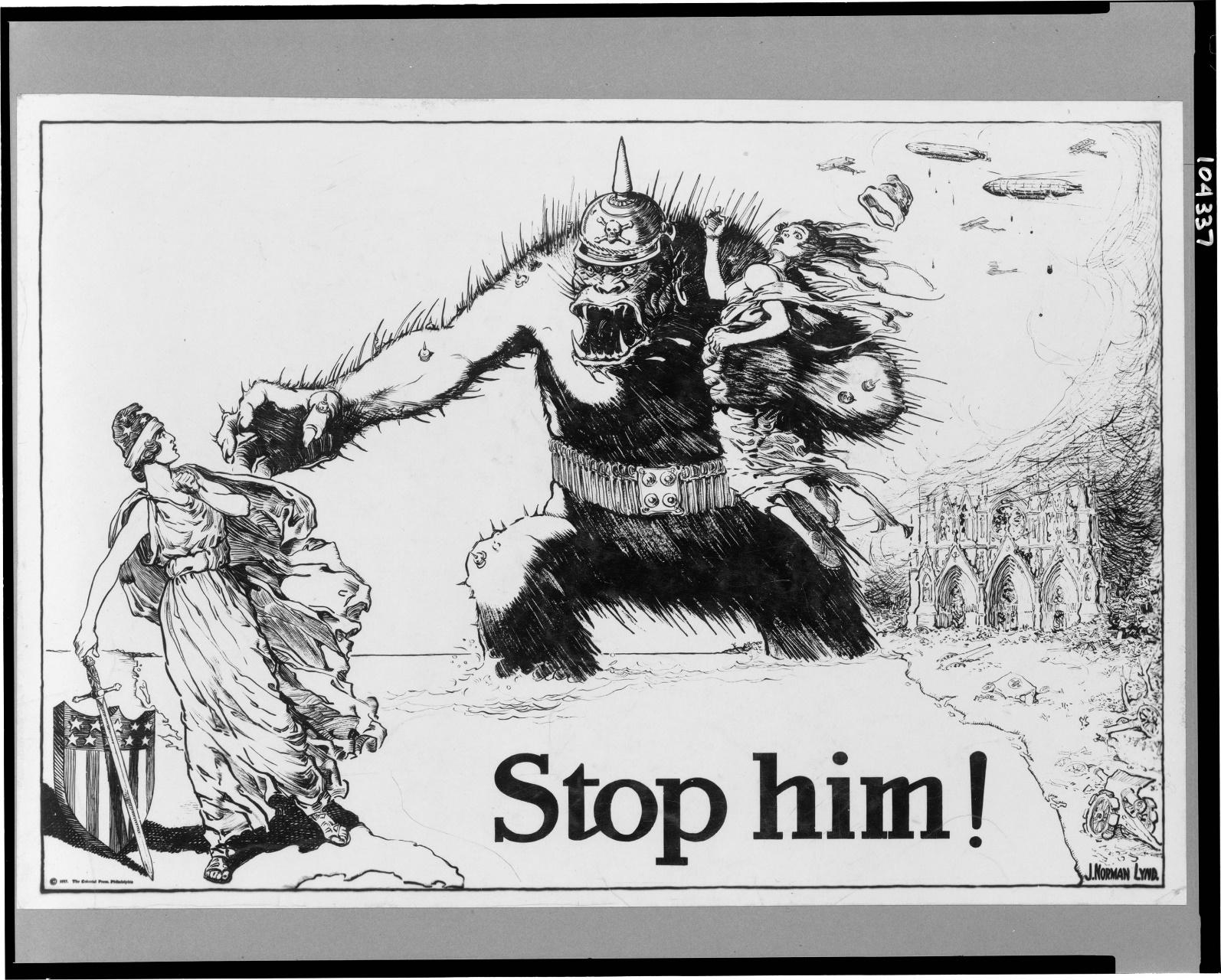 <![endif]>
Fig. 7
From The Colonial Press, Philadelphia, c. 1917.  Kaiser Wilhelm II is portrayed by artist J. Norman Lynd as a fierce gorilla wearing a pickelhaube spiked helmet reaching across the ocean from Europe to the U.S to grab Liberty.  He clutches another female figure in terrified distress. Churches, abandoned military vehicles, and airplanes and rubble abound on the European mainland.  From Library of Congress Prints & Photographs. http://hdl.loc.pnp/cph.3c04337.
<![if !vml]>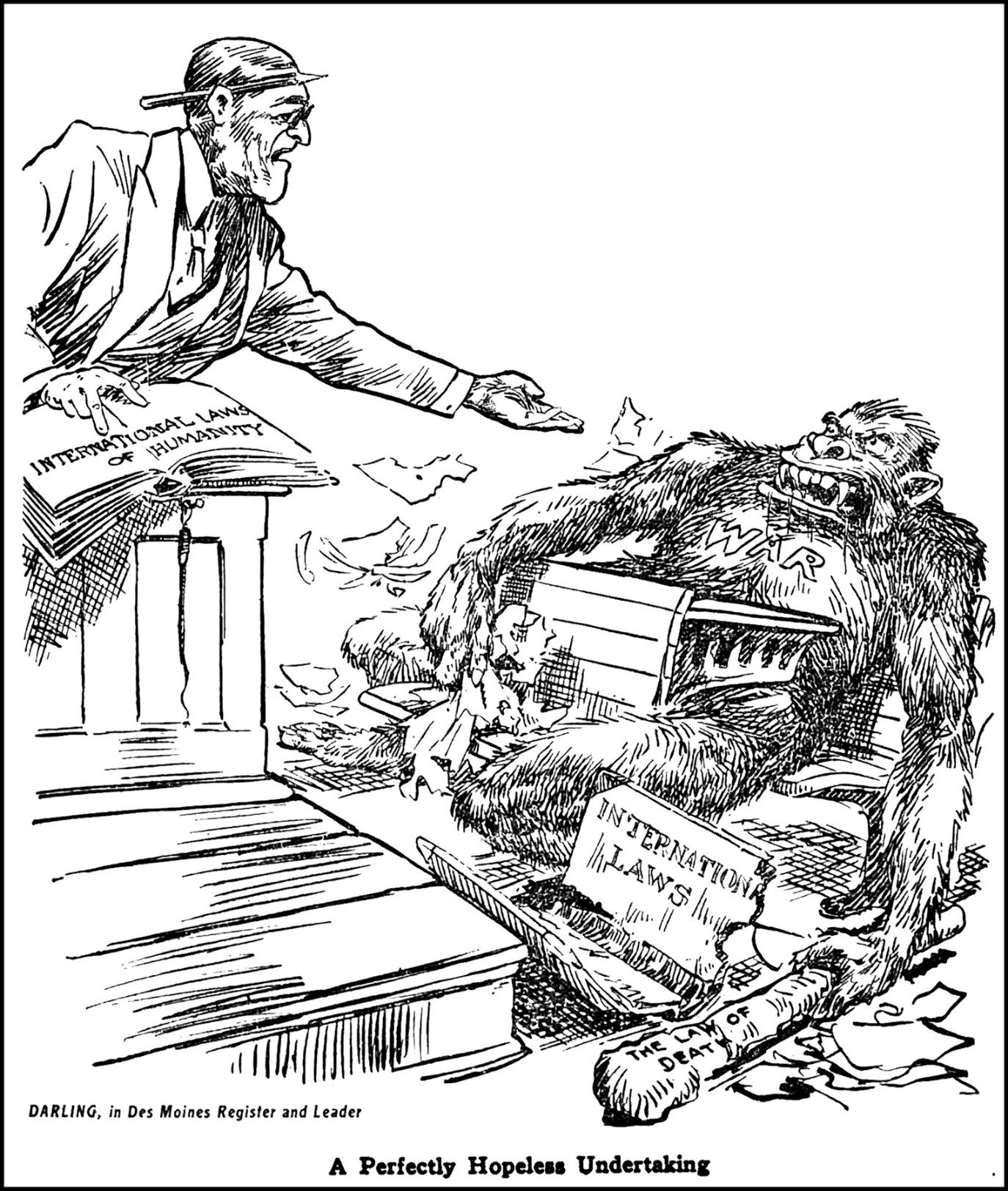 <![endif]>
Fig. 8
From Cartoons magazine vol. 8 no. 2 August p. 192 (1915).  Ding Darling was a widely appreciated political cartoonist.  The pencil behind President Woodrow Wilson's ear suggests that he was really better known for talking and writing than doing. Despite many Armenians think he was a good president, he was not.  As we put it, "He talked a much better game than he played."  His legacy in the form of the Infamous "Espionage Act" that haunts us all still today is but one example of how he could not tolerate honest speech, or contrary opinions.
<![if !vml]>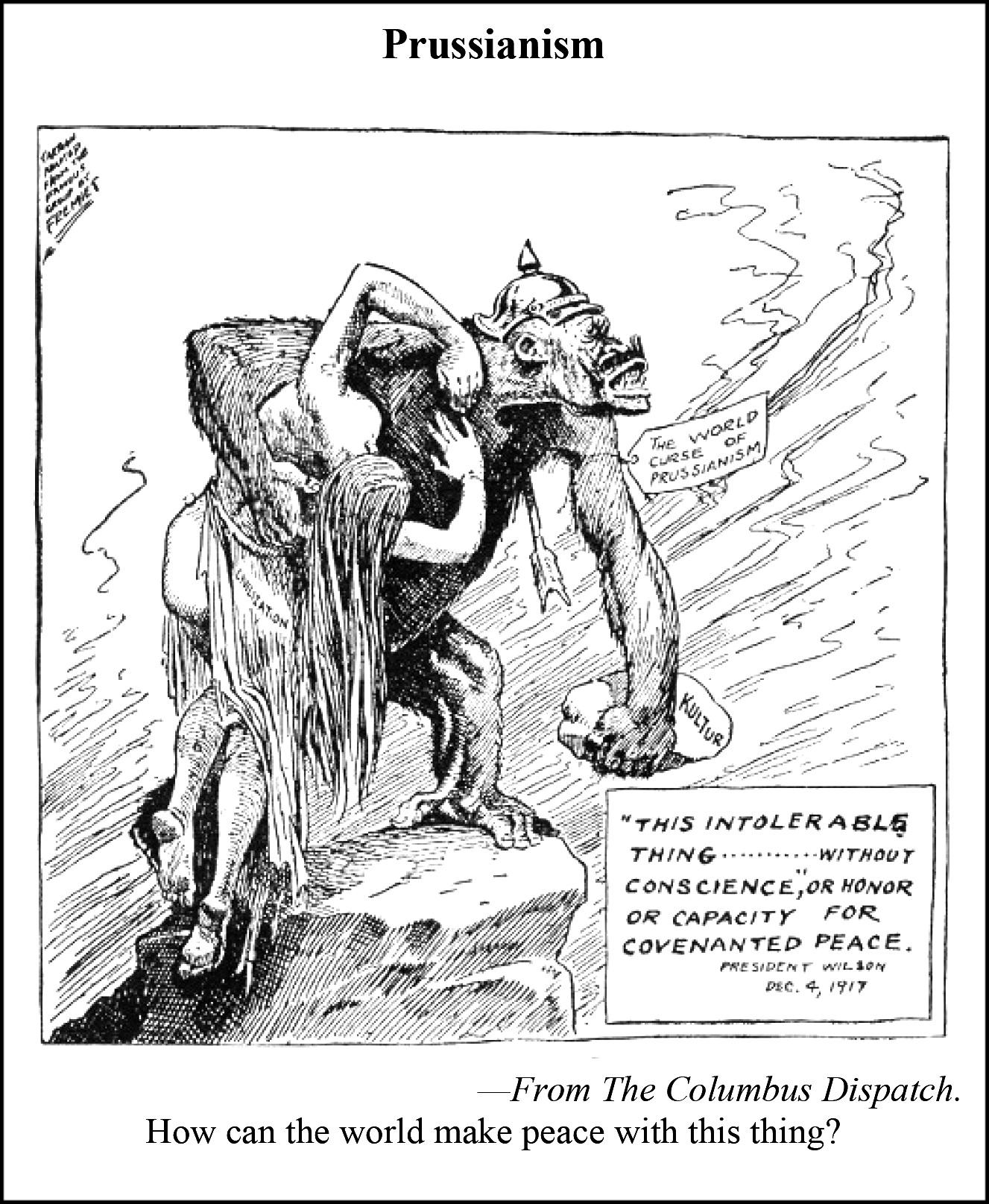 <![endif]>
Fig. 9
The small print in the upper left corner credits Frémiet for the theme.
Some advertisements of the "Ravished Armeniafilm emphasize that Aurora Mardiganian had "authored" or "written" her own story. (Fig. 10).
<![if !vml]>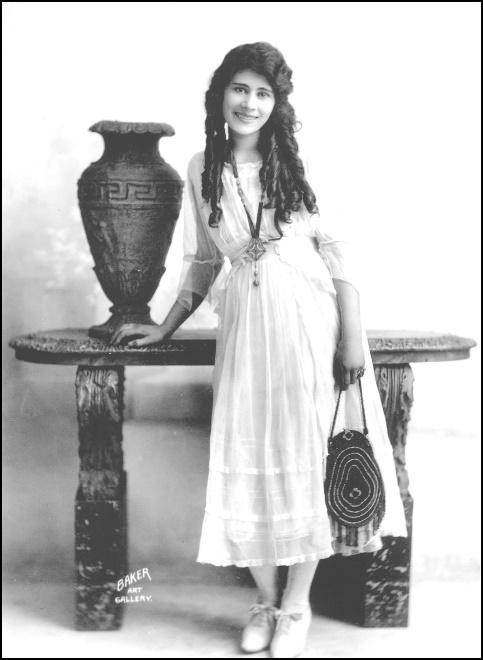 <![endif]>
Fig. 10
Photo courtesy of Missak Kelechian.
The fact is that Aurora (anglicized from the Armenian Christian name Arshalouys) did act in the film playing herself, but since the film was silent it was irrelevant that her English was nowhere good enough to allow her to dictate her story to a stenographer.  What she related in Armenian was translated. We cannot confirm who did the translating or how perfect it was. Nora Waln gave a very serious account of her meeting Aurora.  We present as an Endnote Nora Waln's entire Foreword published originally at the beginning of the print volume. <![if !supportFootnotes]>[25]<![endif]>  It is also important for us to pay special attention to the phrase "as interpreted by H.L. Gates." That wording may actually mean a host of things to different readers.
Fig. 11 below shows a rare presentation copy of a hard cover of Ravished Armenia/Auction of Souls that is inscribed and autographed by H.L. Gates. It makes the claim in clear handwriting that there are things written within that book that won't be believed by the reader for whom it is inscribed.  One is left to wonder what may have been left out of the volume that would totally shock any reader and convince them as to its authenticity. In modern parlance what would it take to "blow their minds?" <![if !supportFootnotes]>[26]<![endif]>
<![if !vml]>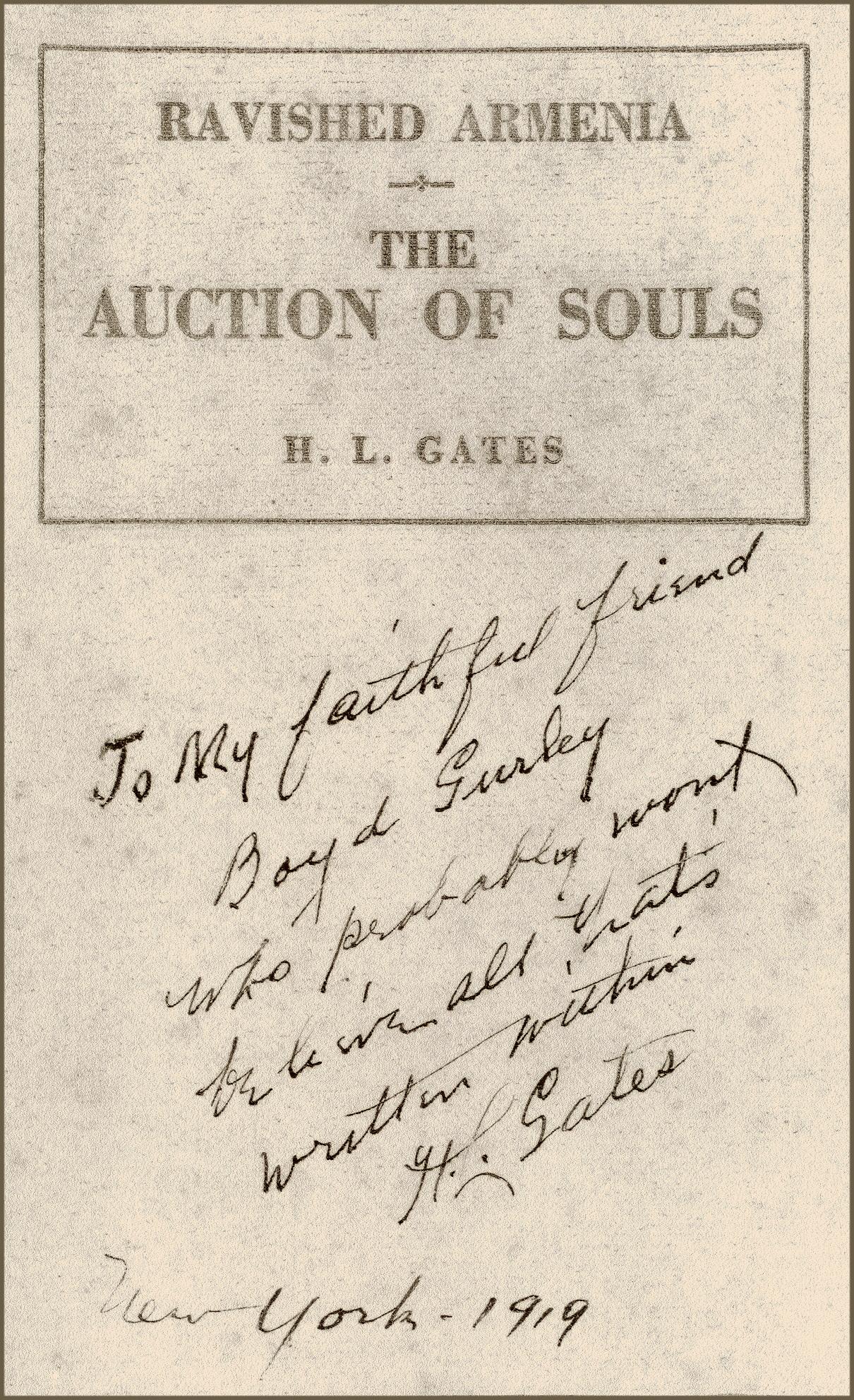 <![endif]>
Fig. 11
There are very few ads in the American press at large advertising the film involving use of an image of the line drawing poster. Fig. 12 below shows one that is especially clear and easy to interpret.
<![if !vml]>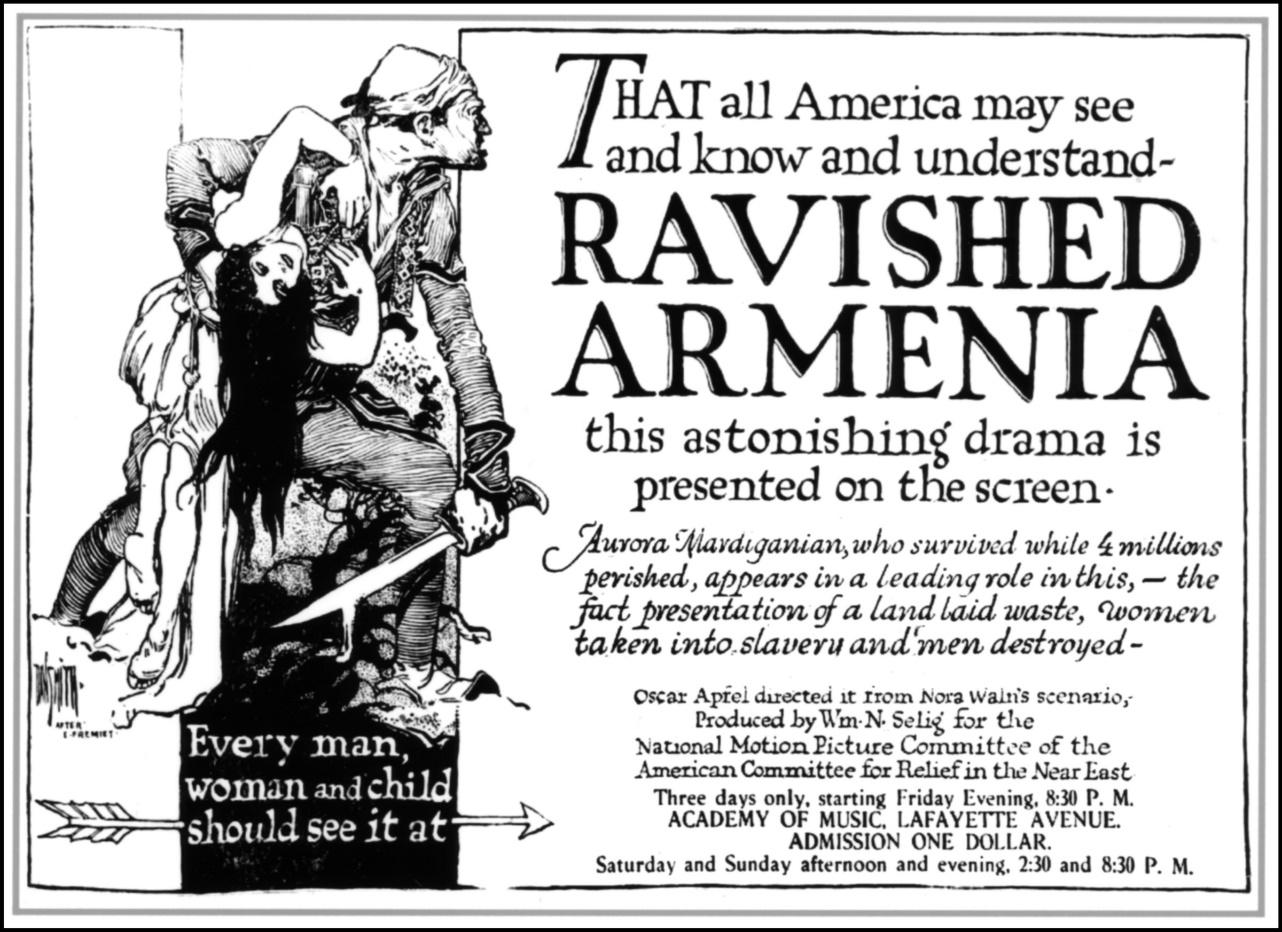 <![endif]>
Fig. 12
Copied from the lower part of a page in the Brooklyn Eagle, Tuesday, January 28, 1919 p. 11.
One might have thought that the poster would be a welcome addition to or part of any display but that turns out not to be the case. Why? We leave it to some resourceful reader to hazard a guess.
Fig. 13 below shows a large display shown in Maryland (Baltimore city). A number of posters can be identified but nothing on Ravished Armenia is discernible.  It probably had something to do with film and associated paraphernalia "rights."
<![if !vml]>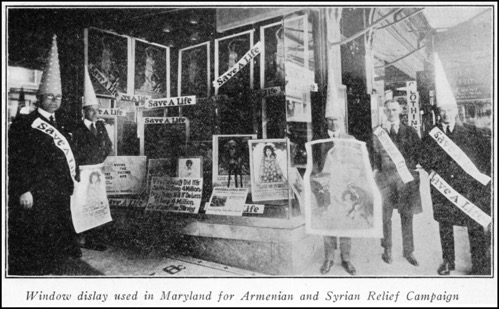 <![endif]>
Fig. 13
From p. 9 of American Committee for Armenian and Syrian Relief News Bulletin, vol. III, No. 21 February 1919.
Fig. 14 below shows that some theaters exhibited considerable imagination in advertising the film.  The live double humped Bactrian camel (not a single-humped Dromedary species as asked about in the caption below on the sidewalk outside the Liberty Theater) is certainly an attraction outside this St. Paul, Minnesota movie house.
<![if !vml]>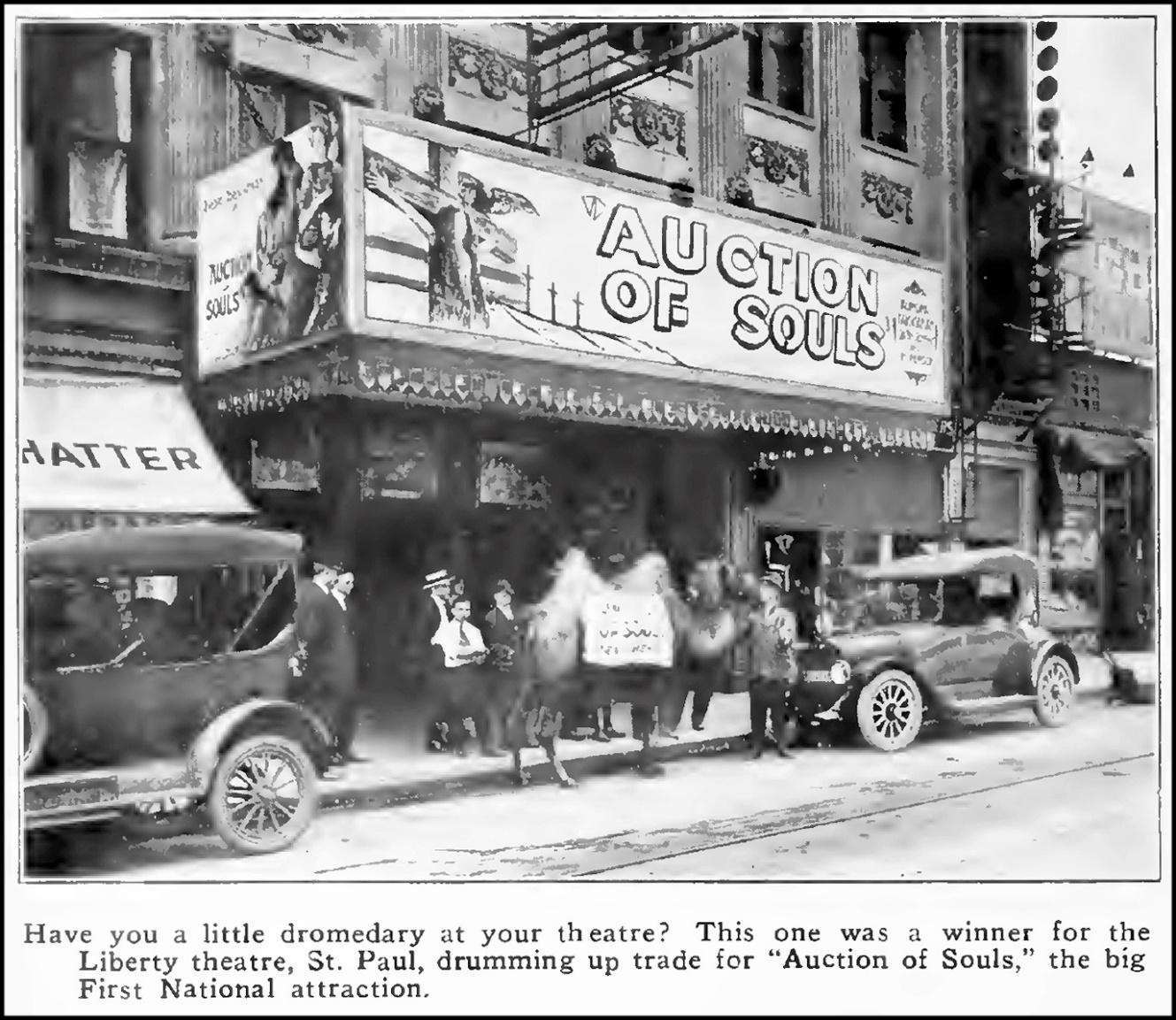 <![endif]>
Fig. 14
One might have thought encountering a poster like 'our' "Ravished Armenia" would have been a very high possibility at a theater replete with huge lavish signs advertising the film. Close examination of Fig. 15 below from Moving Picture World (May 24, 1919, p. 57) shows how elaborate and eye-catching some movie house visuals could be in theaters where the film was being shown. No poster telling the story of Aurora Mardiganian being ravished by the evil Turk is in evidence here.<![if !supportFootnotes]>[27]<![endif]> The writer Janet Priest carries on about "that sly, dishonest sign" which she decidedly abhors, but she seems not to appreciate that the nearly full page photo is far more likely to be looked at by a reader because of the "Auction of Souls" 'stuff' taking up most of the page space rather than "The Fire Flingers" sign on the left. On the upper left side of the page the authoress warns that "The pictures are not always like the posters. The label says "Poison," but the bottle often contains lemon pop. These two pictures were taken by a photographer in Chicago's celebrated loop." We wonder whether Janet Priest ever saw the film "Auction of Souls." Had she seen it, we believe that she would not have foolishly written what she did or, probably she would have decided to concentrate on "The Fire Flingers" film and better spend her efforts drawing attention to "Auction" as the exception to her 'fantasy rule.' We guess if she did that, her mainline 'story' would fall apart. Janet Priest was active in the so-called "Better Films Movement" and seems to have had a number of causes that ended essentially being ignored so far as we can tell. <![if !supportFootnotes]>[28]<![endif]>
<![if !vml]>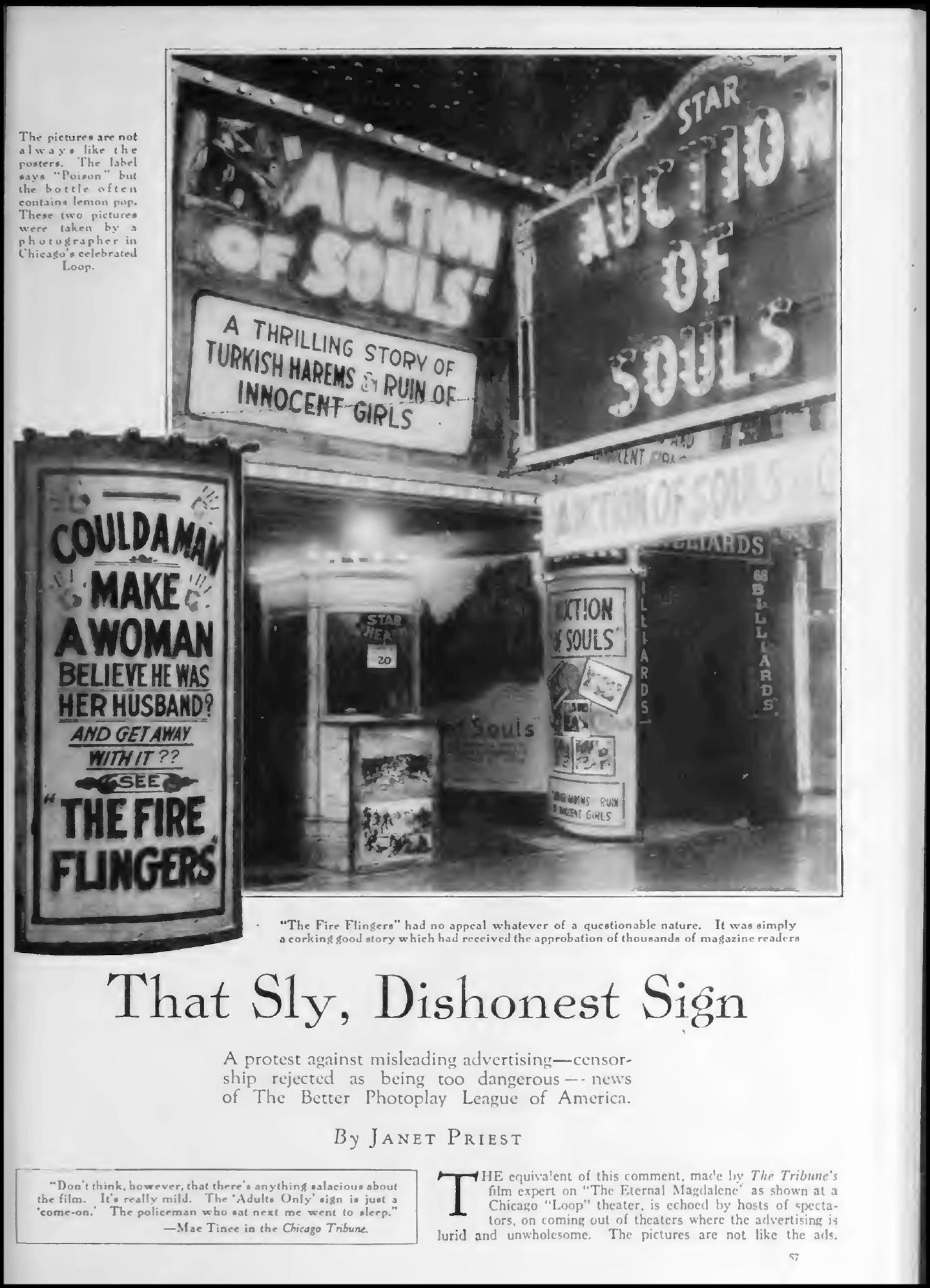 <![endif]>
Fig. 15
Thrilling might also mean "hair-raising," gripping´etc.
Even so, we still wonder why the film Ravished Armenia or Auction of Souls was singled out for criticism by the Censors who did have power to stop it. Was it too blunt? How much was too much?
Certainly the presence of a young Armenian women crucified so dramatically went far to upset sensibilities of all viewers.
The double page advert for the film shown in Fig. 16 below is certainly grim enough. The hooded vulture with outstretched wings perched on an arm of the crucifix bodes ominously on the left-hand page of the 2-page spread. Note incidentally that the ad says 7 reel where most adverts say 8 reel. Fortunately of course Aurora was not a victim of crucifixion, but her experiences taken collectively account fully for her later extreme shyness and abhorrence of masculine attention. Yet, she did eventually marry.
<![if !vml]>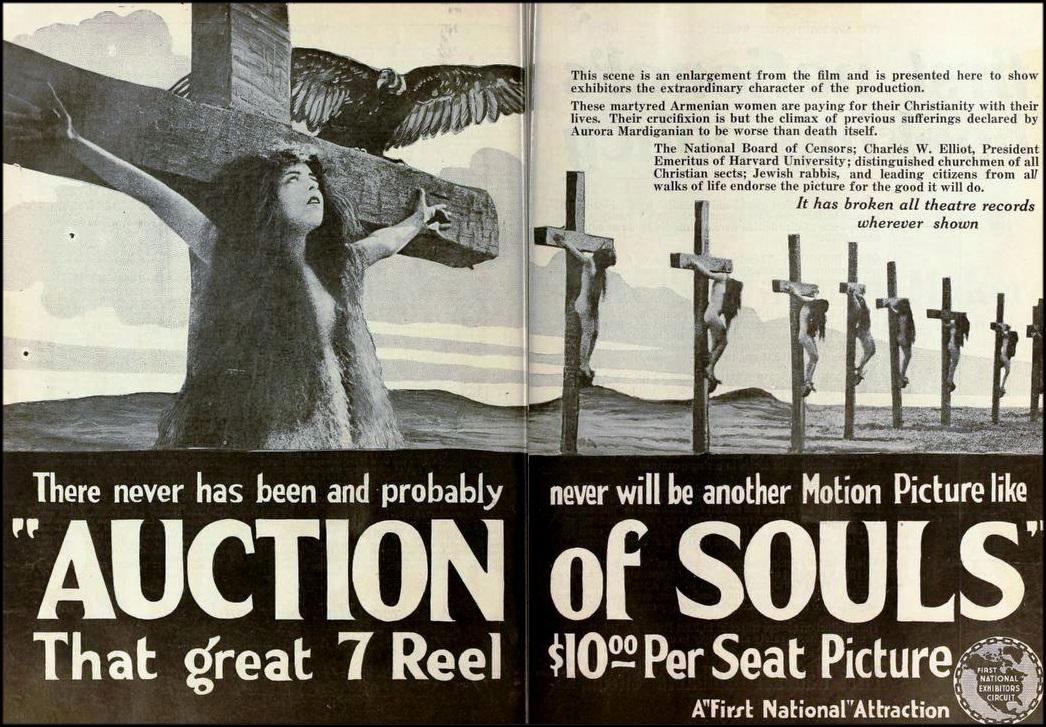 <![endif]>
Fig. 16
From Moving Picture World vol. 40, no. 9, May 31, 1919, pp. 1296 – 1297.
<![if !vml]>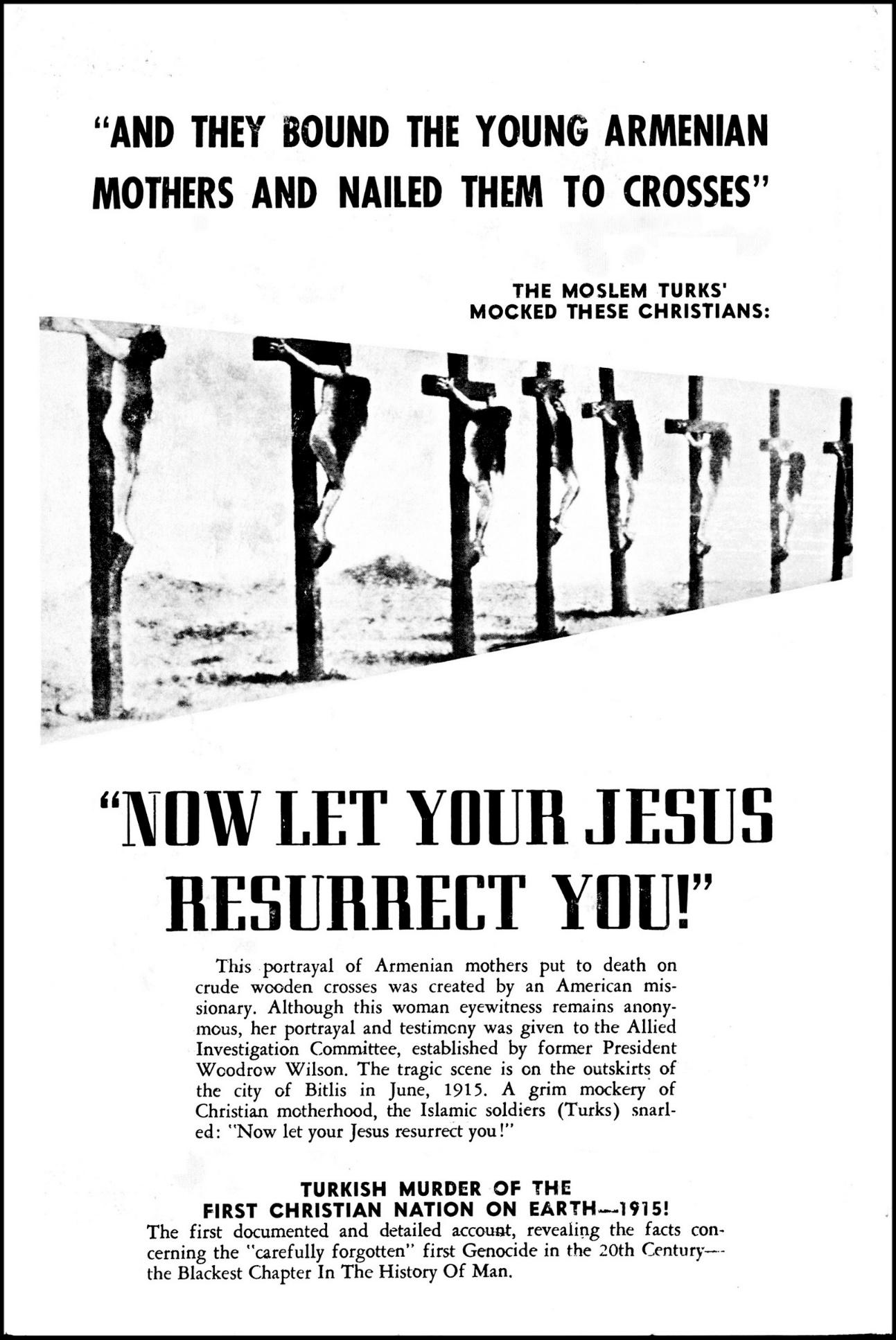 <![endif]>
Fig. 17
From back dust jacket of Lindy Avakian (1965) The Cross and the Crescent, Golden West Publishers, Fresno.  Also see "Crucifixion of a Race" in The Poster vol. 13, no. 6, June 1, 1922, p.67.
Fig. 17 above seizes further on this theme of dramatic crucifixion of Christian girls and women. The ever-present ardent desire not to miss out on any opportunity real or imagined to denounce the Muslim Turks is taken advantage of and condemnation is shouted loudly and clearly wherever and whenever it could be. The sad fact is that it was widely recognized that the persecutions were not based on religion. They were politically motivated. But many did see the opportunity to focus on the sexual wickedness which the whole story of "ravishment" entailed.  Aurora pointed out and corrected for the record the portrayal of crucifixion. Aurora emphasized it was not carried out quite the way it was presented in the movie or imagery shown above. What is better and more accurately described as impalement is what happened.  Impalement was penetration of the human body with a sharp stake or large spike or the like, and that was the technique used.  The most sickening part of it all was that impalement was usually through the vaginal route. <![if !supportFootnotes]>[29]<![endif]>
Those who would censor the film and try to keep it from being seen, lost out when a sensible and wise judge adjudicated that "Auction of Souls" was a highly educational film (see Fig. 18).
<![if !vml]>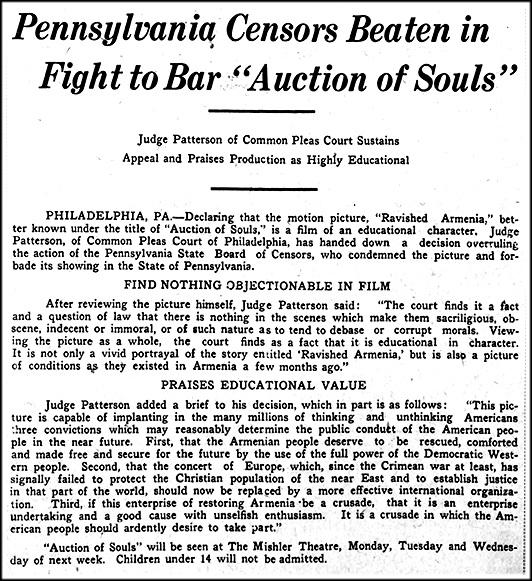 <![endif]>
Fig. 18
Mention has already been made that use of stark and blunt imagery in connection with 'educating' the public as to what the horrors in the film "Ravished Armenia" were 'all about' ended up being shown in full but kids under 14 were not admitted whether accompanied by an adult or not.<![if !supportFootnotes]>[30]<![endif]>
We personally think that Fig. 19 from Wid's Daily (later Film Daily) below is very restrained and 'tame,' even insipid, when compared to 'our' newly located colored "Ravished Armenia" poster. The claim is made in Wid's that the movie supposedly does not yet have a name yet the date of this ad is 20 April, 1919. Someone please educate us as to why this is so since it is clearly wrong. Perhaps we do not understand correctly what is meant by "Title Announced Soon." The colors don't make this page any more distressing or effective in our view. Aurora is shown cringing on the right hand side of the picture. Superlatives dominate.
<![if !vml]>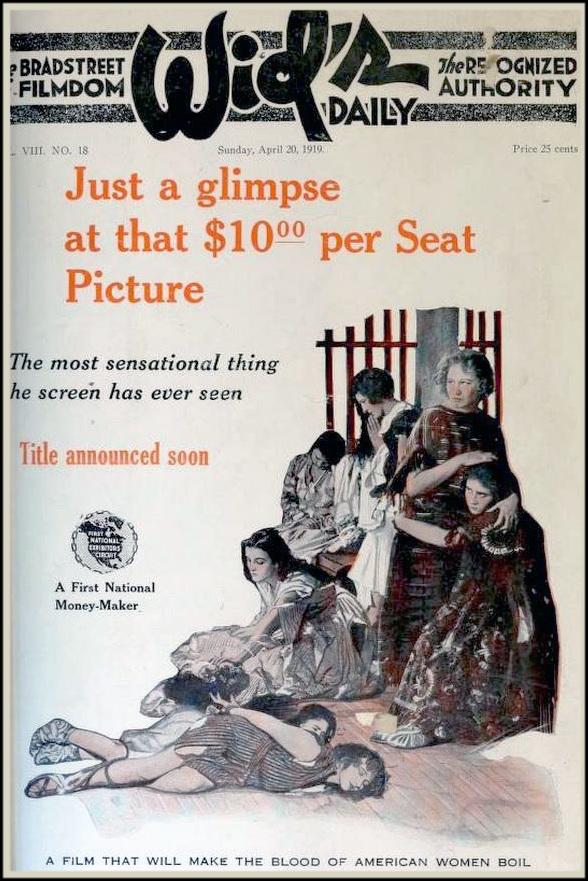 <![endif]>
Fig. 19
Even the brightly colored cover of a later reprint of an otherwise image-free text of "Auction of Souls" utilizing sexual imagery comes out looking a bit subdued in our view. See Fig. 20.<![if !supportFootnotes]>[31]<![endif]>
<![if !vml]>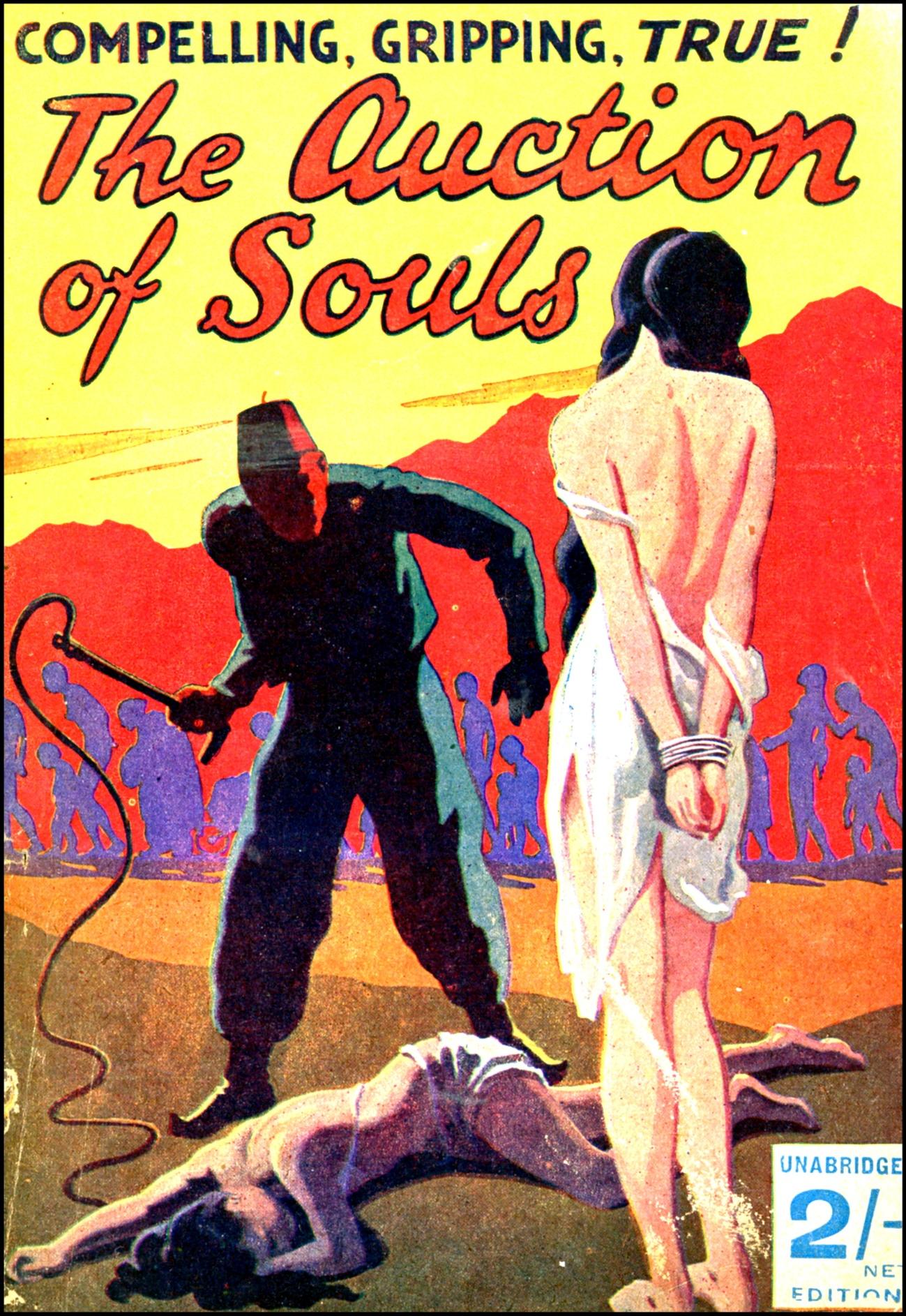 <![endif]>
Fig. 20
Certainly Fig. 21 below showing the sheet music cover brandishing a stylish sexy songster with pictures and music within and the statement on the upper right "Dedicated to Aurora Mardiganian" does little in our minds to elicit sympathy from a generally naïve viewer and potential donor of cash for relief of needy survivors. Was the name Aurora Mardiganian that well known in 1919?
<![if !vml]>
<![endif]>
Fig. 21
Similarly, the heart wrenching cartoons messaging the predicament of a throng of young, wide-eyed and misty-eyed survivor victims drawn by talented political cartoonists like Clare Briggs tug at the heart of the viewer. But they are still far from the reality of delivering a message of their all too common enslavement, sexual molestation, and harassment.<![if !supportFootnotes]>[32]<![endif]> Fig. 22 is but one example of many that tears asunder the heart of viewers.
<![if !vml]>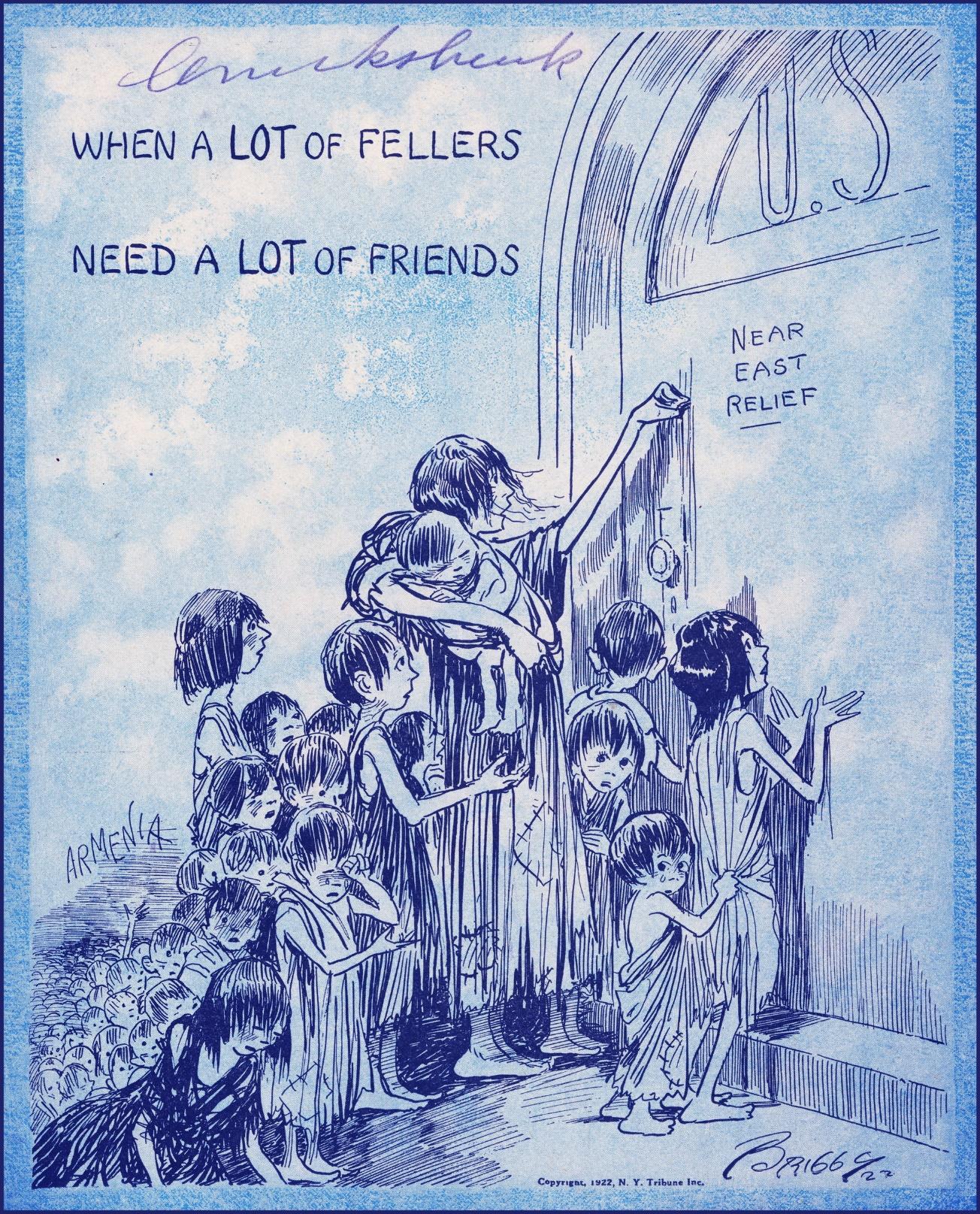 <![endif]>
Fig. 22
The cartoon at Fig. 23 below draws attention to the fact that in some cases German clergy often cast a blind eye and a deaf ear on the laments of Armenians as they were being exterminated. Their government made it very clear that it did not wish to meddle in the internal affairs of their Turkish ally. Endnote 31 provides a number of citations to German Jewish sexologist Magnus Hirschberg, especially dated 1929, at the end of that entry. The German says that silence on the part of Clergy is the order of the day over the Armenian massacres.
<![if !vml]>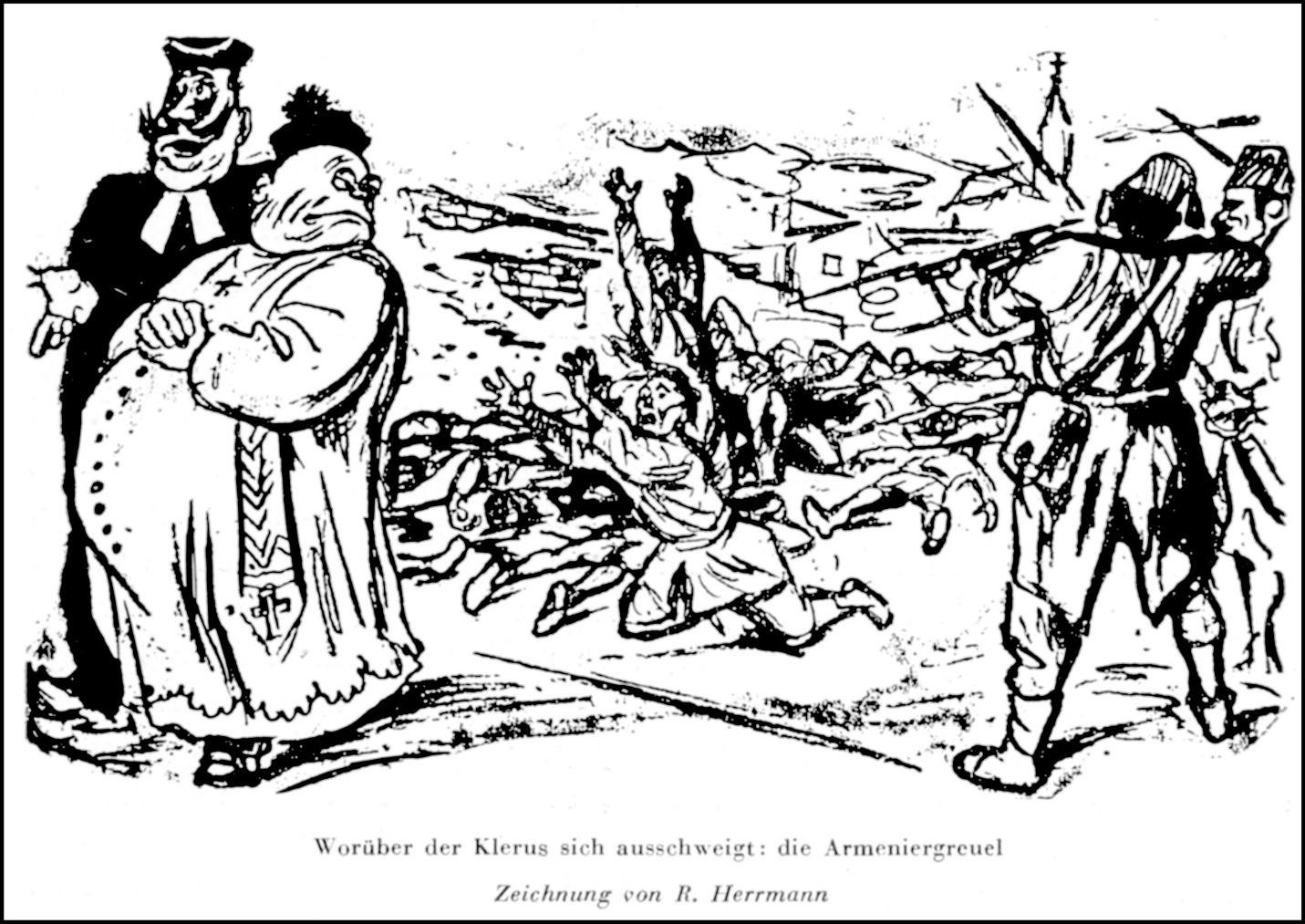 <![endif]>
Fig. 23
The high quality close-up images of sections of 'our' 'newly found', 'fresh' copy of the "Ravished Armenia" film promotional Poster are presented below as Figs. 24, 25, 26, 27, 28.
Perhaps we would be taken to task if we described our recently photographed poster as "pristine" – after all it was produced in 1919 – but it is actually as close to pristine as possible.<![if !supportFootnotes]>[33]<![endif]>
<![if !vml]>
<![endif]>
Fig. 24
<![if !vml]>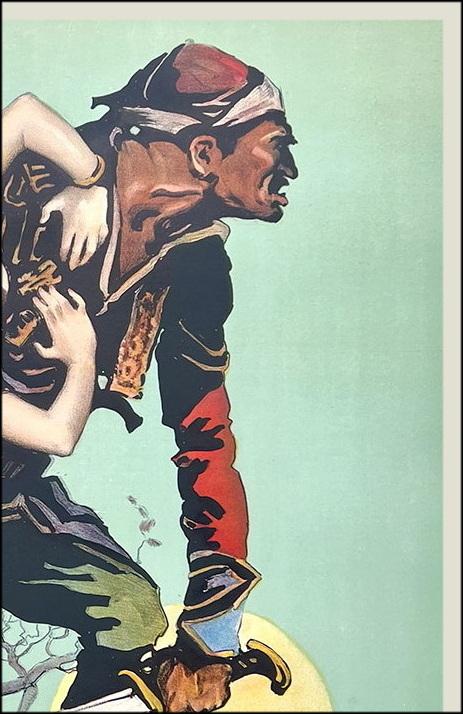 <![endif]>
Fig. 25
<![if !vml]>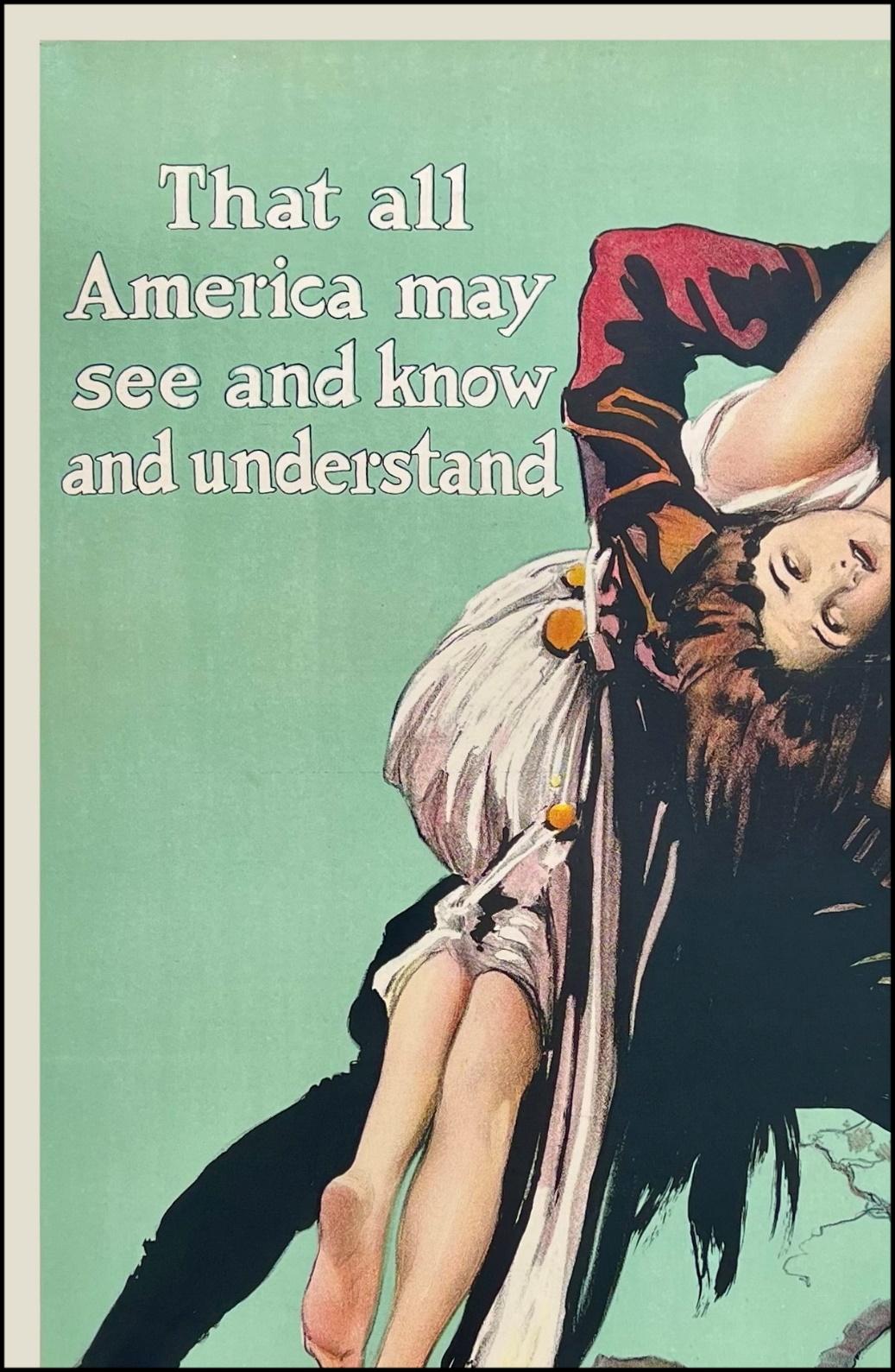 <![endif]>
Fig. 26
<![if !vml]>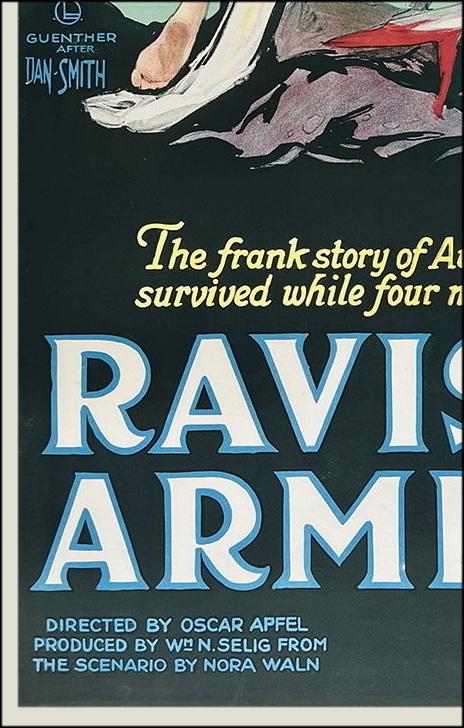 <![endif]>
Fig. 27
<![if !vml]>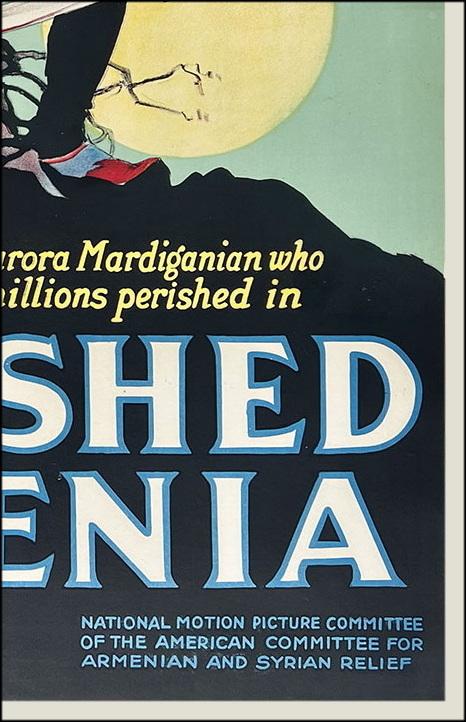 <![endif]>
Fig. 28
We learned through our research starting years ago that Emmanuel Frémiet (1824 – 1920) had been credited or (discredited?) for his 'hand, albeit indirectly it must be admitted, in the thematic framing of the "Ravished Armenia" poster.  By the time his artistic status as a sculptor in the French school had been fully realized, he was recognized as a superb "animalier" (a specialist in the subject area of animals) and professor of drawings of animal subjects at the Jardin des Plantes in Paris. (Although it bears the name Jardin des Plantes, it was also home to the zoo, a natural history museum as well as a major botanical garden. His own feeling about the theme behind his animalier work seems to have been that he wanted to draw attention to what he thought were the proverbial struggles between man and animals throughout history. The progression of the expression of this struggle ultimately left out the gorilla element that was so central to his early gorilla plasters and gorilla bronzes.
It has always been a bit of an enigma to us that supposed ferocity and frightful wickedness of the gorilla ended up being used as the model.  It is true that Frémiet used the western lowland gorilla as his model.  We have been privileged to see the eastern upland gorilla in the wilds of the Bwindi Forest Reserve in Uganda on the border with the Democratic Republic of the Congo but the differences between the upland and lowland gorilla are not significant for the average person.
Let it be said that the present-day human's view and opinion of 'the gorilla' as a wild beast of the jungle and a both 'uncivilized' and 'uncivilizable' animal is quite different from the view associated with it back in the days of Frémiet. Today, the gorilla has happily been absolved of any innate murderous viciousness. As said, we have been fortunate enough to witness mountain gorillas in the wild and have had first-hand opportunity to observe them as peaceful vegetarians living in calm family groups, with youngsters playing under the watchful eye of their mothers and huge silverback male. See Taylor and Krikorian An hour with Mountain Gorillas in the Impenetrable Forest, Uganda, YouTube https://www.youtube.com/watch?v=zy4dZwKWlGI
People in our age group in America generally first saw a gorilla, a male named Gargantua in a glassed-in air-conditioned cage at the Ringling Brothers, Barnum and Bailey Circus side show. The mature male gorilla Gargantua was a personality in his own right. Later, they 'fixed him up' with a female named "Toto." Gargantua showed little interest in her. They were in the same cage, but he could care less. They were kept in virtual quarantine for fear that might catch colds from the viewing public.
Presumably the heading for the caption accompanying our full-page Fig. 29 close-up of his face calling Gargantua a murderer was contrived for its commercially driven dramatic effects, but it is totally wrong. <![if !supportFootnotes]>[34]<![endif]>  Gargantua was often described as the largest and fiercest, meanest gorilla ever brought to America. All a ploy.
<![if !vml]>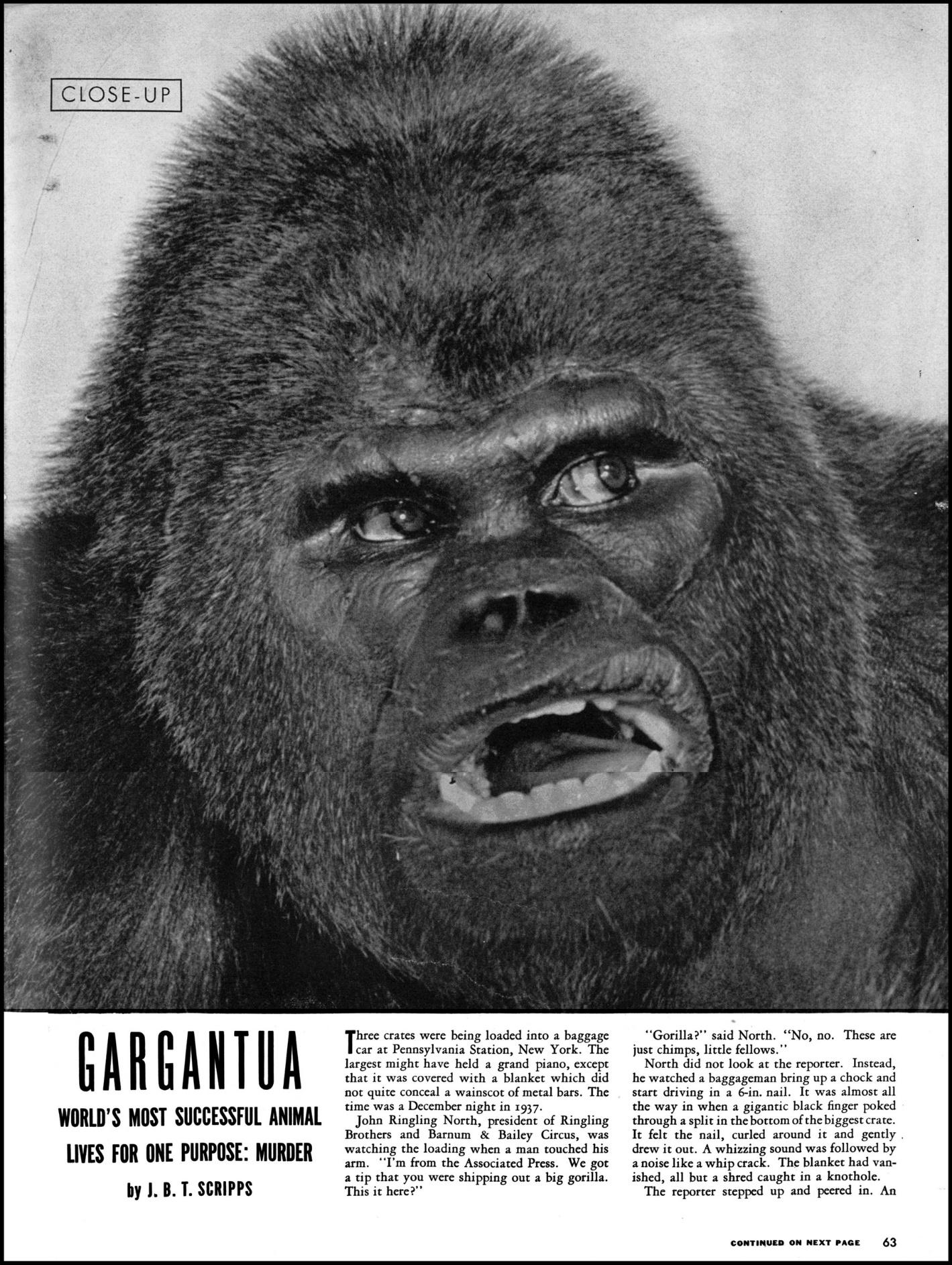 <![endif]>
Fig. 29
<![if !vml]>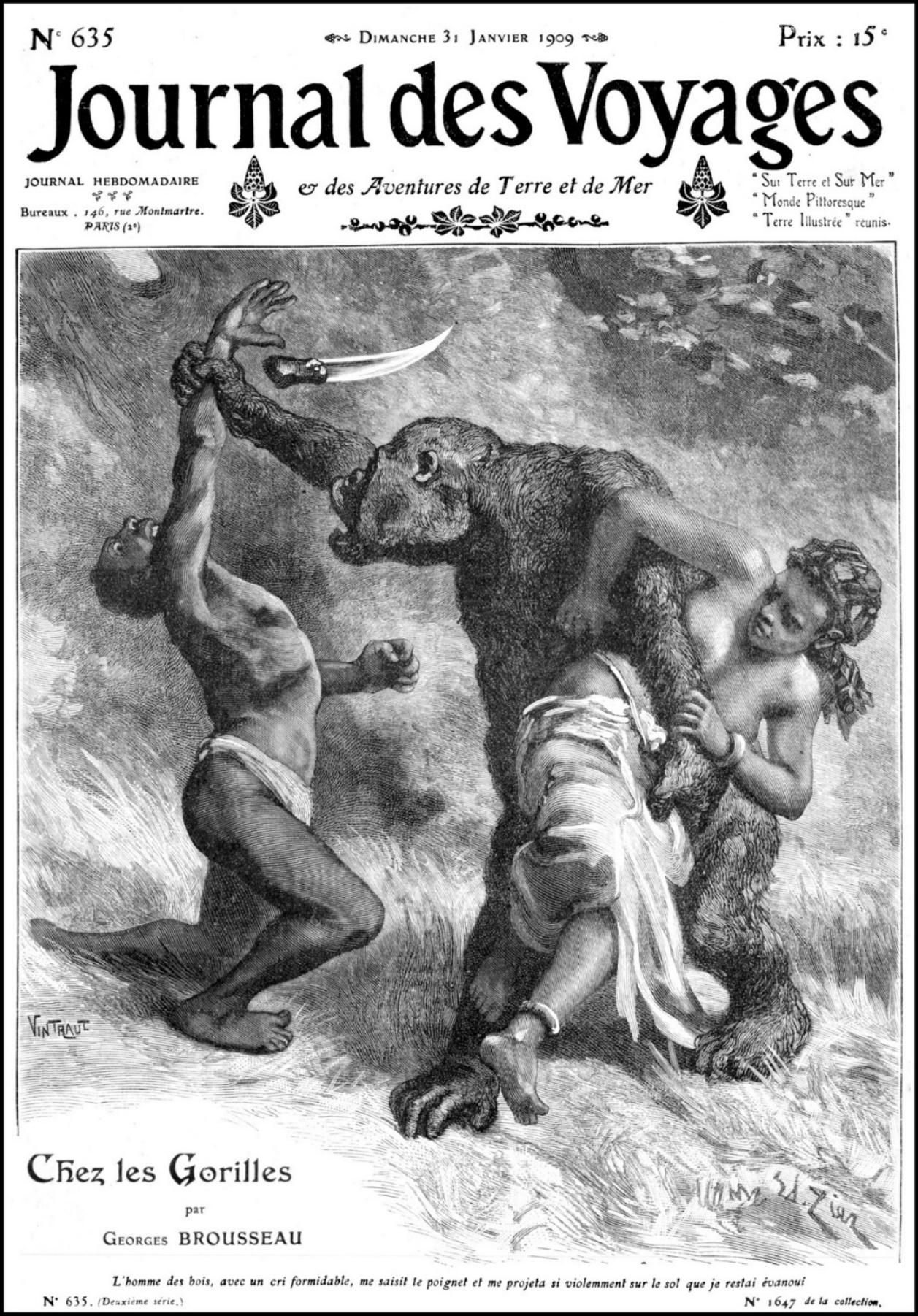 <![endif]>
Fig. 30
The totally different image (Fig. 30) above published in 1909 in a French popular magazine shows a much dramatized scenario in which a fierce gorilla confronts a native man in loincloth wielding a knife hoping to reclaim a young maiden from the clutches of the hairy beast. The maiden presumably had been grabbed by the beast. The gorilla grabs the would-be assailant's arm and makes him drop his knife.
Getting back to our 'new' poster, we should point out that the vast range of imagery that was used to inform the public at large worldwide about the horrors of the Armenian genocide, at the same time also played a major role in raising funds to support Genocide survivors.
The array of images and propagandistic works constituted fine artwork, and were both imaginative and very effective in stimulating support and raising cash, even as it 'threw stones' as we are wont to put it, at the Turk genocide perpetrators. Slogans like "Give til it hurts" rang true, and cynics often teased aloud that the pain threshold in giving should not be low!' Millions were raised.
Figs. 31 and 32 give two examples of imagery that we have selected because they are very good in our opinion at conveying a message of the extant barbarism.  Neither image is well known today. Fig. 31 below shows Kaiser Wilhelm II, Turkish Head of State Sultan Mehmed II, and Austro-Hungarian Emperor Franz Josef I. Their bloody aprons tell it all. There are parts of humans hanging from the shop rafters with the designation that they derive from "freshly killed" and prime quality meat of soldiers from the so-called UHLANs. (We won't go into detail here on the Uhlans but suffice it to say that they were largely ceremonial 'lancers' in a war where sophisticated firearms were used.) On the lower right of the image, on a platter we see the designation Saucisson of Landwert [the t is missing] meaning sausage made, again, traditionally of pork and other meats but here, sarcastically human victims are implied as well The French satirist Georges d'Ostroya seems to have been popular and produced quite a lot of work, but it has been next to impossible to dig up much on him.
<![if !vml]>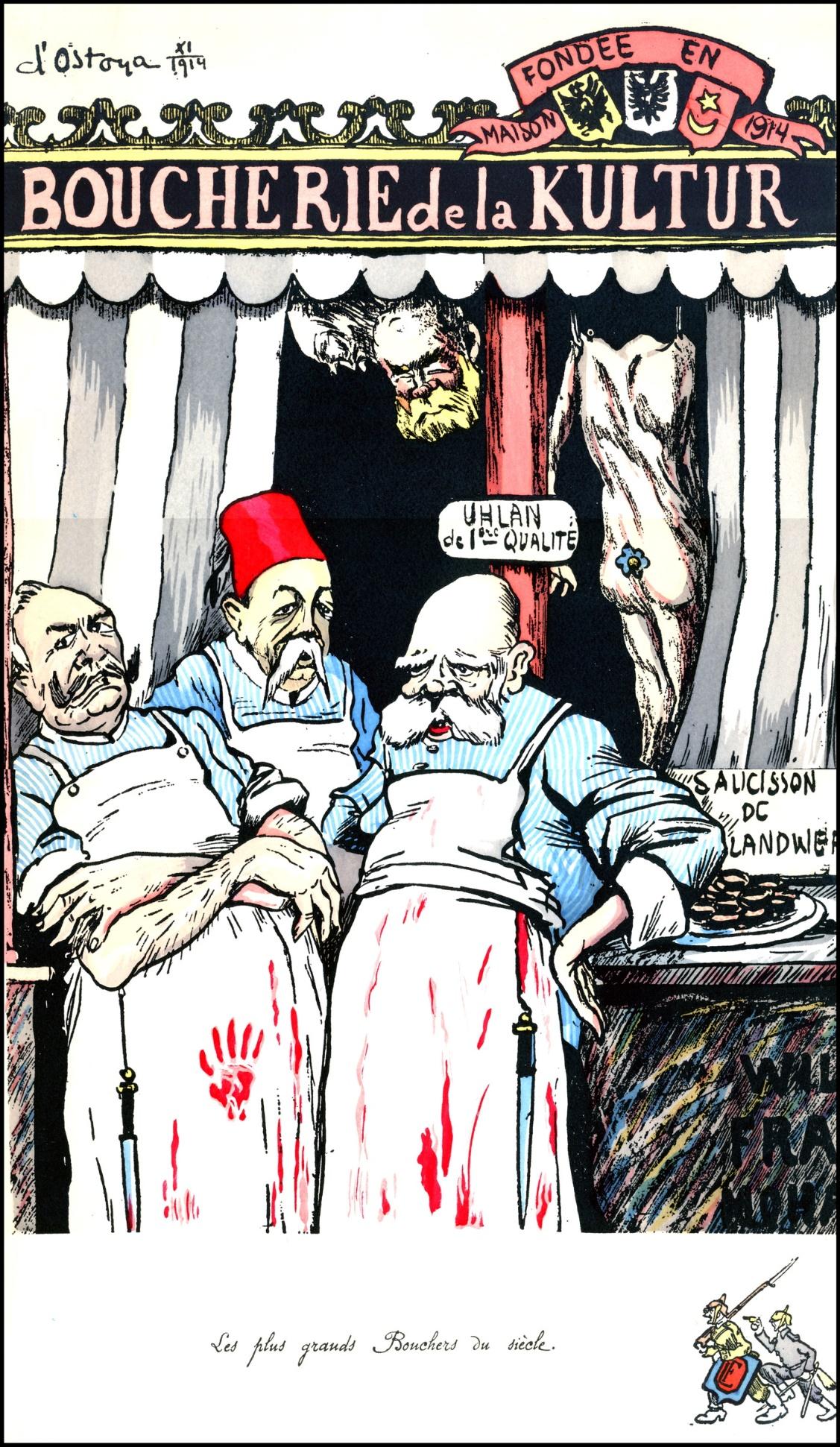 <![endif]>
Fig. 31
The biggest butchers of the century.  What to expect from Kultur [culture].
<![if !vml]>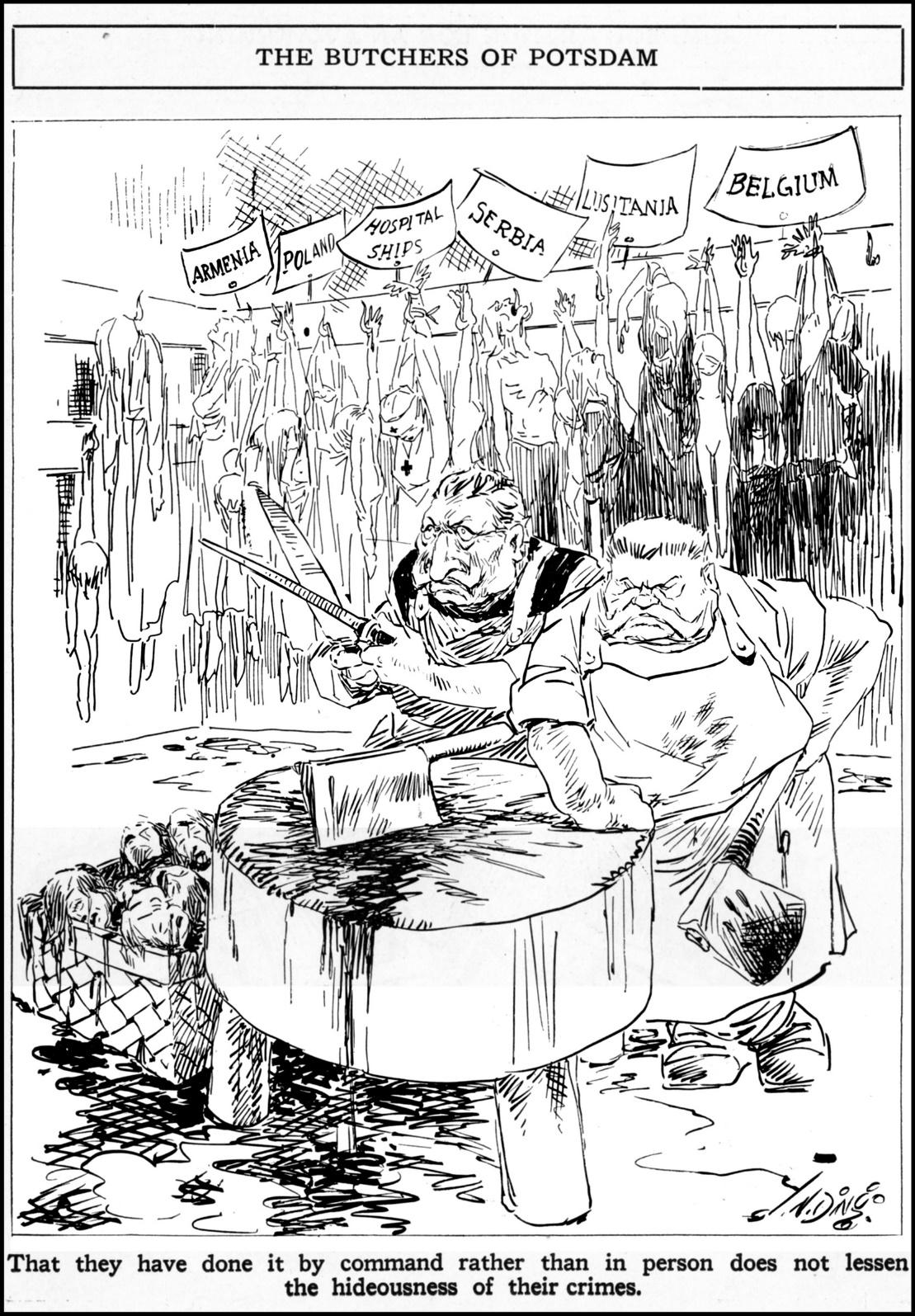 <![endif]>
Fig. 32
Far less interpretation is needed to understand what this cartoon portrays. Jay Norwood Darling (1876-1962) was better known as Ding Darling. Kaiser Wilhelm II sharpening his knife and Emperor Franz Josef I with the meat cleaver at the butcher's block are blood curdling. "Armenia" hangs from hooks on the upper left, followed by a host of other atrocities and persecutions.
Fig. 33 shows 'our' newly acquired poster after it was framed by our friend and professional framer Dawn Saliba Velasquez of the East Setauket Frame Shop in East Setauket here on Long Island. She has met our framing needs for years and always shows impeccable taste.
We believe this poster is outstanding because it encapsulates the Armenian genocide concisely and also embodies everything that it would probably take many additional works of art to fully convey. It represents brutality in the extreme. It has been said that Aurora Mardiganian was the biggest advocate and attractor of funds for support of Armenian refugees. Her personal story captured political commentary even as it captured reality. This poster merits pride of place in encapsulating the horrors.  It portrayed the past as it really was. Alice Walker wrote in 2010 that "Some crimes against humanity are so heinous that nothing will ever rectify them. All we can do is to attempt to understand their cause and do everything in our power to prevent them from happening, to anyone ever again." <![if !supportFootnotes]>[35]<![endif]> We feel certain that this poster will go far to keep the multi-layered grief of "Ravished Armenia" alive.
Fig. 33<![if !vml]>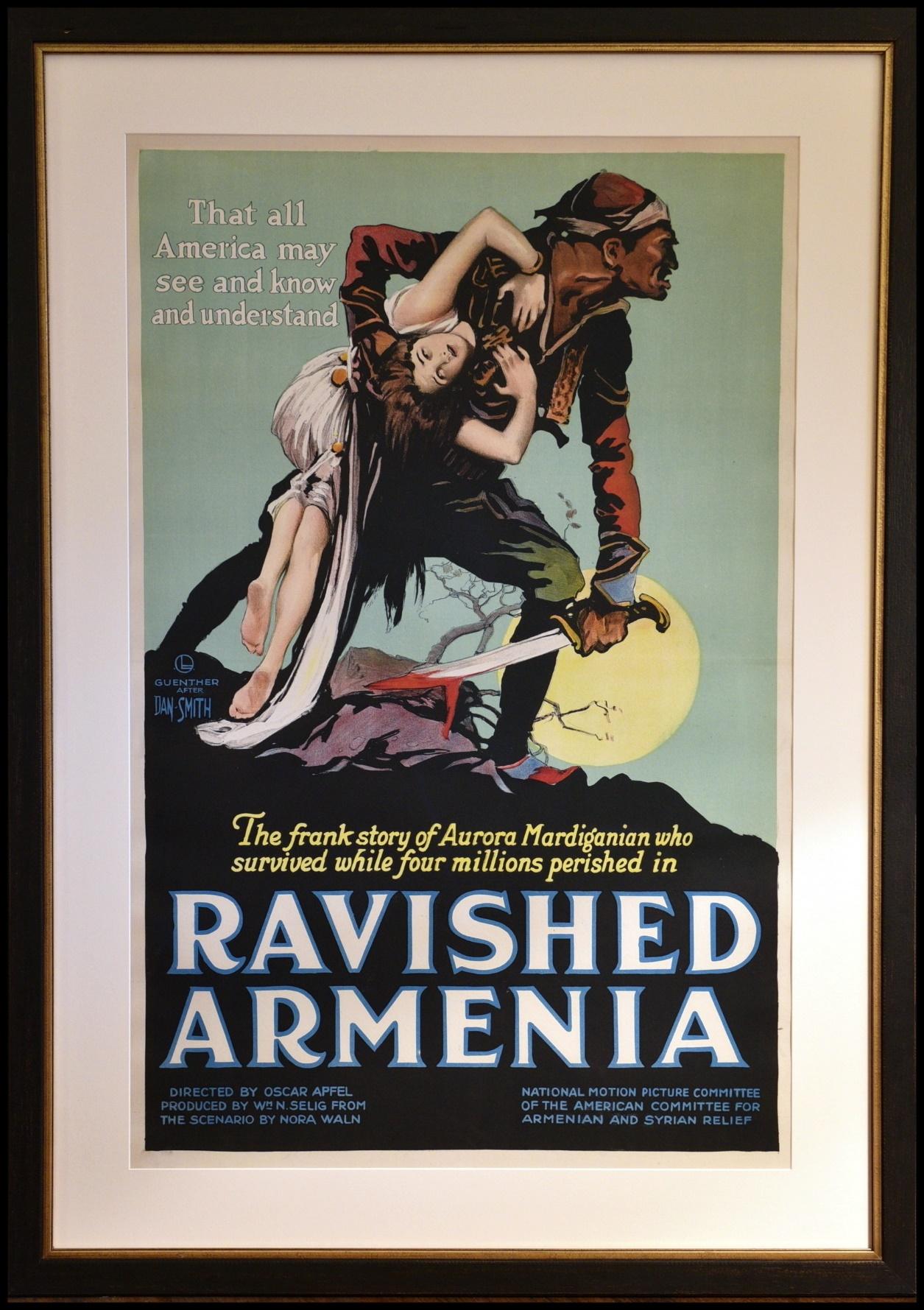 <![endif]>

The size before framing is 27.3 X 40.9 inches.