Armenian News Network / Groong
---
Raphael Lemkin And The Coining Of The Word "Genocide":
Miscellanea: Odds and Ends from Our Armenian-related Notes
Armenian News Network / Groong
July 5, 2022
by Abraham D. Krikorian and Eugene L. Taylor
Probing the Photographic Record
LONG ISLAND, NY
---
PrÉcis
What we have covered in this extended essay is essentially a prospectus on the Armenian genocide.  Rafał Lemkin, a Polish Jewish jurist and lawyer coined the word genocide and circumscribed what it was and was not.  He made it very clear that he knew the Armenians were victims of genocide.  We maintain in this essay that all victims of genocide should be supportive of one another. It is the evil genius of those who commit genocide to foster denial and make the victims of these various persecuted groups see each other as rivals to pity, and thus easy to dismiss as malcontents, exaggerators, and subversives.  News management and control of media narrative have become fine arts among genocide deniers.  We believe the arguments and imagery we present are persuasive, grounded in historical fact and detail, and should dispel the deniers.  It is not a matter of "We were the most victimized," rather, it is a matter of much greater general import.  Not only those peoples who have been victimized by genocide should be a matter for our concern, but of all victimized peoples who deserve our interest and recognition in history.  Names and definitions are important but not the all-important element.
Introduction
One of the objectives of this presentation is to fill in a few gaps of knowledge about the life and work of Rafał Lemkin (Raphael Lemkin).  Some emphasis is also given in the latter part of this essay to how he came up with phrases like "the Armenian genocide" (spelled with a lower-case g or capital G) or "the Genocide committed against the Armenians," "the Turkish Genocide of the Armenians."
One must state at the outset that it took many years for the word 'genocide' to come into being as a 20th century construct.  The word was totally due to the initiative and labors of Raphael Lemkin, a Polish Jewish jurist, and has unfortunately evolved to the status of being accepted or used today without much serious concern or introspection.  In the early period, the word or concept was barely known or bothered with by the public at large, even the educated and professional public.  The word has now become a matter of international law, but to be frank, international law generally speaking has few teeth and this ends up being a Godsend to specialist attorneys who can argue the cases forever.<![if !supportFootnotes]>[1]<![endif]>
What Can Be Said About Raphael Lemkin
that is important but has not been said before?
The answer is "Unfortunately, not much that would be described as super-important."  But there is ample opportunity to add bits and pieces to the story.  There is a fair amount of general biographical and bibliographical information on Raphael Lemkin available online, so little need be repeated here in the body of this essay based on that information.  There are, however, many Lemkin materials that are scattered throughout various print archives that are still largely inadequately used or even essentially understudied or even unstudied.  One certainly wishes that they were available for examination in a more ordered fashion.  The fact that they are available at all is a miracle in itself.  Steven Schur relates the dramatic story of the recovery of the Lemkin Archival materials that are now in the New York Public Library.<![if !supportFootnotes]>[2]<![endif]>
We ourselves have done some research in most of the archives where Raphael Lemkin's papers are preserved, but we have always felt that the materials were by no means easy to study in the most rational of manners.  For one thing, his handwriting is not very easy to read.  The typed pages are of course better, but they are often undated or missing.  It is also important to say that there are points in the papers which cannot be substantiated by corroborative research, or they may even be inconsistent and contradictory.
In one place, for example, to be found in the New York Public Library papers, there is a biographical statement relating to his experience coming to the USA and teaching.  It says that he "proceeded to the United States which he reached just before Pearl Harbor."  Now, every school child of our generation has hopefully learned Roosevelt's statement that December 7, 1941, was "a date which will live in infamy."  Archival records at Duke University Law School indicate that Lemkin was in Durham, North Carolina in late April 1941.  Just how the phrase "just before Pearl Harbor" got into the record will have to await someone coming across it by chance.  Perhaps in the grand scheme of things "just before" could be April and it is thus a totally negligible point.
This quibble is but one trivial example of how challenging it is to not slavishly follow what one encounters in archives.  One cannot always easily decide what is important and what is not.  The Lemkin materials are voluminous, and it is one thing to admit that many topics entail a complex narrative that must be elicited from the various sources.  Even so, it would seem that at least some basic, verifiable, and verified information about a person who is often so eulogized and applauded today would be well settled by now.  Apparently, for Raphael Lemkin, that is not necessarily the case.  We spent more time than we should like to admit tracking down the ship's manifest for Lemkin's immigration.  We were finally able to do it at the Family History Library at Salt Lake City.  Prior to that we had run into a number of stumbling blocks.  At least that is now done and should put to rest the range of largely incorrect stories of his immigration. (See below.)
Also, there are on occasion, multiple copies, versions, and drafts, some in different locations.  For us, getting only a few of them into some sort of chronological order has been a major task despite "Finding Aids."  Some years back it was reported that there was an ambitious plan to publish a catalog of Raphael Lemkin's unpublished works and correspondence as part of a comprehensive project.  This was to be accompanied by a full-length biography.  Rabbi Dr. Steven Leonard Jacobs of Tuscaloosa, Alabama undertook this herculean task.  Even a cursory examination of a volume published in 1992 by Rabbi Jacobs that derives from an untitled Lemkin manuscript, but titled and edited by Jacobs as "Raphael Lemkin's Thoughts on Nazi Genocide. Not Guilty?" (Edwin Mellen Press, Lewiston, ME.) shows what an enormous undertaking such a project involves.
Before continuing in our attempt to give at least some fresh perspective on Lemkin's life, we should perhaps start off with the point that the Polish spelling of his first name is Rafał, that is an l with a stroke through it.  This renders the pronunciation as "Raff'ow" [as in ow that hurts!].  Raphael is the Anglicized form of his name and is mostly used.<![if !supportFootnotes]>[3]<![endif]>  We have encountered only a couple of times in correspondence where he is addressed as Rafal (no line through the l as ł).
Not unexpectedly, most of the coverage that one finds on the Internet is largely derivative and some of it inexact, sometimes totally wrong.  Such basic pieces of information as Raphael Lemkin's year and 'country' of birth etc. present inconsistencies, just as the period when he first entered America, and traveled to North Carolina.  His year of birth is sometimes wrongly given as 1901 rather than the correct date of 24 June 1900 (See Fig. 8.).  He died 24 August 1959 in New York City — he did not have a heart attack in his apartment, by the way, as has been said more than once.
To our annoyance, the full medical record dealing with his death is not accessible in NY State to non-relatives.  That shows how silly these things can get.  The hypocritical pretense that privacy is all-important is a joke.  Some individuals who are dead may not have living relatives.  No one seems to have worried about that.  ADK raised such a stink that we would be glad to hear that policy is no longer in place and has exceptions.
Raphael Lemkin wrote himself that he was born in 1900 in Bezwodne, district of Bialystok, Poland.<![if !supportFootnotes]>[4]<![endif]>
To be a bit more informative one might today say that Lemkin was born in what was once referred by some Old Country residents of the area as the "North-West," that is, in what was referred to as the 'Pale of Settlement' in the old Russian Empire.  On some period maps, the international boundaries of the region are referred to as "Russian Poland" with 'White Russia' being a significant but not all-embracing element.  The Kresy (from the Polish word for frontier or borderland) is another expression that one encounters, but the location and composition of the Kresy varied as well over time.  So much for frontiers and the vicissitudes of geography.  Today the place that Lemkin spelled Bezwodne and which he allocated to Poland when he was writing his curriculum vitae for use in America, is given as Bezwodna in Belarus, roughly speaking near to where Poland and Lithuania now meet.  In the time of the Polish Republic following 1920 Bezwodne was in the Białystok district.  As of January 1939, the Grodno oblast [administrative region] was part of Poland.<![if !supportFootnotes]>[5]<![endif]> 
Part of a curriculum vitae produced by Raphael Lemkin himself, emphasizing his broad experience and professional activities is given below. Readers will excuse some repetition of what has already been said. 
He was born in what was historically known as Lithuania or White Russia.  He attended the University of Lwów and then the University of Heidelberg studying philology and languages – ending up mastering nine languages.  He was a member of the faculty of the Free University of Warsaw, Public Prosecutor of the City of Warsaw, member of the House of Governors of the Bar of Poland, a member of the Polish Board for Codification of Legal Codes, a member of the International Committee for the Unification of Penal laws of the United Nations (Fifth Committee) 1931-39; representative of Poland on the Board of Governors of the International Association of Penal Law, Paris, 1932-1938; representative of Poland at the International Juridical Congress in Brussels, Paris, Copenhagen, Rome, Palermo, Prague, Cairo, Amsterdam, and Budapest.  He was author in Polish: The Polish Penal Code (with Justices Janusz Jamont and Emil Stanisław Rappaport (2 volumes, Warsaw, 1932; The Judge Confronted by The Modern Criminal Law and Criminology (Warsaw, 1933); Amnesty (Warsaw, 1933); Financial Law (Warsaw, 1937); The Russian Penal Code (Warsaw, 1928);  The Italian Penal Code (Warsaw, 1929); in French: The Regulation of International Payments with preface by von Zeeland (Paris, 1939); in Swedish: Exchange Control and Clearing (University of Stockholm Lectures, 1940-1941).  Author of numerous monographs, papers, and articles on criminal law, penology, and international monetary problems in Polish, French, German, Italian, and English. He taught for one year at the University of Stockholm and from there, via Eurasia and Japan proceeded to the United States.
This brief accounting gives a broad perspective of a man with a great deal of experience, especially for someone so young.  Would-be detractors who suggest that he was 'a nobody' are very misinformed.<![if !supportFootnotes]>[6]<![endif]>  
For our more immediate purposes here, many might say that it would suffice to say that Raphael Lemkin was a jurist, a Polish Jew who immigrated into the U.S.A. in 1941 through a series of rather amazing events, assumed an appointment in mid-April 1941 at Duke University School of Law in Durham, North Carolina that had been pre-arranged by a friend on the Law faculty, and by the time of the 1949 TV broadcast "UN Casebook XXI: Genocide" through which he became better known and recognized as a public figure, he held a teaching post at Yale University.
It seems appropriate to now present some more relevant details on his personal history.  Raphael was the second of three sons.  His older brother was named Elias and his younger brother was Samuel.  His father was a tenant farmer, said to be somewhat unusual at that time for a Jew.  His mother (née Bella Pomeranz) has been described as a cultured, highly intelligent woman. 
Professor Ryszard Szawłowski has pointed out a number of nonsensical statements [see endnote 6 cited above] that exist in various biographical accounts, and we ourselves know that these errors have been sustained more than a few times both in print and in lectures.  For example, any notion that Raphael Lemkin lived under Nazi occupation is just that, a baseless notion.  Lemkin never lived under German occupation.  (Fair to say that the Polish administration was sympathetic to Hitler, even pro-Hitler, from 1933 right up to the time of invasion in 1939.)  Lemkin practiced and taught law.  The mentality was that the Nazis were anti-Russian, and that suited more than a few Poles.  He lost his job when he returned to Warsaw in 1933 after trying to get the League of Nations interested seriously in crimes of "barbarity."  (That was a lost cause.)  Neither was Lemkin part of the Polish underground movement.  His family was apparently murdered by the Nazis in 1942, at a time after which Lemkin had been and was in the United States, that is after April 1941.
So far as we can determine, the 'only' atrocities that Lemkin saw with his own eyes (and they were certainly barbaric enough for anyone to witness) entailed the following which we quote from a magazine article by well-known journalist Herbert C. Yahraes Jr., published in Collier's magazine in March 1951pg. 29:
"With the Nazi invasion of Poland in 1939, Lemkin took refuge with hundreds of other Poles in a vast forest.  There he saw the Germans bomb a refugee train drawn up at a nearby village.  Several hundred children who had packed the train had tumbled out and were eating breakfast.  Telling about it, Lemkin rubs his hand nervously over the arm of his chair.  "Then as the planes came over," he says quietly, "and destroyed them."  He looks up.  "Is it any wonder I couldn't forget my idea?" [of developing and putting in place legislation against the crime of barbarity.]
For us, this indeed qualifies as his 'personal experience' but does not reflect personal experience so far as 'The Holocaust' is concerned, as some have claimed, not unless one wants to recast dramatically when 'The Holocaust' against the Jews and Slavs and Roma and Sinti etc. began.
Loss Of Raphael Lemkin's Family During The Nazi Horrors
An important piece of information about Raphael Lemkin learning of the death of his relatives as a result of the Nazi horrors may be found showcased in the Collier's magazine article by Yahraes, referred to above entitled "He gave a name to the world's most horrible crime."  The article clearly seems to have relied on an interview or interviews, and portrays Raphael Lemkin in a very human light, rather than in the more usual serious, even stolid way in which he is characterized in most other articles.  See below. 
Here we will attempt to visit anew and very briefly the matter of what motivated Raphael Lemkin to coin the word "genocide."  This has been approached, or at least touched on by a number of writers in various and sundry incarnations of the whole.  However, we should strive towards a perspective that is as accurate as possible a perspective and get some timing of events into a proper time sequence.  There are, of course, as in any attempts of synthesis of the sort under consideration here, many pitfalls that confront one.  Methodological complexity is the order of the day.
Figs. 1 and 2 below are from Herbert Yahraes "He Gave A Name To The World's Most Horrible Crime." Raphael Lemkin called it "genocide"  ̶  the mass killing of people, and personally made it into an international crime, Collier's magazine March 3, 1951 pgs. 29, 56-57.
<![if !vml]>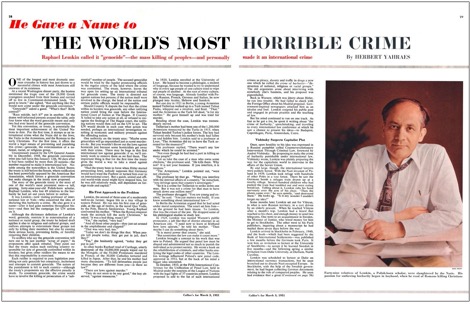 <![endif]>
Fig. 1.
Double-page spread that opens journalist Herbert Yahraes' excellent article. 
<![if !vml]>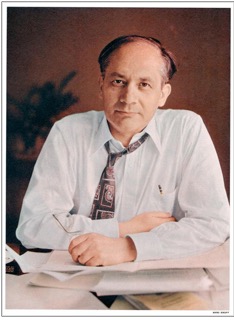 <![endif]>
Fig. 2.
Enlargement of what we think is an attractive color photograph by Hans Knopf of Raphael Lemkin in a somewhat pensive mood.
Raphael Lemkin speaks quite directly on the matter about the murder of his relatives to the journalist Yahraes.  He asks, for instance, "If you mean do I know which went into the gas chambers, and which the Germans starved to death someplace else, no, I don't know that" (Yahraes 1951 pg. 56).
It has been related that Lemkin needed to be hospitalized 20-26 July 1946 at the U.S. Army Medical Hospital in Paris as a result of hypertension related ostensibly to stress.  We have not yet checked the records in the United States National Archives of the Paris hospital, but it has also been stated outright, or at least implied, that his hospitalization was in Nuremberg.  Cooper (2008 pg. 72) says "Distraught at being unable to trace any members of his family from Poland and suffering from high blood pressure, Lemkin was confined to a military hospital."<![if !supportFootnotes]>[7]<![endif]>
Whatever the sad specifics, it seems quite safe to say that it was considerably after his release from hospital in Paris that Raphael Lemkin learned about the fate of his family.  This is, therefore, well after Lemkin's "Axis Rule…" appeared in print.  Accordingly, because the hospital stay was in 1946 and "Axis Rule…" was published considerably earlier in late 1944, it would appear wrong to try to make the case that Raphael Lemkin's coining of the word "genocide" is directly related to his learning about that personal tragedy.  Moreover, coining the word certainly had nothing to do with "The Holocaust" in the strict use of that expression.  "The Catastrophe" or sometimes "The Great Catastrophe," Yiddish speakers and writers use "umkum" or khurbn -sometimes pronounced as if it ended with an "m." "  Umkum means 'catastrophe' or 'destruction,' 'total destruction' or even 'war' etc., depending on the context.  (We thank Dr. Agi Legutko, Director of the Yiddish Language Program, Columbia University.)  The almost universally known expression "The "Shoah" ('Calamity' in Hebrew) was eventually replaced, in America especially, by "The Holocaust" only considerably later.<![if !supportFootnotes]>[8]<![endif]>  
No clear-cut information on any decision to annihilate all European Jewry had yet been made, certainly known about at large when Lemkin was cogitating or struggling with a name for the 'crime without a name.'  The point should be made here, however, that Raphael Lemkin may well have believed that he 'saw the writing on the wall' rather early.  He recalled the pogroms he heard of as a kid growing up.  Litvak (1991) pg. 68 says "It should also be remembered that during the first half of 1940 there were only a few extreme pessimists who foresaw the "final solution" as it was revealed in 1942."  There is little doubt in our minds Raphael Lemkin was one of these.<![if !supportFootnotes]>[9]<![endif]>
Recall also that Raphael Lemkin's emerging (and ultimate) definition of genocide was broad.  It is not insignificant that he later wrote considerably afterwards, that he "started to collect decrees of occupation which had reached Sweden by way of occupied Europe.  Some of these decrees, like that of the German military commander in Serbia which had already in April 1941 established a death penalty for hiding Jews and Gypsies, foretold the plan of committing genocide."<![if !supportFootnotes]>[10]<![endif]>
Readers of our postings on Groong, the Armenian News Network will see that we ourselves have always tried to be quite specific in our wording.  As a jurist Raphael Lemkin necessarily saw things as legal issues, not from the perspective of a historian, and certainly not as one working in today's environment, either academic or political.
Raphael Lemkin's compilation of "Key Laws, Decrees and Regulations Issued by the Axis in Occupied Europe," dated December, 1942 produced for the "Board of Economic Warfare, Blockage and Supply Branch, Reoccupation Division" under The locator "RR-8 RESTRICTED COPY No. (in our case seen as "no 88") and stamped in red "From War Dept. Liaison Office, Board of Economic Warfare" says: "This collection was compiled by Dr. Raphael Lemkin partly when serving on the faculties of the Universities of Stockholm, Sweden, and of Duke University, North Carolina, and partly when serving as a consultant with the Board of Economic Warfare." 
His preface begins: "The laws and decrees promulgated by Germany in the subjugated countries of Europe, vary according to the policy which Germany has sought to impose, and the problems which Germany has been forced to meet."  Lemkin's work gives an excellent, brief overview of the anticipated perspective on Nazi-generated legal frameworks for persecutions in their occupied territories.  The worst of the ordinances in Lemkin's compilation is in Serbia where the death penalty is to be imposed on anyone who hides Jews or accepts material goods for safekeeping etc.<![if !supportFootnotes]>[11]<![endif]>
Putting aside for the moment the nascent horrors as they were developing in Nazi-controlled territories, we will continue with our sketch of Raphael Lemkin's biography as derived largely from the article by Professor Szawłowski and pieces of Raphael Lemkin's own writings. [see endnote 6 for full reference.]
When Hitler invaded Poland on 1 September 1939, Lemkin left (escaped is perhaps more accurate) Warsaw on 6/7 September as did thousands of other men.  This was in response to an order for able-bodied men to head East, where they would join the army.  There Lemkin "encountered the Soviet aggression against Poland that took place on 17 September."  (That was only 16 days after Hitler invaded Poland.  The invasion by the Soviets did not last long however because the Germans took over completely.)  Lemkin was detained by the Bolsheviks but was subsequently released.  Had they known his real identity they would have arrested him and sent him to a gulag for his hostility and vilification of the Soviet criminal legal system in the course of his professional work.  After this, Lemkin stayed with his parents for a short while and got to Wilno [Vilna] (in Poland but which was then occupied by Lithuanians, today Vilnius, Lithuania).  He escaped from Lithuania to Sweden as a refugee in February 1940, remained there for more than a year and even lectured at the Stockholms Högskola.  His Swedish became good enough to publish a book based on his lectures entitled "Foreign Exchange and Clearing."
Exactly when he left Sweden is not certain, but it seems reasonable that it was early in 1941. 
Raphael Lemkin managed to get into America through his connections with Professor Malcolm McDermott of the School of Law, Duke University, Durham, North Carolina.  (They had met in Warsaw in 1936 and had collaborated in publishing in 1939 an English version of a small book on the Polish Penal Code of 1932 and Law of Minor Offences.)  Raphael Lemkin is said to have been "welcomed on 18 April 1941" at Duke.  (This exact date seems not to be formally confirmable, but it must be very close, if not exact, since there is a news release found at Duke University Law School Archives dated 24 April of his being engaged to teach Roman and International Law.)  Lemkin's long journey from Sweden had entailed coming to America by going clear across the Soviet Union (Trans-Siberian Railway), eventually to Yokohama, Japan and entering the U.S.A. via Seattle, Washington on 18 April 1941.<![if !supportFootnotes]>[12]<![endif]>
We shall now take the liberty to jump ahead in the broad scheme of things and give some coverage to a marker in Warsaw and glean what we can from it.
A Plaque For RafaŁ Lemkin In Warsaw
As so often happens, markers are put up in places with which a particularly important or well-known person was associated.  Some of these are very simple, others are quite elaborate.  If one goes to Warsaw, Poland one can find a building complex which survived World War II that bears a plaque honoring Raphael Lemkin.  See Figs. 3, 4, 5, 6, 7, and 8 below.
We were fortunate enough to see the plaque in Warsaw when we visited this city as part of a trip as tourists to the Baltic Capitals.  If one is unable to make a personal visit, one can amazingly see through the miracle of Google Earth the bilingual commemorative plaque placed on the outside of the then fairly upscale apartment house that Lemkin lived in at 6 Kredytowa Street for several years until 6/7 September 1939.  His name is spelled in Polish and English as Rafał Lemkin.  [It is a common first name for boys and derives from the Hebrew "God heals" or some such.]  Wikipedia shows another close-up of the plaque see: http://en.wikipedia.org/wiki/File:Rafal_Lemkin_plaque_PISM.jpg.]
<![if !vml]>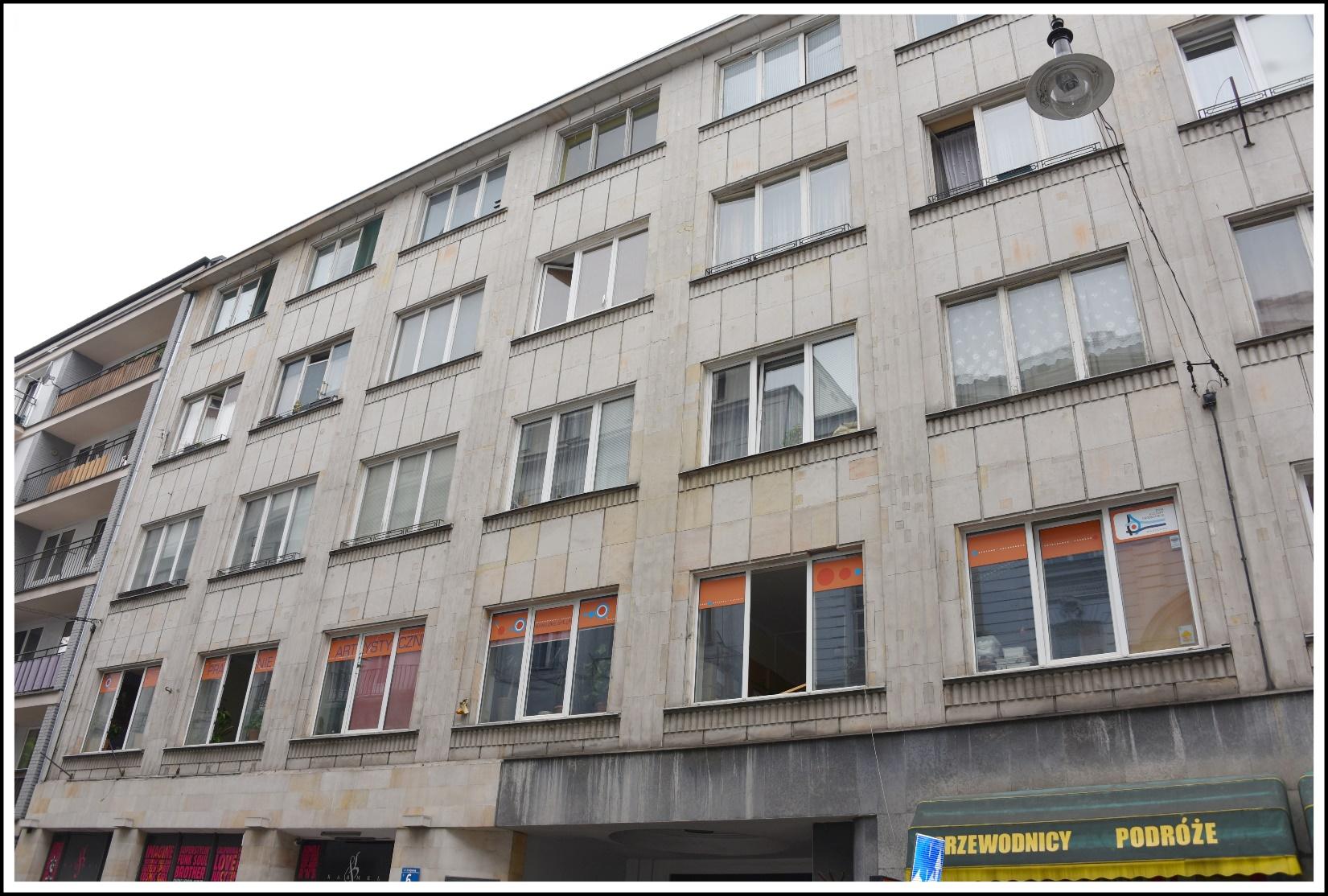 <![endif]>
Fig. 3.
Building on Kredytowa Street where Lemkin lived in Warsaw, Poland.  Fig. 8 shows plaque in some detail.
The awning on the right indicates a 'travel' agency.
<![if !vml]>
<![endif]>
Fig. 4.
Eugene L. Taylor (6 ft. tall) standing by Lemkin plaque on the building where Lemkin lived.
<![if !vml]>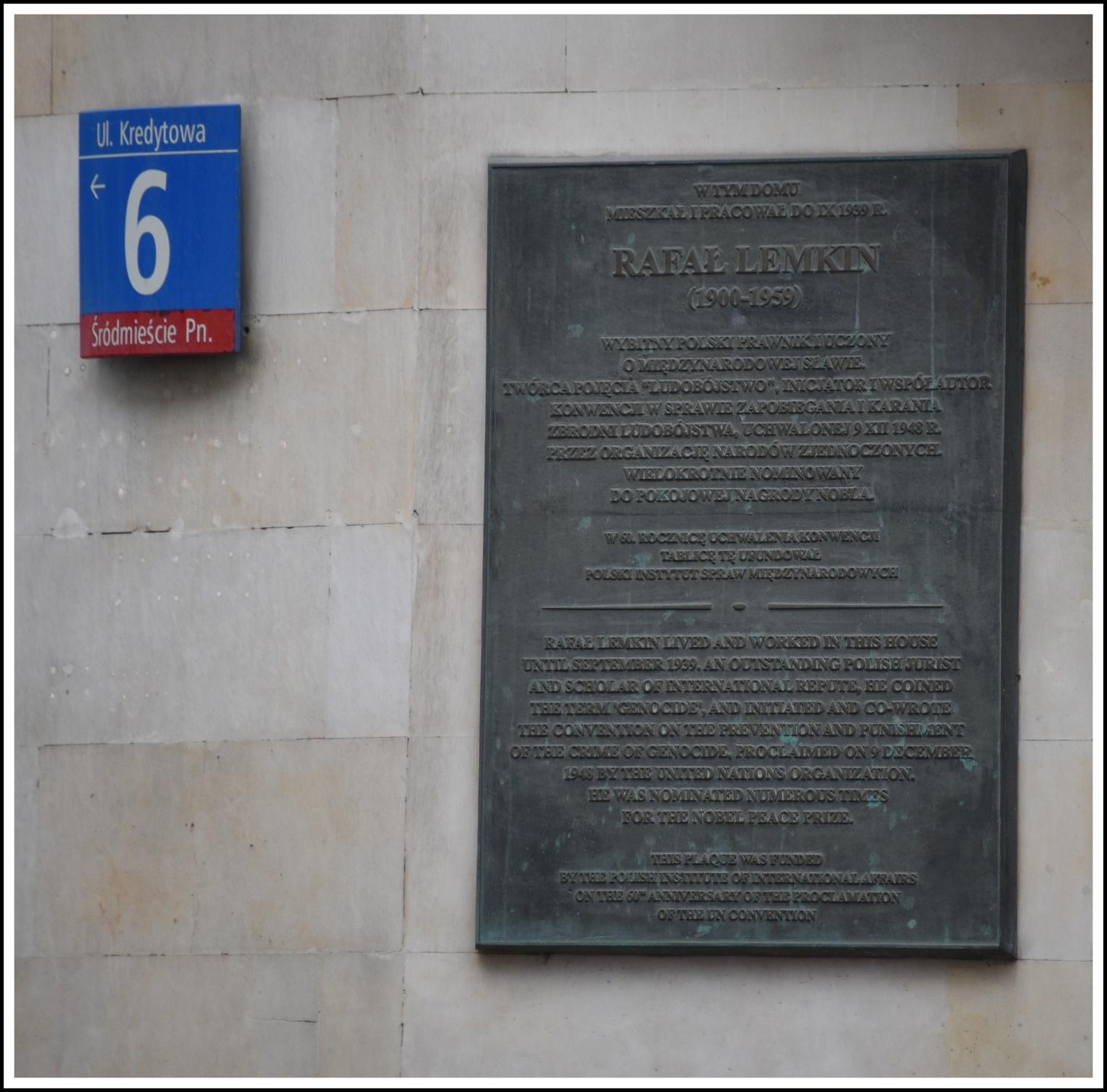 <![endif]>
Fig. 5.
Closer view of Lemkin plaque on the front of the building.
<![if !vml]>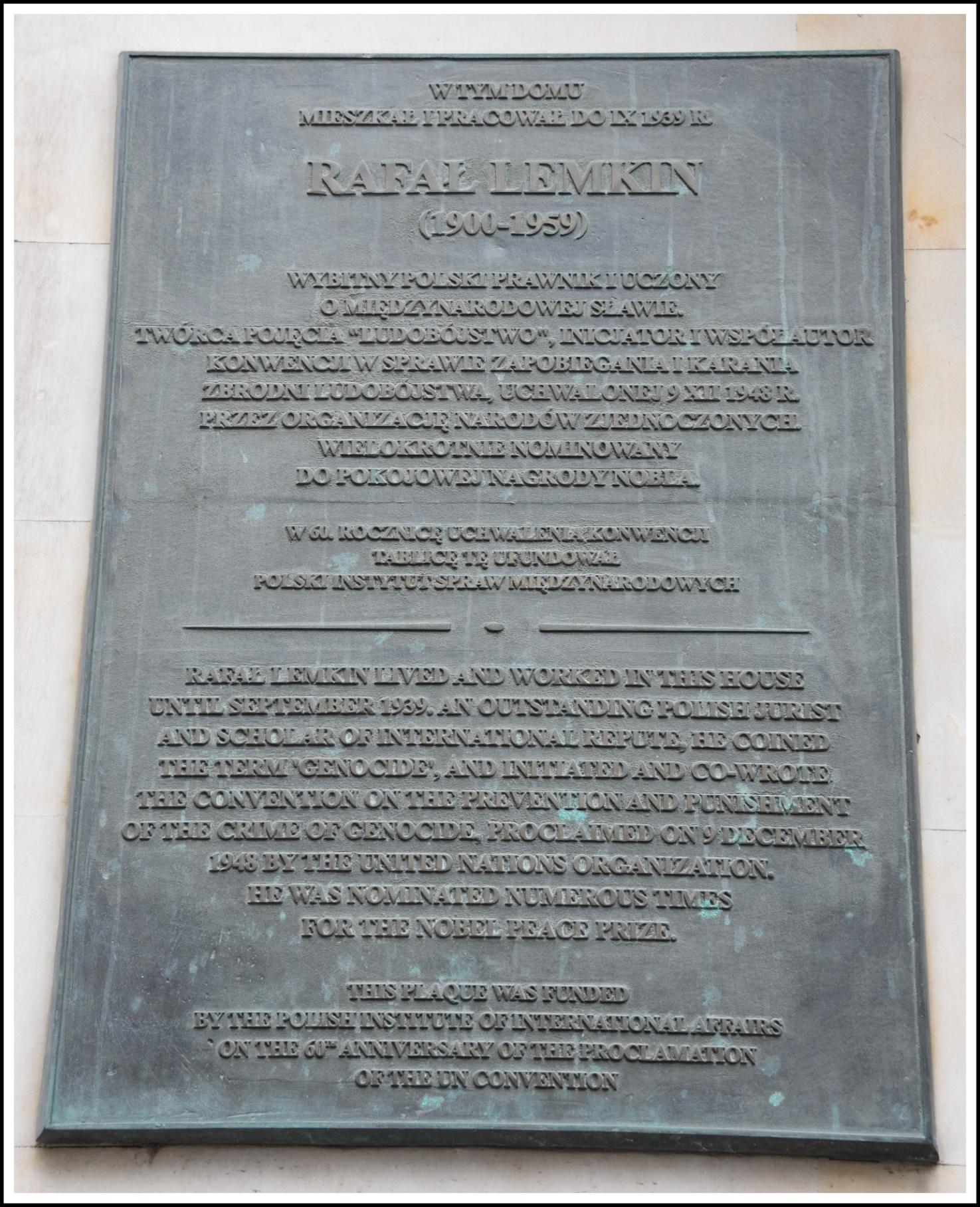 <![endif]>
Fig. 6.
Lemkin plaque in Polish and in English on the front of his residence in Warsaw.
<![if !vml]>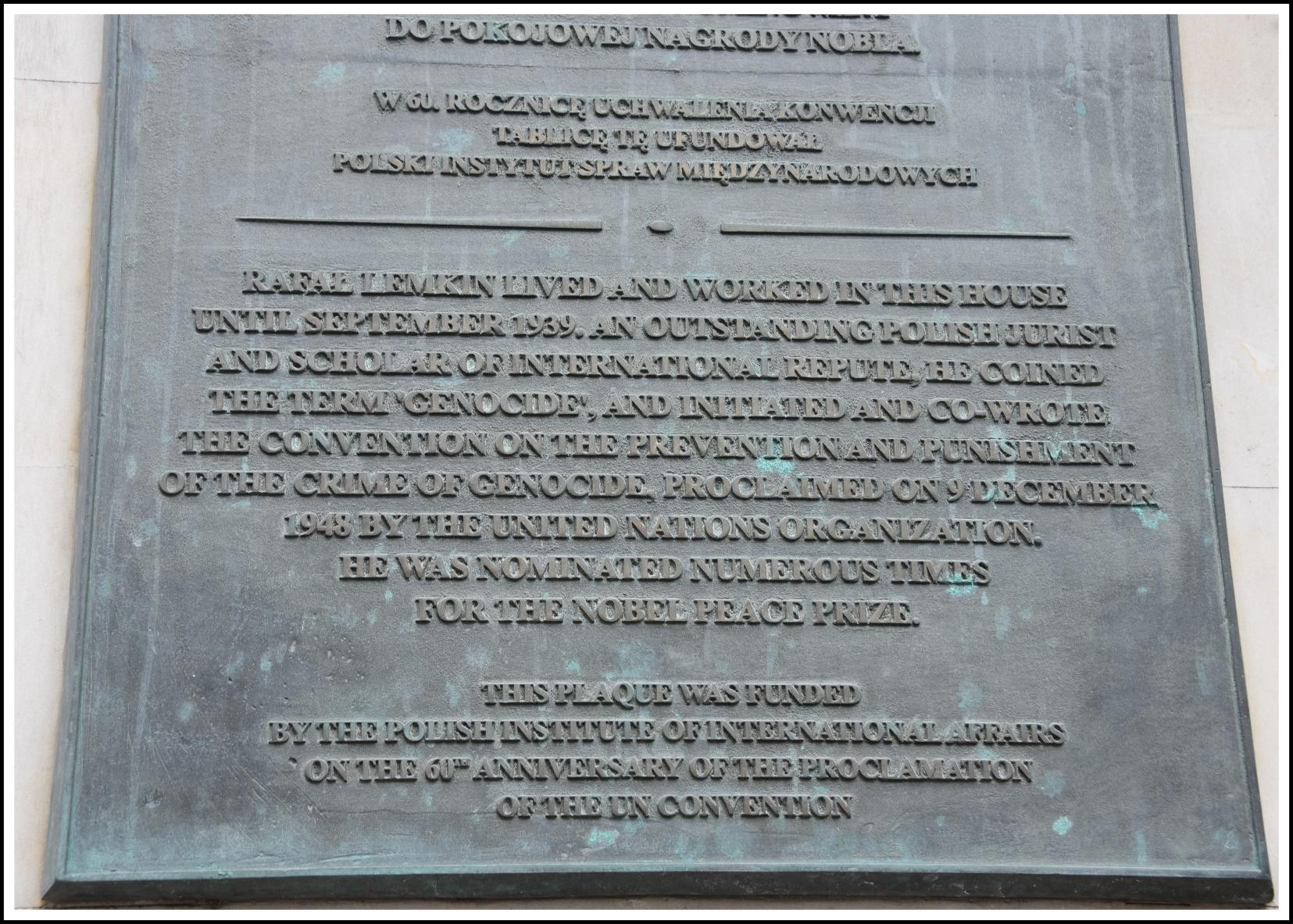 <![endif]>
Fig. 7.
Close-up of the English text on the Lemkin plaque.
It might be a bit optimistic to suppose that many people will know that the Genocide Convention
was adopted on December 9, 1948, and that the 60th anniversary
would be marked on December 9, 2008.
<![if !vml]>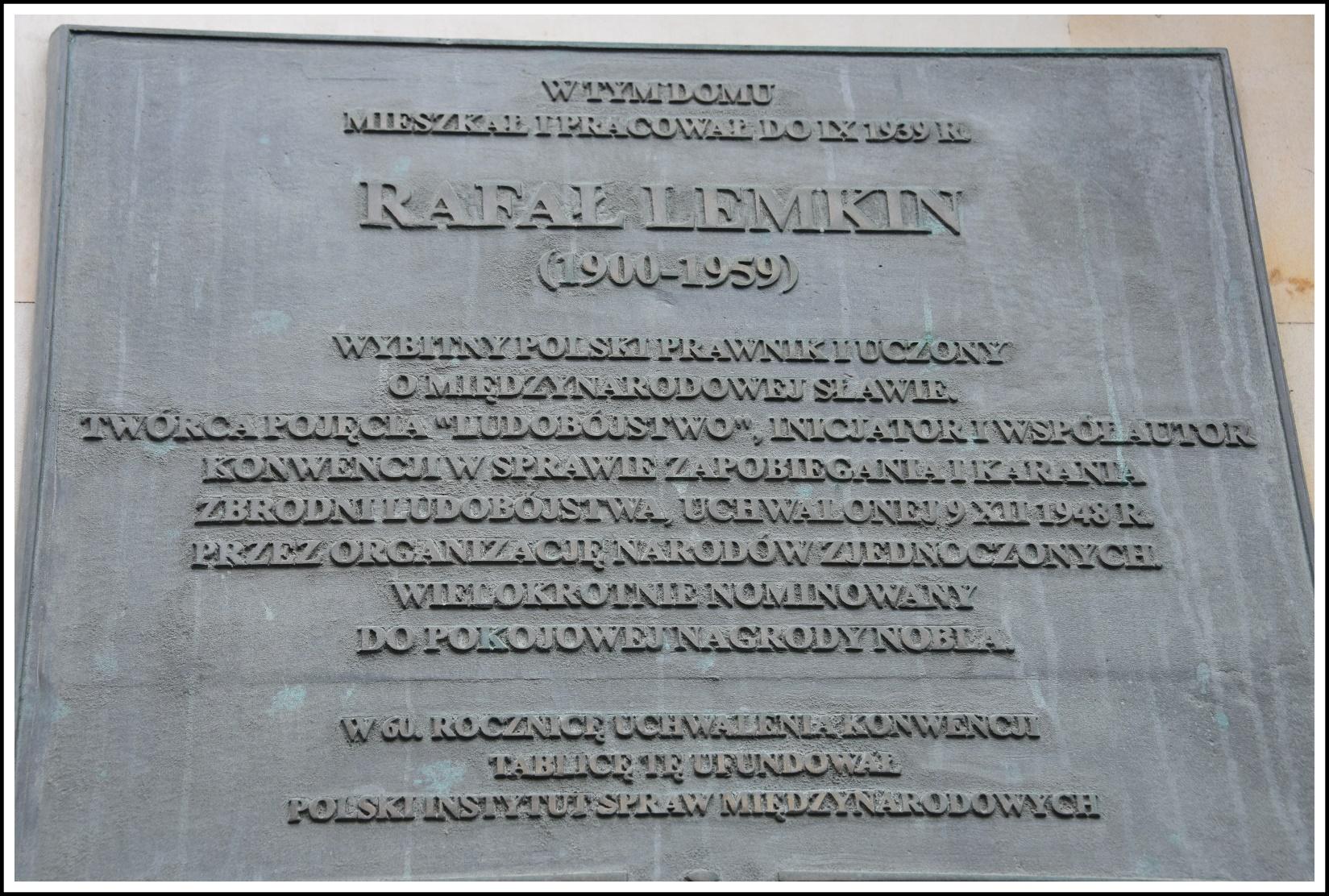 <![endif]>
Fig.  8.
Close-up of the Introduction in Polish on the Lemkin plaque.
It was noteworthy to us that no one in the area or in the shops in the building complex knew anything about Lemkin, its one-time resident, who eventually became "famous" for instigating and initiating the Genocide Convention.  Indeed, "No one is a prophet in his own land." (Holy Bible Luke 4:24).
Lemkin's Burial Place
We encountered the same situation a dozen years ago when we undertook a visit to Lemkin's gravesite in the USA at the Mt. Hebron Cemetery in Flushing Queens, on Long Island.  It was as if we were seeking the grave of someone who mattered very little or nothing to the world at large.  (Apparently that has changed slightly in recent years.)  When we visited Mt. Hebron Cemetery 2010 it was a major project to locate the gravesite, and bird droppings soiled the stone and site in general.  Fortunately, we had some water and cleaning tools available to clean off the grave marker a bit before we took photographs.<![if !supportFootnotes]>[13]<![endif]>
<![if !vml]>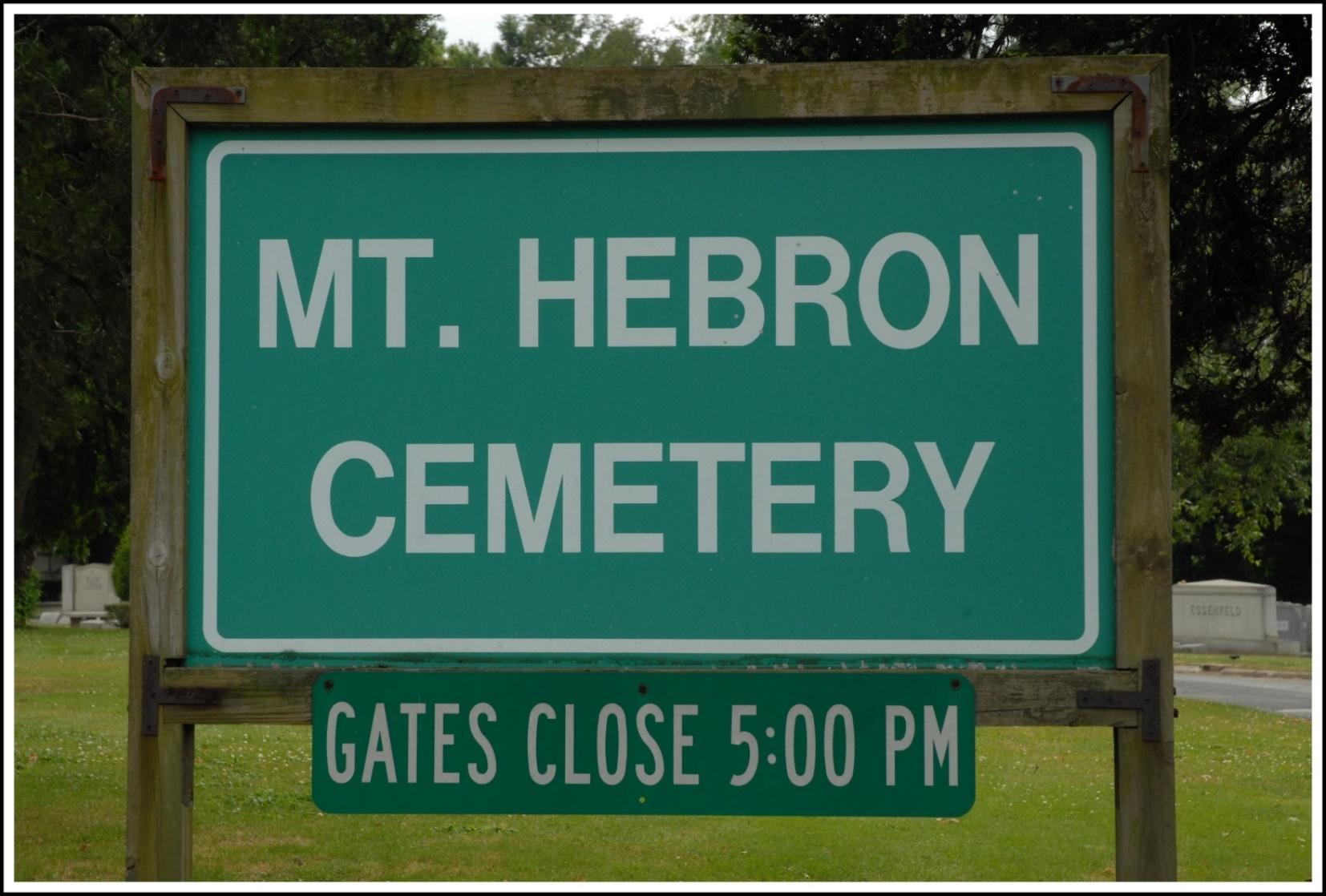 <![endif]>
Fig. 9.
<![if !vml]>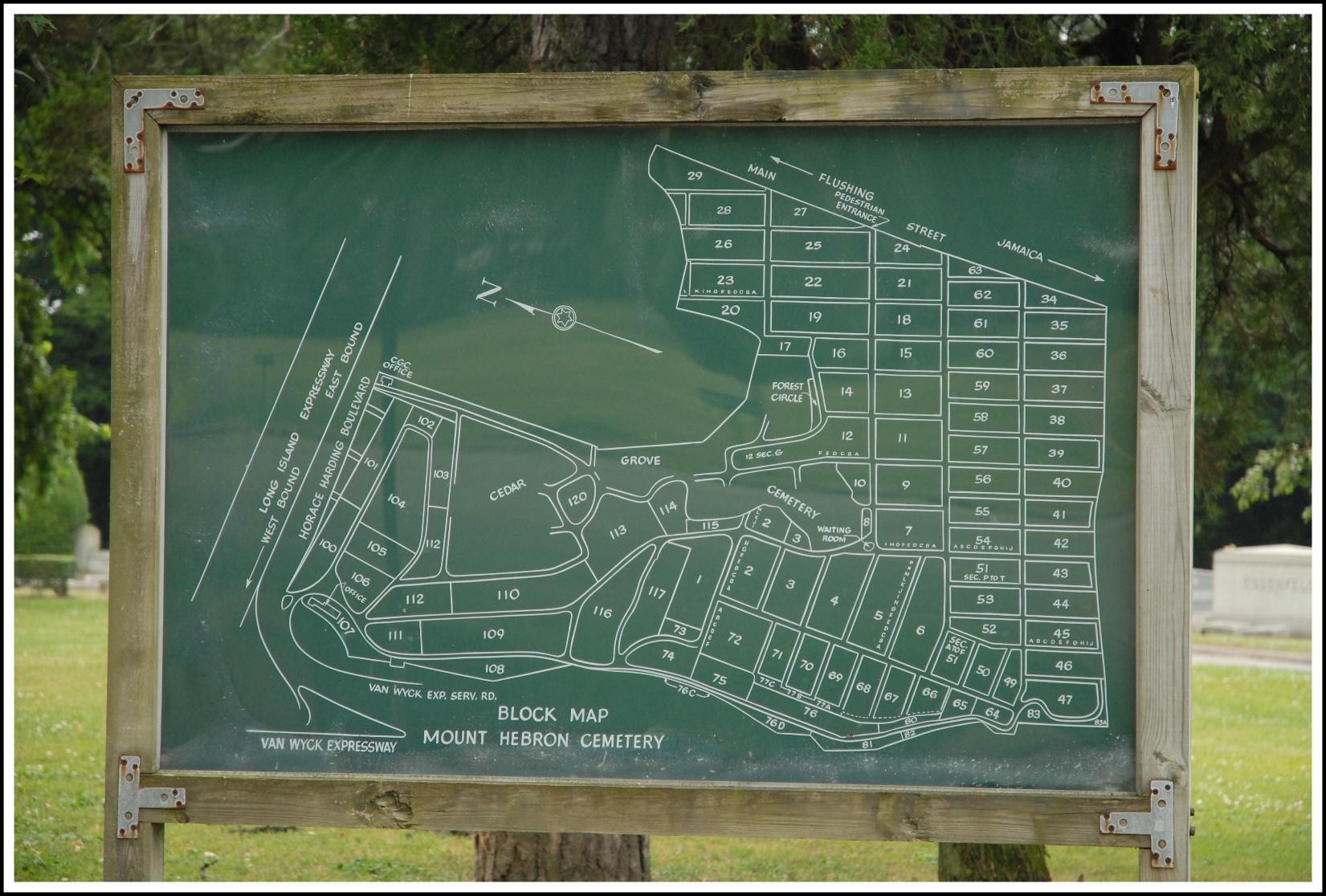 <![endif]>
Fig. 10.
Note especially Block 101 at around 8 o'clock on the left side of the locator map.
 (See enlargement Fig. 11.)
<![if !vml]>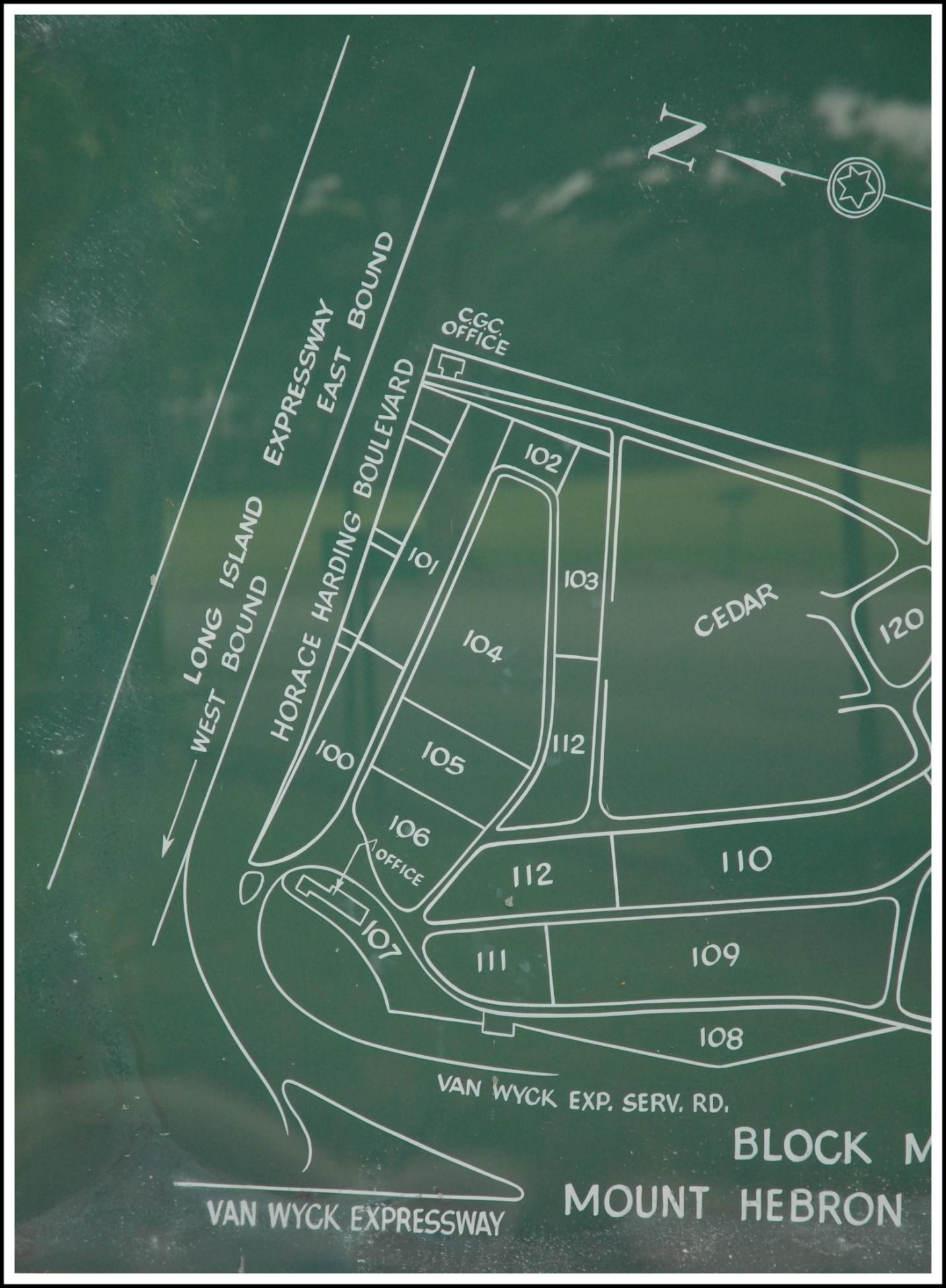 <![endif]>
Fig. 11.
<![if !vml]>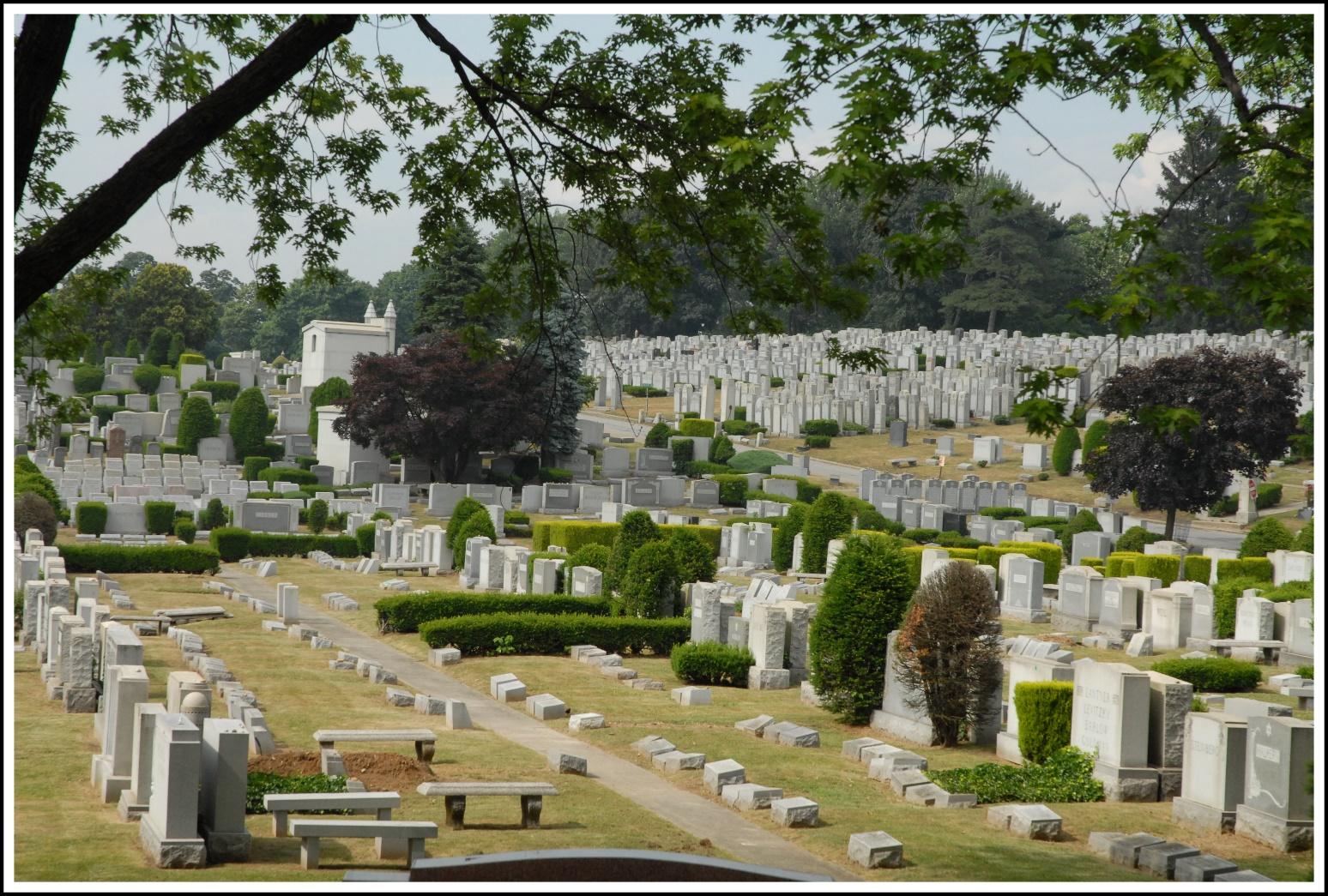 <![endif]>
Fig. 12.
Shows what a challenge it would be to seek out a gravesite at Mount Hebron Cemetery without specifics.
There are an immense number of graves.
<![if !vml]>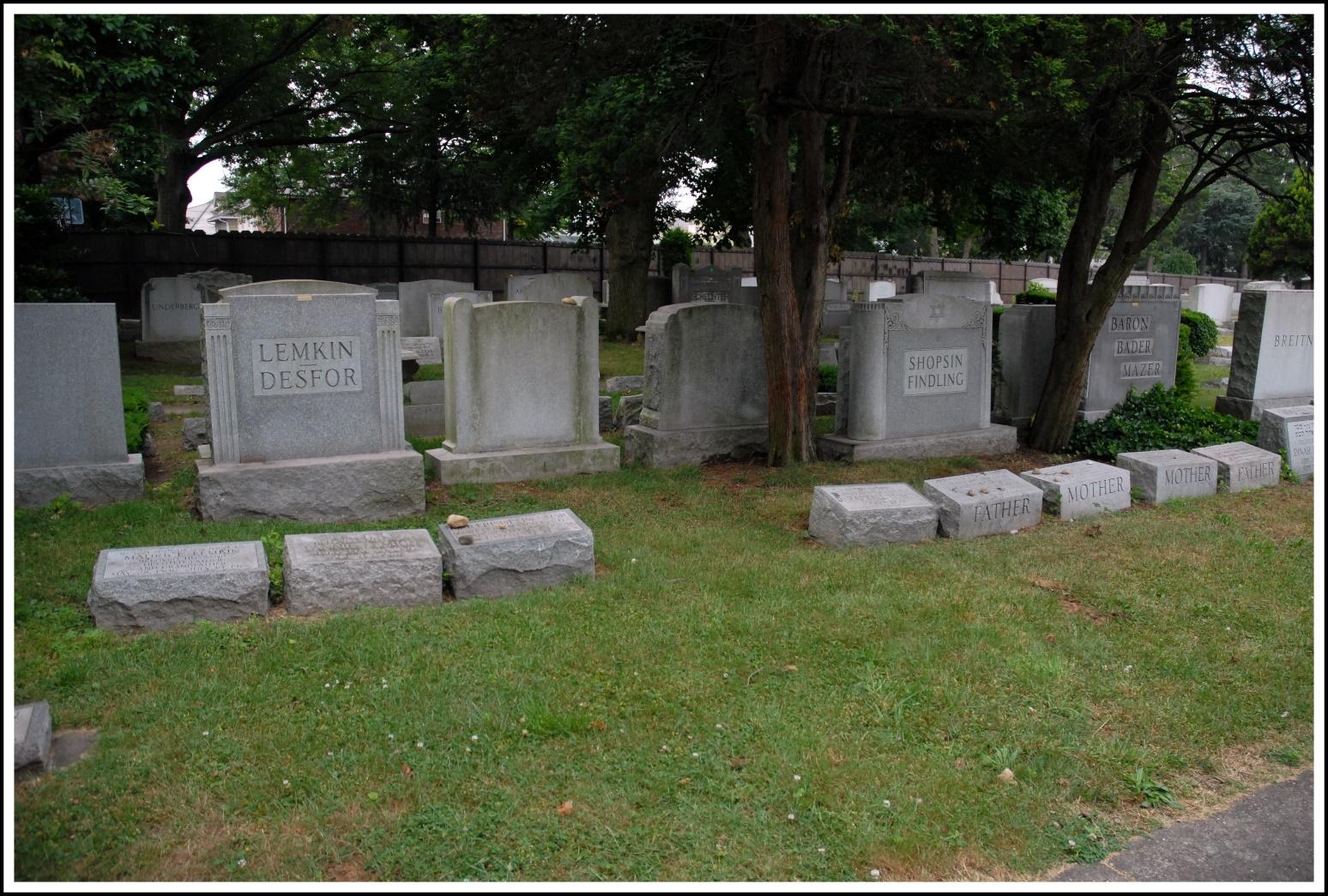 <![endif]>
Fig. 13.
The Lemkin Plot, Block 101, Lot ½ 238 & 239. 
There are 10 individuals buried in the plot - 6 Lemkins, 2 Desfors, 2 others.
Even though Raphael Lemkin was the first to be buried there, he was not one of the four original owners of the Plot, but
a family member was. (We thank Cedar Grove Cemetery Association for this information.)
<![if !vml]>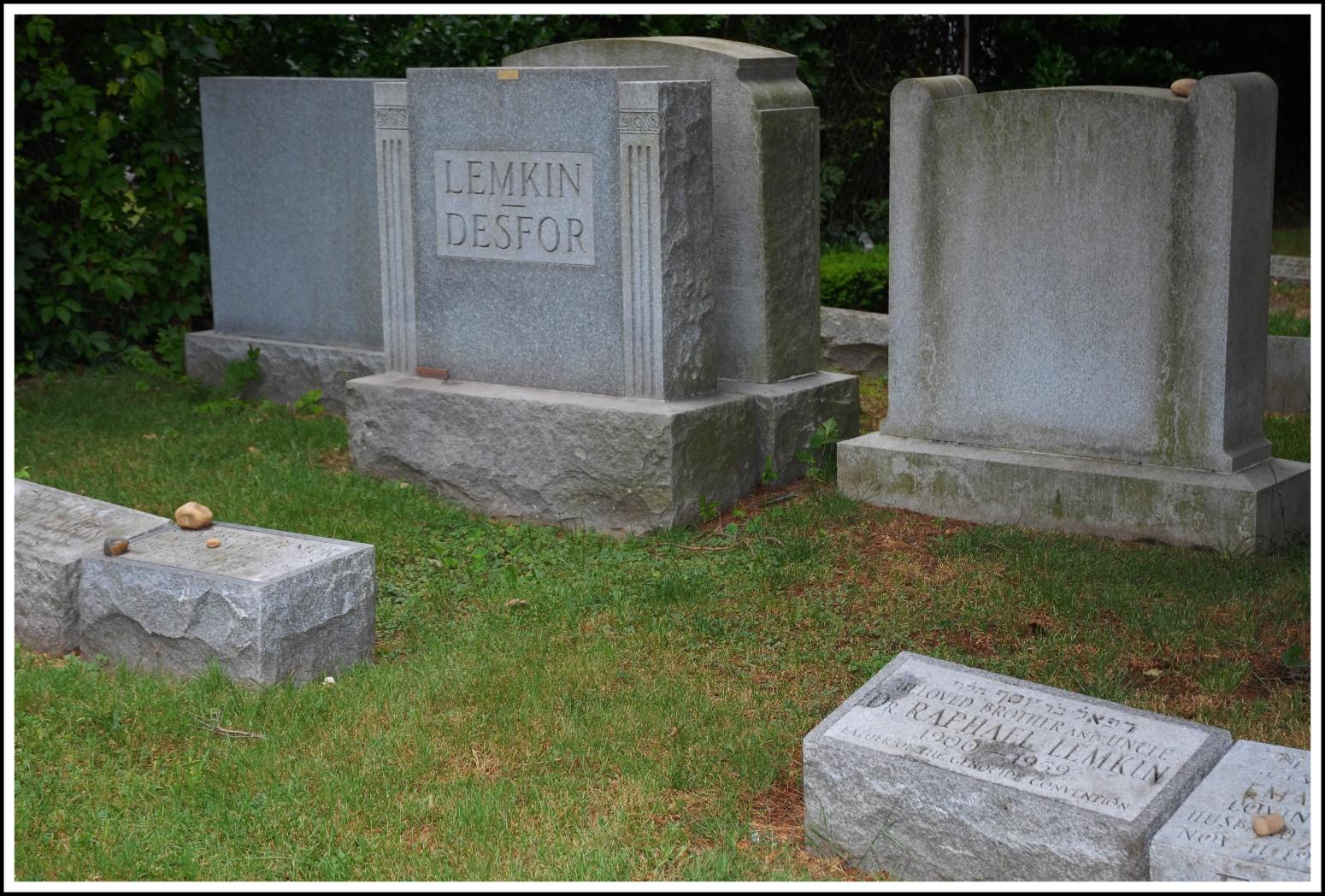 <![endif]>
Fig. 14.
<![if !vml]>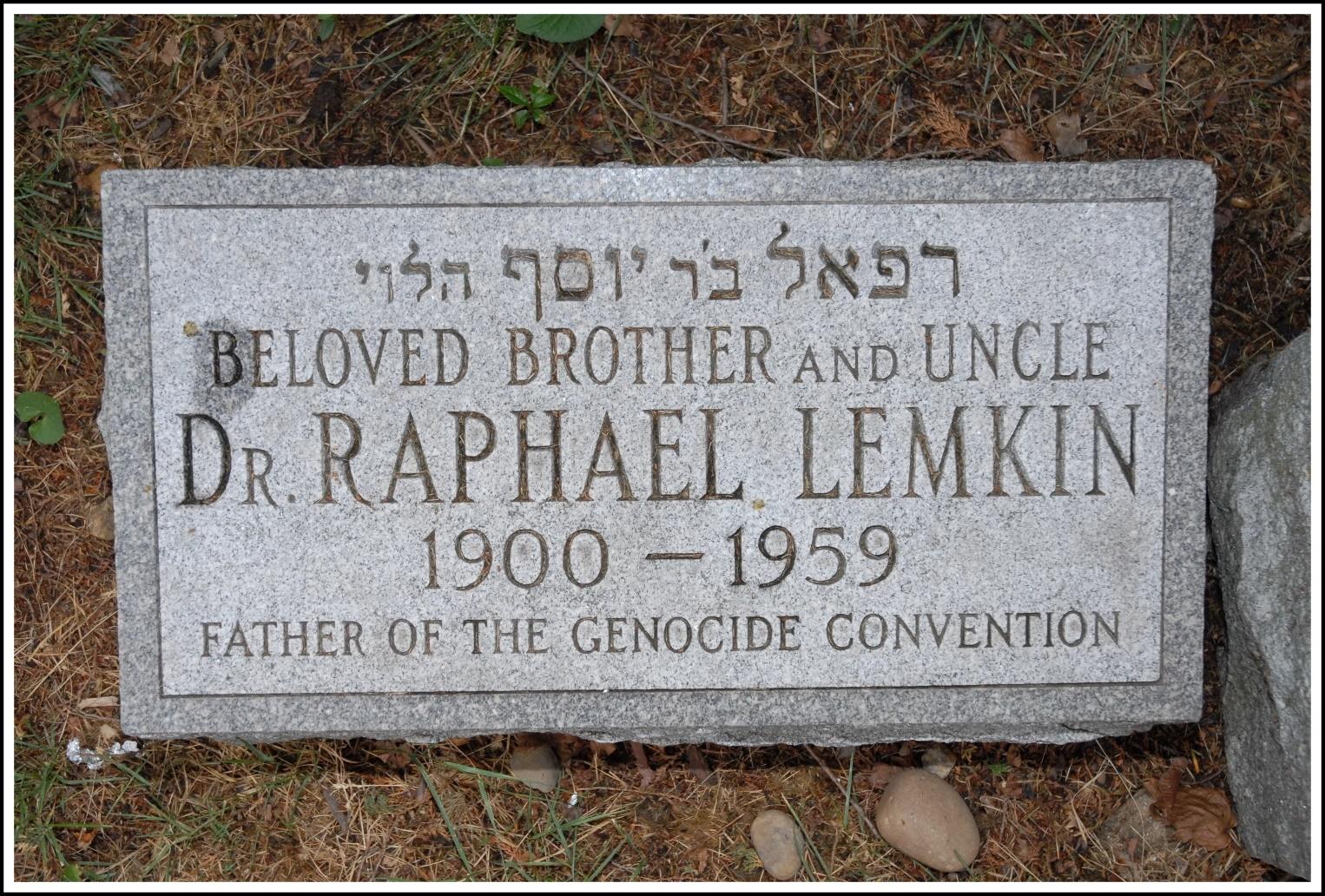 <![endif]>
Fig. 15.
The Hebrew at the top translates as "Raphael son of Yosef HaLevy."  Our thanks to Dr. Ann Kent Witztum for the translation from Hebrew.
Lemkin's Immigration Into The United States
Lemkin's immigration record detailing his travel to the USA exists only on microfilm.  We were told by authorities in Seattle that originals no longer exist.  The ship manifest (Fig. 16a.) shows that Lemkin left Yokohama, Japan on April 5, 1941, on the M.S. Hein Maru, a Japanese ocean liner, and arrived in Seattle on April 18, 1941, where he was medically examined at the port of entry and admitted.
<![if !vml]>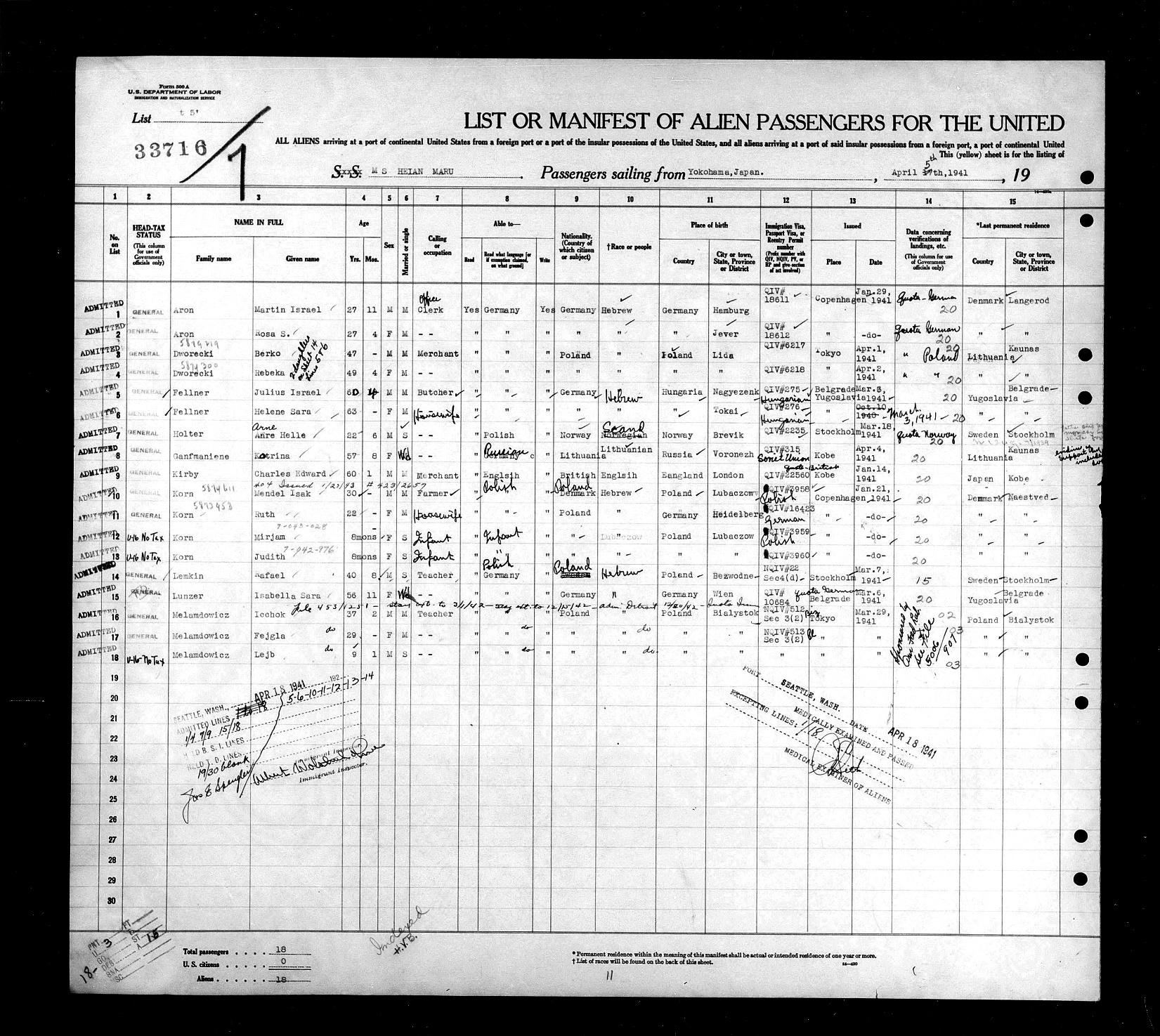 <![endif]>
Fig. 16a.
Copy of Ship Manifest. (See Line 14 especially for Rafael Lemkin.)
<![if !vml]>

<![endif]>
Fig. 16b.
Cut-out showing Line 14 from the Ship Manifest.
<![if !vml]>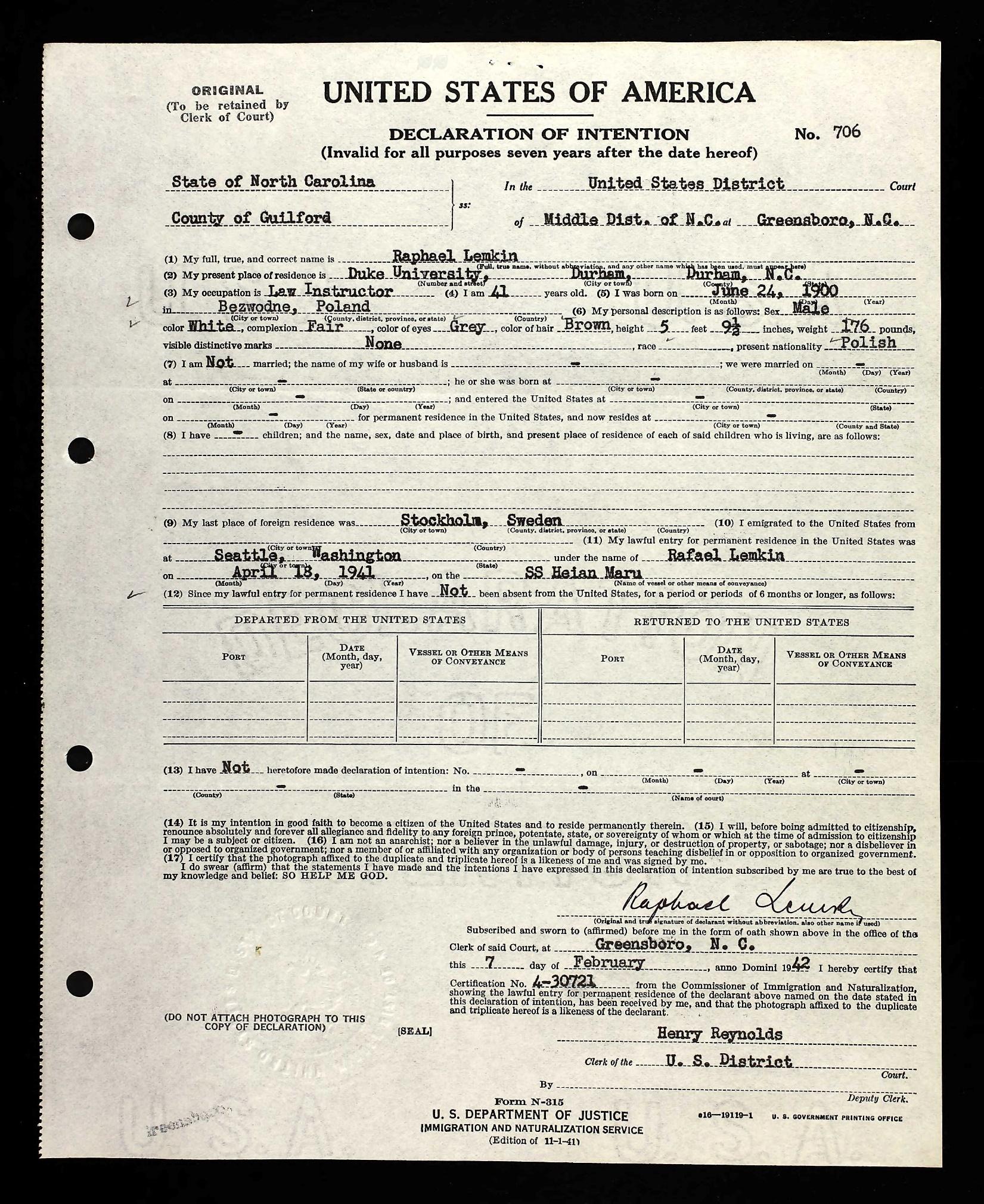 <![endif]>
Fig. 17.
Raphael Lemkin's Declaration of Intention for American citizenship.
Note that Lemkin's first name has become 'Americanized' to Raphael.  We believe this is the first time it was formalized legally.
Lemkin And The Armenians
Lemkin's concern with the Armenians and the crime that was inflicted on them by the Ottoman Turks under cover of World War I and even earlier in the late 1890s and again in 1909, did not emanate from a superficial interest gained later in his life.  The Armenians of Turkey were very important in the context of Lemkin's idealistic struggles with framing appropriate legal concepts on how one might punish perpetrators of such crimes.  These concerns dated from 1921. 
Lemkin relates that even as a youngster he posed questions to his mother about the reasons for the persecutions of Christians in the days of Emperor Nero's Rome.  He had read about these dramatic torments and tortures in the novel Quo Vadis written by the immensely popular Polish author Henryk Sienkiewicz.
Later in life, Raphael Lemkin described Quo Vadis as his favorite book when he was a child.  It appears that he was what we would nowadays call a youngster with a potential for developing a deep social conscience.
We learn from a brief but very telling biographical sketch of Raphael Lemkin that "In 1921 he was profoundly upset by a news item." A young Armenian man named Soghomon Teilierian [the more usual and accurate anglicized spelling of the surname is Telirian], had confronted the Turkish Minister of the Interior, Talaat Pasha [Fig. 18], on the street near his residence in Berlin, drawn a revolver, and killed him, shouting: "This is to avenge the death of my family!"<![if !supportFootnotes]>[14]<![endif]>.
<![if !vml]>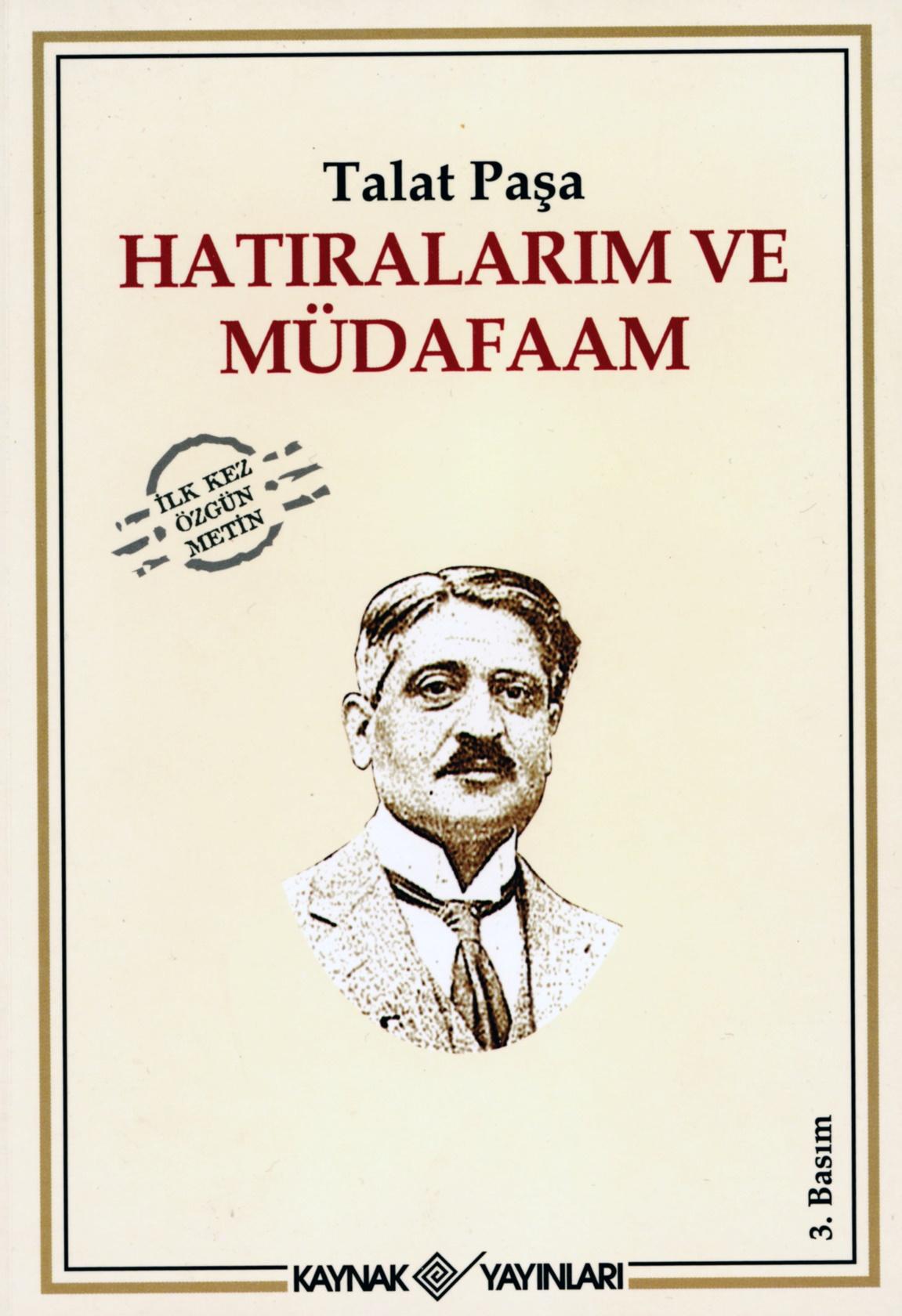 <![endif]>
Fig. 18.
This late in life photo of Talaat Pasha (1874-1921) shows the cover of a fairly recent volume (2006, Kaymak Yayinlari Press Istanbul] with Talaat's image entitled in Turkish that translates to English as "My Memories and My Defense."  Some plastic surgery is said to have been performed on him and thus his eyes look a bit different from other photographs. <![if !supportFootnotes]>[15]<![endif]>
After studying the assassination case of Talaat Pasha in greater detail, Raphael Lemkin found that Tehlirian's family had been part of the more than 1,200,000 Armenians who had been eliminated starting in 1915 by the Turks, when Talaat had been head of the Turkish police, and later when he was Minister of the Interior.
Raphael Lemkin took what he saw as a problem to one of his law professors at Lwów University.
"Did the Armenian try to have the Turk arrested for the massacre?"  The professor shook his head.  "There is no law under which he could be arrested."  "But Talaat was responsible for the death of those people," Raphael retorted.  His professor in the Law faculty responded: "Consider the case of a farmer who owns a flock of chickens.  He kills them and this is his business.  If you interfere, you are trespassing." Lemkin retorted: "But the Armenians are not chickens.  Certainly –ˮ the professor continued: "You cannot interfere with the internal affairs of a nation without infringing on that nation's sovereignty."  Raphael stood his ground.  "It is a crime for Teilierian (sic) to kill a man, but it is not a crime for his oppressor to kill more than a million men? This is most inconsistent." 
The final bit of advice offered to Lemkin was "You are young and inexperienced, Lemkin, and tend to oversimplify.  You should learn more about international law." 
So Raphael entered law school at the University of Lwów.<![if !supportFootnotes]>[16]<![endif]>  For six years he searched ancient and modern law to discover some written code against the crime of murdering national, racial, and religious groups.<![if !supportFootnotes]>[17]<![endif]>
All this led to Lemkin becoming even more preoccupied with the entire problem.  Figs. 19, 20, 21, and 22 are images selected by us to tell some of the story connected with avenging the deaths of Armenian genocide victims through assassination of Young Turk leaders.
The first Turkish target (Fig. 19a.) was Talaat Pasha, widely regarded as the arch-assassin and prime initiator of the scheme to carry out the genocide.<![if !supportFootnotes]>[18]<![endif]>
<![if !vml]>
<![endif]>  <![if !vml]>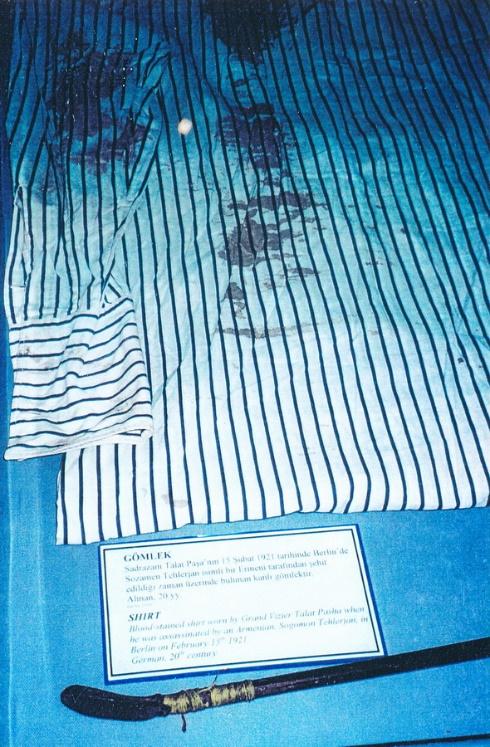 <![endif]>  
Fig. 19a. and 19b.
Fig. 19a. Talaat Pasha at his 'desk.'  From an undated photograph in the Library of Congress, Bain News Service Collection <![if !supportFootnotes]>[19]<![endif]>;
Fig. 19b. The bloodied shirt worn by Talaat when he was assassinated.
The shirt was in an Istanbul museum when this photograph was taken through a glass case.<![if !supportFootnotes]>[20]<![endif]>
The item has apparently long been removed from public view.
<![if !vml]>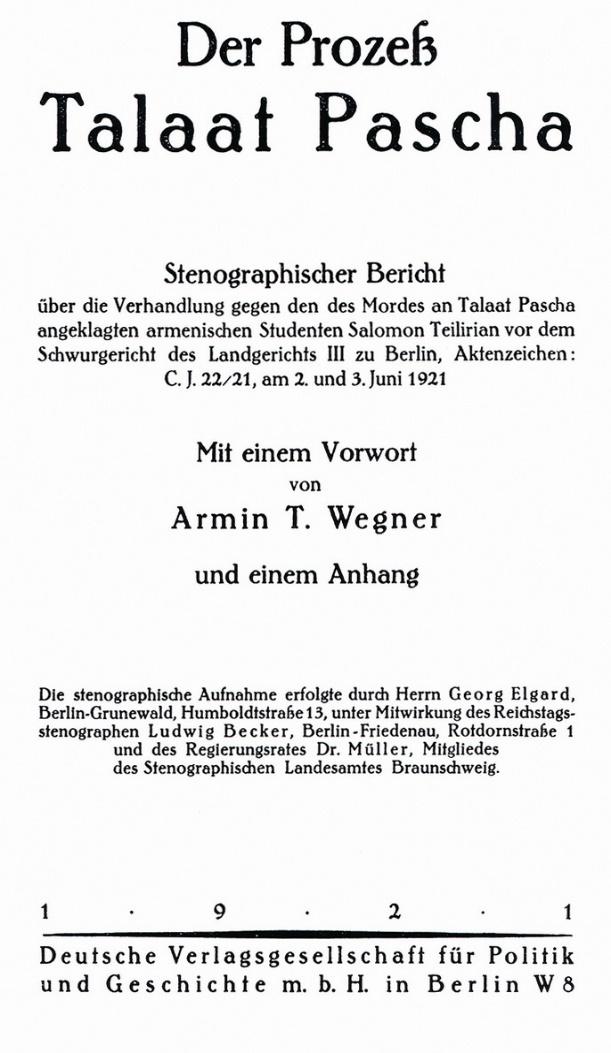 <![endif]> <![if !vml]>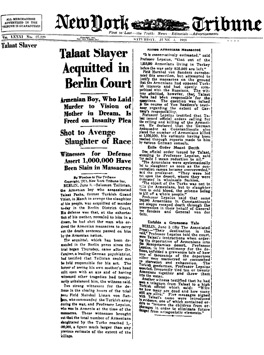 <![endif]>  
Fig. 20a. and Fig. 20b.
Fig. 20a. Title page of the German trial transcript.  The booklet is some 132 pages long and consists of the transcript of the two-day trial (Julian calendar June 22/21) from 2 and 3 June 1921 in Berlin of the student accused of assassinating Talaat Pasha Grand Vizier of the Ottoman Empire.  Armin T. Wegner wrote a preface and an appendix for the volume.  Soghomon Teilirian (1896–1960), was the defendant.  Teilirian, was acquitted and deported virtually straightaway.
 Fig. 20b. front page article in the 4 June 1921 issue of the New York Tribune reporting the acquittal of Salomon Teilirian (sic) for Talaat's assassination on the grounds of insanity.<![if !supportFootnotes]>[21]<![endif]>
<![if !vml]>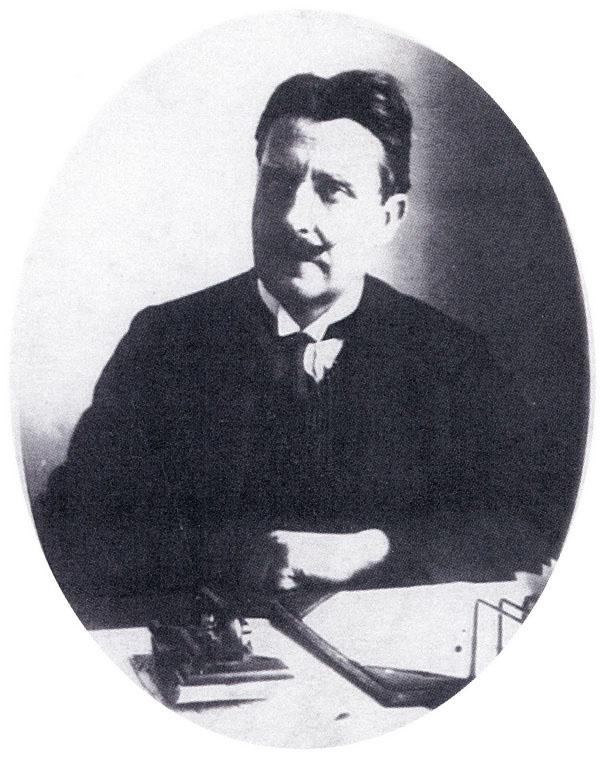 <![endif]>
Fig. 21.
Dr. Behaeddin Sakir was yet another of the Young Turk criminals assassinated for their roles in planning and implementing the Armenian Genocide.   Sakir was a member of the Young Turk Central Committee (in Turkish, Ittihad ve Terakki Jemiyeti) and a leader of the "Special Organization'' (in Turkish, Teşkilat-I Mahsusa) that had a major responsibility in organizing the massacres.<![if !supportFootnotes]>[22]<![endif]>
We shall see in the course of our summary presentation here that even today one is not sure by any means of the year, much less the exact date, and the precise circumstances under which the invention of the word "genocide" occurred.  Whatever the particulars, Raphael Lemkin was responsible for directly linking − several years before the drafting of the Genocide Convention − his new word with what happened to the Armenians.  As a legal scholar and practicing attorney Lemkin had struggled for many years with defining and codifying the concept of punishment for the kinds of crimes committed by the Turks.  The small volume "Lemkin's Dossier on the Armenian Genocide," Lemkin, Raphael, 1900-1959, American Jewish Historical Society, and Center for Armenian Remembrance. [Manuscript from Raphael Lemkin's Collection, American Jewish Historical Society]. Glendale, Calif.: Center for Armenian Remembrance, 2008 provides as good as any overview of Lemkin's thoughts on the Armenians and their victimhood. <![if !supportFootnotes]>[23]<![endif]>
Immediate Recognition Of The Historical Importance Of
The UN Casebook XXI: Genocide Film Footage
We had come upon a mention of this film on one occasion in our reading and eventually learned that it included Raphael Lemkin as one of the guests.  Viewers are told abundantly clearly in Lemkin's own words that in his view what happened to the Armenians was genocide.  Locating the film was not an easy task, but we believe it was worth all the effort we made in meeting the challenge.
With that brief introduction we will now direct our attention to our work on elaborating upon the film footage in a paper published some years ago by the present writers, Taylor and Krikorian.  It showcased a full transcript of this unique 1949 television program entitled "UN Casebook XXI: Genocide."  It included a detailed introduction so as to place this exceptional program in proper context.<![if !supportFootnotes]>[24]<![endif]> 
A brief excerpt of that unique TV broadcast with its authoritative 'notable' guests presented leisurely before one's eyes, was first shown in a powerful documentary film produced and directed by Andrew Goldberg called "The Armenian Genocide" (2006).<![if !supportFootnotes]>[25]<![endif]>
Like many others, on 17 April 2006, we first saw on Channel 13, the PBS station serving the greater New York City area, an hour-long documentary film produced-for-TV entitled "The Armenian Genocide."  It was written, produced and directed by Andrew Goldberg, founder and owner of Two Cats Productions in New York City.  The documentary was put out in association with Oregon Public Broadcasting.  We later learned that even before this documentary was shown publicly, indeed some six weeks before the scheduled airdate, a complaint against the anticipated broadcast had been lodged by one David Saltzman, Counsel to the Assembly of Turkish American Associations (ATTA).  In the end, the ATAA was given an opportunity to voice their reaction to the documentary in the form of a post-program 'roundtable' discussion.  We have read that ANCA (Armenian National Committee of America) lobbied to have the 'roundtable' cancelled.  The outcome allowed approximately 348 PBS-affiliate TV stations to show the program "The Armenian Genocide," with or without the subsequent 'roundtable.'  Apparently relatively few stations ended up showing the post-program half-hour "roundtable" segment.  The 'roundtable' discussion, advertised ahead of time in a few places as "Armenian Genocide: Exploring the Issues," aired immediately post-program and was skillfully moderated by noted National Public Radio commentator and journalist Scott Simons.
The New York-area broadcast that we ourselves watched did not include the follow-up 'roundtable' discussion/debate.  A friend in Austin, Texas sent us a copy of the program complete with the discussion that was shown on their PBS station KLRU.  Professor Justin McCarthy of the University of Louisville, and Associate Professor of History at Omer Turan University, then at the Middle East Technical University in Ankara and now Professor at Bilgi University in Istanbul, represented the Turkish Point of View.  Professors Peter Balakian of Colgate University and Taner Akçam, then a visiting Professor at the University of Minnesota (later at Clark University in Worcester, Massachusetts and now serving as Armenian Genocide Research Director at the Promise Armenian Institute at UCLA in Los Angeles), represented the perspective that what happened to the Armenians was a genocide.
The marketing activities for the Goldberg film included the claim that the documentary "featured never-before-seen footage."  This is a bit of an exaggeration of course but there is indeed very important footage that few people had known about – at least in the more modern context of genocide studies.<![if !supportFootnotes]>[26]<![endif]>
Since that time, brief excerpts from the same 'original' UN Casebook XXI film <![if !supportFootnotes]>[27]<![endif]> have been presented with increasing frequency on such modern communal platforms as YouTube.  In the majority of cases, what is posted derives from the same 'original.'  The excerpts from the broadcast selected for showing inevitably give special emphasis to Raphael Lemkin, the originator of the word "genocide," and features him talking about the Armenian massacres and discriminatory attitudes culminating in Hitler's Nazi actions.
Because the well-intentioned and commendably promising 'open [free]' journal War Crimes, Genocide & Crimes against Humanity above referenced was unfortunately very short-lived, we decided to post the entire UN Casebook XXI television program with our transcription as it was originally print published.  We added additional commentary on our YouTube Conscience Films site: https://www.youtube.com/watch?v=CXliPhsI530.  Our decision to post the entire paper online was primarily due to wanting to maintain and sustain access to our painstaking work transcribing and publishing the broadcast in what had become an essentially defunct journal.  The YouTube Posting allowed a decidedly fuller connection to this important broadcast along with text added to enhance the broadcast.  The intended objective was to make students and researchers alike aware of the many specifics.
Using the contents of this United Nations Casebook XXI film as a point of departure, we delved into the life and work of Raphael Lemkin.  In everything we read he was featured both as a private individual and as a highly educated, experienced jurist driven to introduce internationally recognized legislation against this 'crime of crimes.'  He was, one could say, truly obsessed with this task.<![if !supportFootnotes]>[28]<![endif]>
Much of the 20,000 page plus Lemkin archive is now on positive microfilm, and is available for research at various archives.  Needless to say, the sheer volume presents challenges (see Irvin-Erickson, Douglas, 2014). <![if !supportFootnotes]>[29]<![endif]>
Lemkin himself admitted on several occasions that he coined the word genocide as a result of hearing a radio broadcast by Winston Churchill on 24 August 1941 wherein the British Prime Minister spoke of a "crime without a name." [Gilbert, Martin 2007, Churchill and the Jews: a lifelong friendship, Henry Holt & Co., New York pg. 186].
Many have taken to hearing this typically Churchillian phrase and language to be the prime incentive for someone, indeed anyone, to rise up and provide a name for the "crime without a name," this crime of crimes.  Because of the timeframe during which the comment was made by Churchill, it is assumed that the genocide committed against European Jewry was foremost, if not the only thing on his mind.  It was not. Lemkin had been struggling with the entire concept for years! <![if !supportFootnotes]>[30]<![endif]>
Lemkin certainly listened to Churchill's speech, and we might speculate that he even hung on every word.
As mentioned earlier, prior to coming to America, Lemkin lived in neutral Sweden where he closely monitored German occupation policies in his native Poland where his parents and family remained, as well as policies in neighboring Norway and all of occupied Europe.  Swedish travelers coming and going from Stockholm helped Lemkin assemble a collection of publicly available German occupation laws and decrees, which Lemkin analyzed in an effort to understand the pattern of the policies being implemented in Hitler's New Order in Europe.
From these documents, Lemkin concluded that alongside the traditional war of armies, Germany was engaged in a war against peoples.  To Lemkin the collection of occupation decrees demonstrated a Nazi policy aimed at nothing less than a demographic restructuring of the European population.  Following the design set out in Hitler's Mein Kampf published in 1925, some groups would be encouraged to thrive, others to decline through depopulation over time, and others would be targeted for destruction.
In Lemkin's native Poland, for example, the German occupiers had created a racial hierarchy in which so-called and in reality, scientifically indefensible "Aryan" peoples (ethnic German Volkesdeutsche) received the full food rations and were encouraged to have more children, even out of wedlock.  Ethnic Poles and other Slavic groups were forcefully subjugated, their leadership and intellectuals sent to concentration camps or killed outright.  The remainder of the Slavic population was to survive on minimal rations only to the extent that their labor was needed by the dominant "Aryan" population group.  The Jewish population, consisting of two million people including Lemkin's own family, was being exterminated.  Extermination was accomplished by forcibly resettling the population in ghettos or camps where people died rapidly through slave labor, starvation, exposure and contagious diseases such as typhus - living conditions designed to cause their destruction through attrition.<![if !supportFootnotes]>[31]<![endif]>
The Polish Institute of International Affairs convened a conference on 18-19 September 2008 in Warsaw on the 60th anniversary of the adoption of the Genocide Convention.  The conference was aimed at appreciating the life and elaborating on perpetuating the legacy of the work of Raphael Lemkin.<![if !supportFootnotes]>[32]<![endif]>
Professor Ryszard Szawłowski, a contributor to that volume, has ventured to say that "the term genocide was probably already conceived by Lemkin in the first half of 1943, if not somewhat earlier" (Szawłowski, 2005 pg. 120.)  [Endnote 6 has the exact citation.]
Given the apparent importance for many of the word "genocide" in the overall narrative, it seems imperative to understand the neologism - the new word - as coined by Raphael Lemkin in as much detail as possible.  (Some academics have complained that he used unorthodox mixing of Greek and Latin in coining the single word, genocide.)  Such people would have probably complained that Lemkin did not walk on water!  Towards this end it becomes clear why we have thought it most necessary to delve into this issue in as much detail as we can.
'Parenthetically,' rather we should say 'non-parenthetically,' we would emphasize that the United Nations Genocide Convention has been reproduced in a great many places on the Internet.  That does not mean, of course, that all or any of those who use the words have taken advantage of the opportunity to read them, much less study them.  Nevertheless, to facilitate the possibility of changing that situation, we provide the following URL from the United Nations Dag Hammarskjöld Library website.  It provides direct access to the full UN document in English and French. 
UN Digital Library E/794:
https://digitallibrary.un.org/record/604195?In-en  [Full original report]
[1 page Corrigendum to the original report]at /794/Corr.1
https://digitallibrary.un.org/record/604196?ln=en
Sadly, Raphael Lemkin's original concept and desired definition of "genocide" did not fully prevail in the final Genocide Convention that he 'fathered' and promoted so energetically, but he did adhere faithfully to his original concepts throughout his relatively short life, even though he recognized and even admitted that some compromises would have to be acceded to.
We will refrain from comparing and contrasting the 'draft(s)' and the final version of the Convention.<![if !supportFootnotes]>[33]<![endif]>
We provide in Endnote <![if !supportFootnotes]>[34]<![endif]> part of the account written by Raphael Lemkin in the Preface of his book "Axis Rule in Occupied Europe" as it relates to genocide.  These pages are the very first place where the word "genocide" appeared in print (Lemkin, 1944 pgs. xi-xii). 
We'll see later that Raphael Lemkin was even able, when the occasion arose, to put on in public a rather positive if not bright face concerning things that he knew to be severely flawed.  He had done all that was humanly possible, and he was forced to believe in compromise.  However, the fact that his own adopted country, the U.S.A., could not be induced to ratify the Convention troubled and hurt him deeply.  It is worth repeating that he died in complete poverty − a morose, disheartened, broken and broke man.  One could say that it was merciful that he died suddenly of a heart attack.
"The Armenian Genocide" – A Documentary Film Broadcast On PBS
It was both annoying and disappointing that we had to spend so much time tracking down a recording of the Casebook XXI program.  We knew one had to exist since we had seen the excerpt from it in Goldberg's film but requests on our part went unanswered. Happily, it was eventually found at the National Jewish Archives (NJA) on 92nd Street and 5th Avenue in Manhattan. This was made possible through the generous help of Ms. Leshu Torchin, then a Doctoral Candidate at New York University.  Dr. Torchin (earned her Ph.D. back in 2007) has made significant contributions to visual communications as they relate to the Armenian and other genocides (see e.g. (Torchin 2007).<![if !supportFootnotes]>[35]<![endif]>  We would have been at a total loss had we not been told about Jeffrey Shandler's book "While America Watches" (Shandler, 1999).  We bring this up since what could have been an easy task turned out to be a major project until Ms. Torchin put us on the right track.
The film footage featuring Raphael Lemkin and Quincy Howe used by Andrew Goldberg's "Two Cats Productions," and since then by the proverbial 'everybody and his cousin' derives from a 13 February 1949 joint CBS/United Nations Casebook XXI broadcast in New York City.<![if !supportFootnotes]>[36]<![endif]> 
Much of the material written or stated by Raphael Lemkin in connection with the Armenians and the Armenian Genocide, has today become fairly well-known – at least in a very general way—and at least by Armenians and their sympathizers. 
In fact, a popular exhibit at the Jewish Historical Society Center for Jewish History, ran an award-winning program from Nov. 15, 2009, to May 2, 2010.  The name of the exhibit was "Letters of Conscience: Raphael Lemkin and the Quest to End Genocide."  It started off by saying "Almost 90 years ago, a young student in Poland became intrigued – and deeply troubled – about the case of an Armenian youth accused of murdering the Turkish official responsible for the 1915 genocide of the Armenian community in the Ottoman Empire."  That clearcut statement reached quite a few museum goers.  Only a very short notice of the exhibit was retained online.
Over the years, a number of Raphael Lemkin's hitherto unpublished papers and manuscripts have appeared in print.  Of special interest are Lemkin's essays by Rabbi Jacobs, which have been written as well on the nature of exactly what Lemkin had to say about the Armenian Genocide.<![if !supportFootnotes]>[37]<![endif]>  These have been very important in bringing Lemkin to the attention of many Armenians in considerably greater detail, as well as to those purportedly interested in comparative genocide studies.
Nevertheless, despite the printed word, be it in articles or books, seeing Lemkin on film has brought his feelings on what had happened to the Armenians into full relief and in an unequalled fashion.  There is nothing like seeing him talk in a straightforward way and hearing "genocide" and "Armenians" right from his own lips!  Raphael Lemkin talking about the Armenians and the genocide perpetrated against them, provides us with an important symbolic image.  See Fig. 22a. and 22b. below, clipped from "UN Casebook XXI: Genocide."
<![if !vml]>
<![endif]>    <![if !vml]>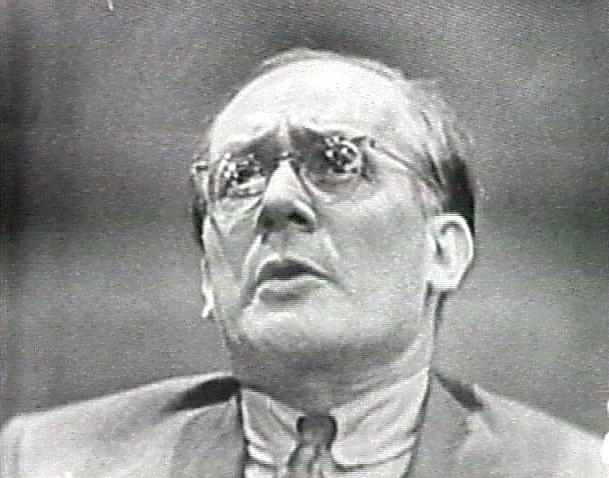 <![endif]>
Fig. 22a. and Fig. 22b.
Fig. 22a. Raphael Lemkin with moderator Quincy Howe;
Fig 22b. Raphael Lemkin talking about the Armenian Genocide.
Still photographs captured from UN Casebook XXI: Genocide – at approximately 17 minutes.
There can be little doubt that the Raphael Lemkin segment of Andrew Goldberg's documentary perked up many a viewer's ears and widened many a viewer's eyes.  Goodness!  "Armenian Genocide" voiced by the man who coined the word!  Professor Peter Balakian made a special point in the post-program 'roundtable' discussion of Andrew Goldberg's documentary that "Raphael Lemkin, the man who coined the word genocide spoke in no uncertain terms about the genocide against the Armenians."<![if !supportFootnotes]>[38]<![endif]>
The clear-cut pronouncement by Raphael Lemkin was understandably very much welcomed by the American community with Armenian roots or connections and their supporters.  Here was still another piece of unambiguous evidence for all the world to see, that there is full justification for the position that what happened to the Armenians under cover of World War I qualifies to be called a genocide.  Statements often used by Turks when referring to what happened to the Armenians like "an issue which its proponents call the Armenian Genocide" have no place in our opinion in honest discussions and are long past beyond insulting.
The upshot is this.  There was initially, and continues to be, enthusiastic reception of Goldberg's film "The Armenian Genocide."  It is a very well-executed film from a number of perspectives.  But for many, the appearance of Raphael Lemkin was a particularly noteworthy feature of the film.  Since that initial screening, a point has been made by many for showing Raphael Lemkin talking about the Armenian Genocide for commemorative reasons, for purposes of affirmation of the Armenian Genocide and for what might be, for lack of a better term, pure and simple congratulatory reasons.  Journalist Harut Sassounian in his California Courier wrote a good article on the documentary being shown on the occasion of the presentation of the Lemkin Prize to Peter Balakian in 2005.  This prize, a biennial recognition made by the Institute for the Study of Genocide, is given in recognition of the best non-fiction book − excluding memoirs, poetry, and drama – in the previous two years.<![if !supportFootnotes]>[39]<![endif]>  Showing Lemkin on film on such an occasion seems very appropriate indeed.
There can be little doubt that locating the film featuring "Quincy Howe, the CBS News Commentator" and "Raphael Lemkin," by Two Cats and its subsequent integration into "The Armenian Genocide" documentary was an important accomplishment.
However, and not surprisingly, because of the imposed format for presenting the clip, and its necessary brevity in the context of Goldberg's documentary, it is fair to say that there are many unjustified assumptions, even misconceptions, concerning this 'Lemkin film footage' that have since arisen.  This is mostly due to people not having the means to look into it, or equally accurately, any interest in analyzing it in any depth.  Many of these issues persist on the Internet and in the traditional print media alike.  For example, the exact origin of the 'Lemkin genocide film footage' is never provided.  Our paper published in War Crimes, Genocide & Crimes against Humanity appears to a be "a first" in that regard.  Unavailability of a complete transcript of the 1949 broadcast, the extant film of it a rarity unto itself, up until now limited any study.
One can see that having the opportunity to examine and study the 'original' film footage of the broadcast, before editing and integration into the "The Armenian Genocide" documentary, revealed some points that would have been missed.
Few would disagree that no study of history can remain definitive for any great length of time, and it follows that mostly everything can profit by re-examination.  'Data mining,' a term normally used in computer science but also used in other fields, that is the attempt to glean as much information by repetitive analysis from different perspectives, can indeed yield new information and open up new avenues for further study.  Certainly, there is a lot of room for more careful analysis and fresh research. 
What Motivated Raphael Lemkin To Coin The Word Genocide?
Like everything else, this is not as easy to answer in as concise a way as one should like.  There are at least a few places that we know of wherein Raphael Lemkin mentions how he felt obliged to come up with a name that adequately reflected what the crime was all about.  But we want to emphasize that in the course of delving further into the matter, we have come across more than a few inconsistencies.  We shall attempt to develop this situation in a sort of sequence and draw attention to a few of them. 
Several years ago, we found a document of considerable interest to us while going through Lemkin materials (on microfilm; with hard copies at the New York Public Library Manuscripts and Archives Division) bearing the caption "Text of statement by Dr. Raphael Lemkin at Testimonial Luncheon in his honor by New York Region of the American Jewish Congress at the Hotel Pierre, Thursday, January 18th" [1951].  If we read the part of the text that is relevant to us here, there are a number of things that enable one to gain a better perspective vis à vis Lemkin and the Armenians.  First of all, Lemkin has said that he was moved to come up with a name for "a crime without a name" – a phrase used by British Prime Minister Winston Churchill in a speech on BBC radio on 24 August 1941.  We have decided to include the full text.  It is very interesting, and we believe you will agree that it is useful for us to have included it despite its length. According to the transcript of the address made before the audience at the American Jewish Congress testimonial luncheon in his honor, Lemkin related:
"At the beginning of the last war, I heard a radio broadcast by Winston Churchill.  He was denouncing the Nazi atrocities, and he said: "The Nazis commit a crime without a name."  This statement struck my imagination.  For some 18 years I had been working for an international law which would prohibit the destruction of nations, races and religious groups.  I had submitted a draft of such a law to a League of Nations Conference in 1933.  It was tabled because I was told that such a crime very seldom occurs, and it is not worthwhile to make a special law for such rare occasions."
One will notice that Raphael Lemkin made no mention on the UN Casebook XXI broadcast about the victimization of the Greeks of the Ottoman Empire.  The probable reason was that experienced moderator Quincy Howe had established a strict timetable to follow and may well have thought that encouraging Lemkin to include it in his interview and commentary might detract from the intended general focus.  It has only been relatively recently that the details of the Ottoman Greek genocide have been publicized broadly and promoted for educational use in understanding the genocide process in general.<![if !supportFootnotes]>[40]<![endif]>
There is no reason to adopt the notion that the Armenian Genocide never occurred, see e.g. the brazen stances taken by Turkish spokespeople in Pea Holmquist's pioneer film "Back to Ararat" 2015 (ISBN9782399243176).  These liars are quite unconvincing, and their body language inevitably betrays them.
The defense made by the Turkish Government regarding the Armenian massacres reminds one very much of a popular story about Jews that was circulated at the German Reichstag.  Two Jewish women brought their dispute before an old rabbi about a kettle which the plaintiff could not get back from the defendant.  The defendant said, first she knew of no such kettle, second she had returned it long ago, and third, the kettle was not worth speaking about since it was broken.
The Turkish Government claims: first, there were no such things as Armenian massacres; second, the massacres had in every place only a local and unofficial character, no orders having been issued by the Government; and third, the Government orders were issued only in self-defense and had the approval of their enlightened Ally, the Germans.  To which the innocent Germans retort that they had no share whatever in the scheme and they were mere horrified powerless lookers on.
Officiously the Germans put the whole blame of the Armenian massacre on the Turkish Government and wanted to shake from themselves any parcel of participation or responsibility in the Crime.  A good deal of propaganda has been done in this respect, the most important piece of work to our knowledge being the painstaking document full of American and German statements privately printed and circulated as strictly Confidential by Dr. Lepsius, head of the German Missionary works [Deutsche Orient Mission].  It may be granted that Dr. Lepsius is fairly sincere in his indignation to see malevolent people charging the Germans with participation in the massacres of 650,000 Christians by the hands of the Heathen.  He brings good proof of the Massacre being planned quite carefully by the Central Government in Constantinople.  He goes even further and discloses that the Armenian massacres were only a "coup d'essai" [a first attempt] though a "coup de maître" [masterstroke] and were the so- called civilized World to accept it with not too loud displeasure, the Greeks, and other Christians and the Jews would have followed.
But just like all the most honest and sincere German productions, Dr. Lepsius' work has to be taken cum grano salis [with a grain of salt].  He fully admits the Turkish cruelty, the Turkish deep-laid plot, and supplements proof and witnesses to the facts, that far we may follow him.  His whitewashing of the German Government involvement may be argued.  It would probably be unfair to suspect Dr. Lepsius of having written his apologia by order, but like all law-abiding Germans he submitted his apologia to the Authorities.  Dr. Bethmann-Hollweg has allowed one of his letters to be published in the "Introduction", a letter in which he assures he will do his Christian duty "in the future", by straining all means to prevent a repetition of the disgraceful massacres.  Therefore, the document takes on a wholly, official character which makes it disingenuous.  If the German Government had reasons to approve (without approving) the massacres, they have probably not found it fit to take Dr. Lepsius into their confidence.
Lepsius had spoken to dozens of German officers, physicians, etc., who had been in the thick of the massacres, and this is what he found out.  Each and every German was individually horrified at what he had witnessed.  Trained with a superstitious respect of property, order, etc., a German cannot be expected to look in cold blood placidly at the robbery, massacres, etc.  To say, therefore, that the Germans were leading the massacres, or even taking a direct hand in them, as it has often been repeated, is doing them a wrong or at least advancing things which can never be proved.  The Germans will always be able to prove by testimonials, diaries, protocols, etc. that in each case their soul revolted.
But slaves to discipline, and having given up every individual thought or movement, the Germans who were ordered to duty in the massacre-area, saw the outrage, and felt indignant, but made no move to stop it.  That is certainly from a higher moral ground participation, even if not direct.
Officially the German Government has not entirely repudiated the recognition of the supposed necessity of the massacres by the Turks.  Official inquiries have been made, and no smaller man than Ernst Basserman, whose words carry weight as the leader of the National Liberals, and member of the Reichstag, had openly and un-mistakenly given the Turkish Government absolution for what they did - invoking of course the higher Raison d' Etat.  In a word, German official approval was not entirely withheld from the Turks.
The German mentality is even today always puzzling.  The Armenian Question was a safe question to tackle with official Germans.  Pastor Lepsius never failed to bring up the topic of the massacres when talking with the officials and military populace, so he had plenty of opportunity to hear hundreds of stories proving the cruelty and the useless and shameless barbarity of the Turks.  But just about every clean minded person would certainly shrink at the idea of making any profit from the situation the Armenians were in.  Not so the Germans.  They made bargains.  It would be unfair to say they robbed the Armenians - those poor souls being compelled to abandon their things without compensation, or give them away for mere consideration.  The Germans took advantage of conditions and bought carpets, jewelry, trinkets for a tenth of their real value.  Germany became the richest country in 'oriental' carpets.
Now, one more thing has to be considered.  For some time, the Germans realized for political reasons it would be good to colonize the Kilimanjaro, in arid, relatively un-fertile East Africa, and other colonies which are not a white-man's Country blessed by favorable geographical, climatical, agricultural and mineral conditions.  More than 75 years ago Von Moltke pointed to that area as a future colonization ground for the Germans, and more and more Germans agreed.
Looking at it from this light, no one who knows anything about Germans and the law, and the crooked way they can go to get their high ambitions realized, would deny their methods which became divine missions. They would not hesitate to wipe out the thriftiest element in these countries. It would not have displeased or hurt German politics.  And would not the Germans, themselves who were better fed at that time, and in more boisterous spirits than today ask the question: A crime?  Answer: That is arguable, but it is not bad, far sighted German Real Politik.
The bare fact remains that the Armenian massacres were carefully planned acts by the Turks, and the Germans will certainly be made to share the odium of this forever."<![if !supportFootnotes]>[41]<![endif]>
A Fair Amount Has Been Said About How The Armenians Used The Word "Genocide" As Far Back As 1945
We believe that the best way to cover all the points of greatest importance, and the context in which these important points were made, is to reproduce all the pages from an article that we think is very telling.  While it calls for the support of the Genocide Convention, it makes it clear that one should not avoid calling "a spade a spade."  It also makes clear that it did not endorse the 'blind endorsement' given by the Armenian Revolutionary Foundation of the Convention in its Hairenik publication.  Clearly, there had to be some nuance to it.
Whether one agrees or disagrees with the viewpoint taken in the Armenian Affairs article, it underscores the view that some of the Armenians saw that the Genocide Convention was not going to be a panacea and inevitably provide a means of punishing those who carried out such crimes.  The Armenians had been there "before." An elderly Armenian immigrant and survivor once told a youthful ADK that "Menk ahl khelk oonick!" [We too have brains!] Indeed. How right he was.
<![if !vml]>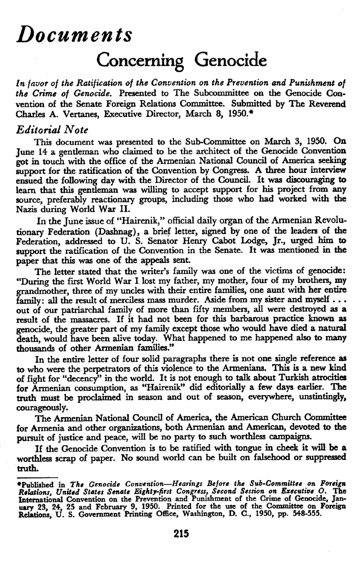 <![endif]>
Fig. 23.
<![if !vml]>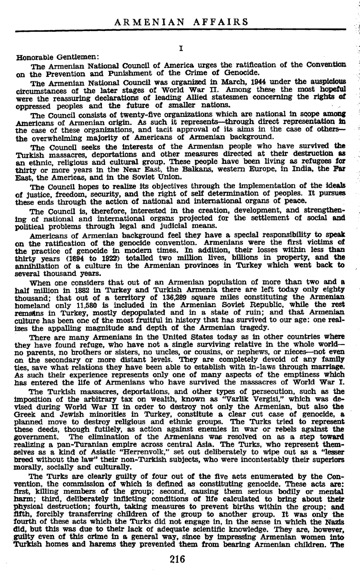 <![endif]>
Fig. 24.
<![if !vml]>
<![endif]>
Fig. 25.
<![if !vml]>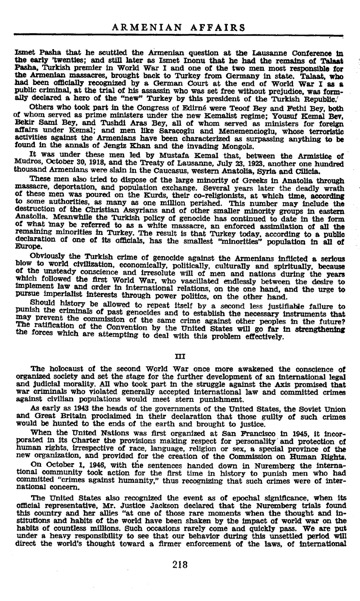 <![endif]>
Fig. 26.
<![if !vml]>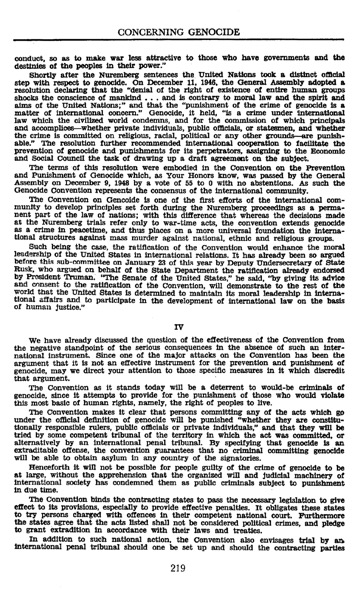 <![endif]>
Fig. 27.
<![if !vml]>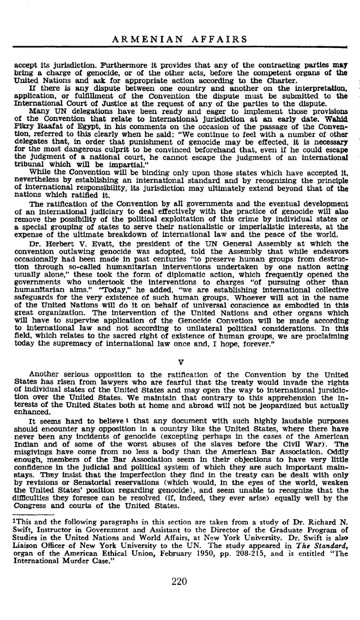 <![endif]>
Fig. 28.
<![if !vml]>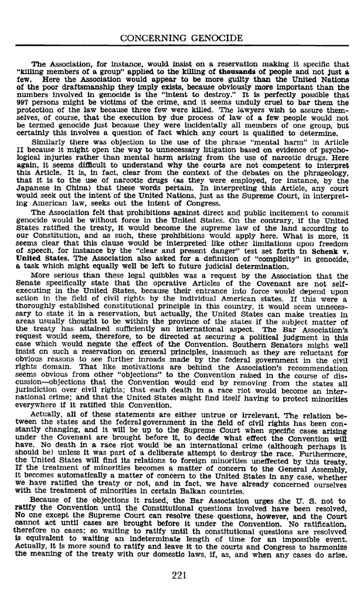 <![endif]>
Fig. 29.
<![if !vml]>
<![endif]>
Fig. 30.
What Do 'The Armenians' Want From 'The Turks'?
Non-Armenian friends, both in the U.S.A. and abroad, have often asked us "What do the Armenians want from the Turks?"  "Why is it so important that the word "genocide" enter into any consideration of the ongoing antagonisms between the 'Armenians' and 'Turks'?"  Those who advocate the 'Turkish Point of View' − that there was no genocide − claim not to have a clue as to why the use of the word "genocide" is insisted upon in connection with the 'Armenian Point of View'.  After all, are words like "tragedy," "catastrophe," "disaster" etc. not adequate to describe what happened? <![if !supportFootnotes]>[42]<![endif]>  To be brief and to the point, for us writing this essay and apparently many others, "No!"  It not only does dishonor to the truth, and violence to the facts, but adds insult to injury to those who were murdered and lost their lives through genocide.<![if !supportFootnotes]>[43]<![endif]>  It should also be underscored that it has long been recognized by non-Armenians that "The Armenians…whose outstanding characteristic is stubborn determination of purpose…" (see for example Corbyn 1932 pg. 600).  Stubborn or tenacious or perseverant? <![if !supportFootnotes]>[44]<![endif]>
More often than not, many will have a very personal answer to the question, "What do the Armenians want from the Turks?"  For example, psychologists and psychiatrists have given the transmittal of pain and its many permutations from generation to generation, the designation "transgenerational trauma."  There are few Armenian families anywhere who were not touched directly by the Genocide.  One author, we forget who, said that this lingering or residual trauma prevents genocide from "receding into the cold storage of history" – presumably implying that is where memories of genocide belong?  Be that as it may, there should be no doubt that what has come to be tritely and casually (and offensively to us) referred to as the "G" word (sometimes with a lower case "g") seems to encapsulate for many descendants of Armenian Genocide survivors, the 'all' and 'end-all' of what happened at the hands of the Young Turks and their government beginning in 1915.  (We will only mention here in passing the Hamidian massacres of the 1890s, and the Cilician massacres of 1909.)
A very important part of the answer to the question "What do the Armenians want?" is understandably connected with preserving memory.  Some have described this need to remember, as nothing less than a sort of moral as well as emotional pact between the dead and the living. 
It has always struck us as a sign of a rather significant 'disconnect', when we hear or read that the Armenian Genocide is 'a' or 'the' 'forgotten' or 'unremembered' etc. genocide.  It is certainly not forgotten by Armenians or many others.  Neither is it forgotten by the Turkish government.  This reminder of the facts constantly shows up as a thorn in the side of 'Turks', who are spending immense amounts of money denying the Armenian Genocide.  The popular TV program "60 Minutes" first aired on 28 February 2010, a segment entitled "Battle over history" by Michael H. Gavshon and Drew Margatten.  It has been estimated that some 13.4 million people worldwide watched "60 Minutes" each week.  It has been in the Nielsen ratings top ten for quite a few years.  One can therefore be reasonably certain that many know about the Armenian Genocide.  But the message has to be repeatedly repeated since so much gets erased, supplanted, or superseded with other priorities on the internet.
It is certainly true, however, that since much of the world is living day by day, there is no doubt that most non-Armenians have long since forgotten about the phrase 'the starving Armenians.'  Sad to say there have been extreme elements among the Armenians, who out of frustration, resorted to terrorism and violence against Turkish diplomats in the early 1980s, to bring attention to what they called the Armenian Cause and political recognition of the Armenian Genocide.  Happily, this strategy for airing grievances and achieving essentially impossible dreams was abandoned, but only after a number of tragedies.  Curiously or not, it has been admitted that this senseless violence did bring attention, more precisely notoriety, to the 'forgotten' Armenian Genocide. <![if !supportFootnotes]>[45]<![endif]>
The Mount Davidson Cross
One particularly moving memorial to the Armenian Genocide in the USA is the impressive Mount Davidson Cross overlooking San Francisco and the Bay area.  It is 103 ft./31.4 m. high, comprising many tons of steel and poured concrete, and has a history dating from the 1920s and early 1930s.  The huge cross is indeed an imposing memorial to the Armenian Genocide.  After much litigation instigated by the 'Turkish side' against its being used as a remembrance to the victims of the Armenian Genocide, arguments were overcome, and it was finally dedicated in 1997.  The exhortation on the bronze plaque at the base of the cross, quoted from Avedis Aharonian (1866-1948), Armenian writer, critic, poet and politician on remembrance of what the Armenians in Ottoman Turkey underwent, is very appropriate and revealing (see Figs. 31, 32, 33, 34 and 35).  It reads in English translation:
"If evil of this magnitude can be ignored, if our own children forget, then we deserve oblivion and earn the world's scorn."  (The poetess Diana Der Hovanessian was responsible for the translation from the Armenian original which is shown in Fig. 34. (personal communication.)<![if !supportFootnotes]>[46]<![endif]>
<![if !vml]>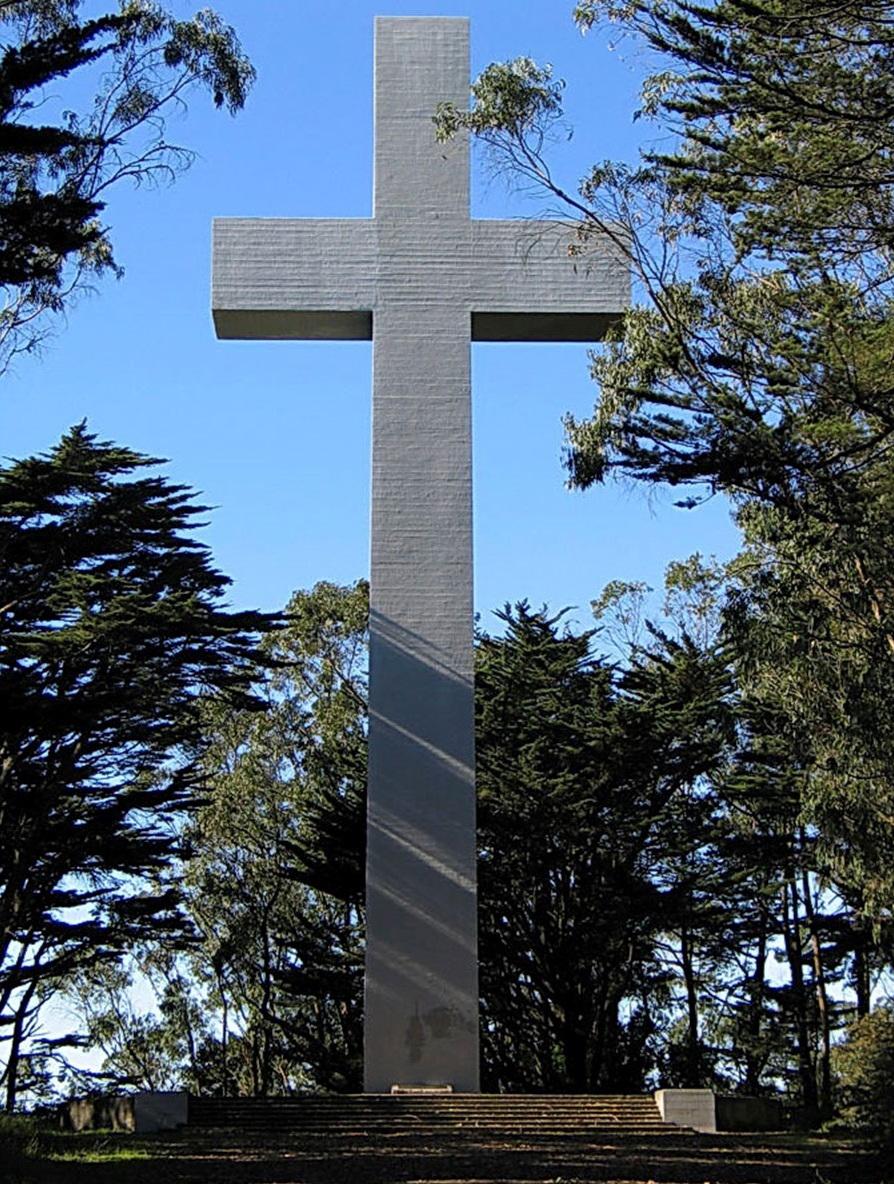 <![endif]>
Fig. 31.
<![if !vml]>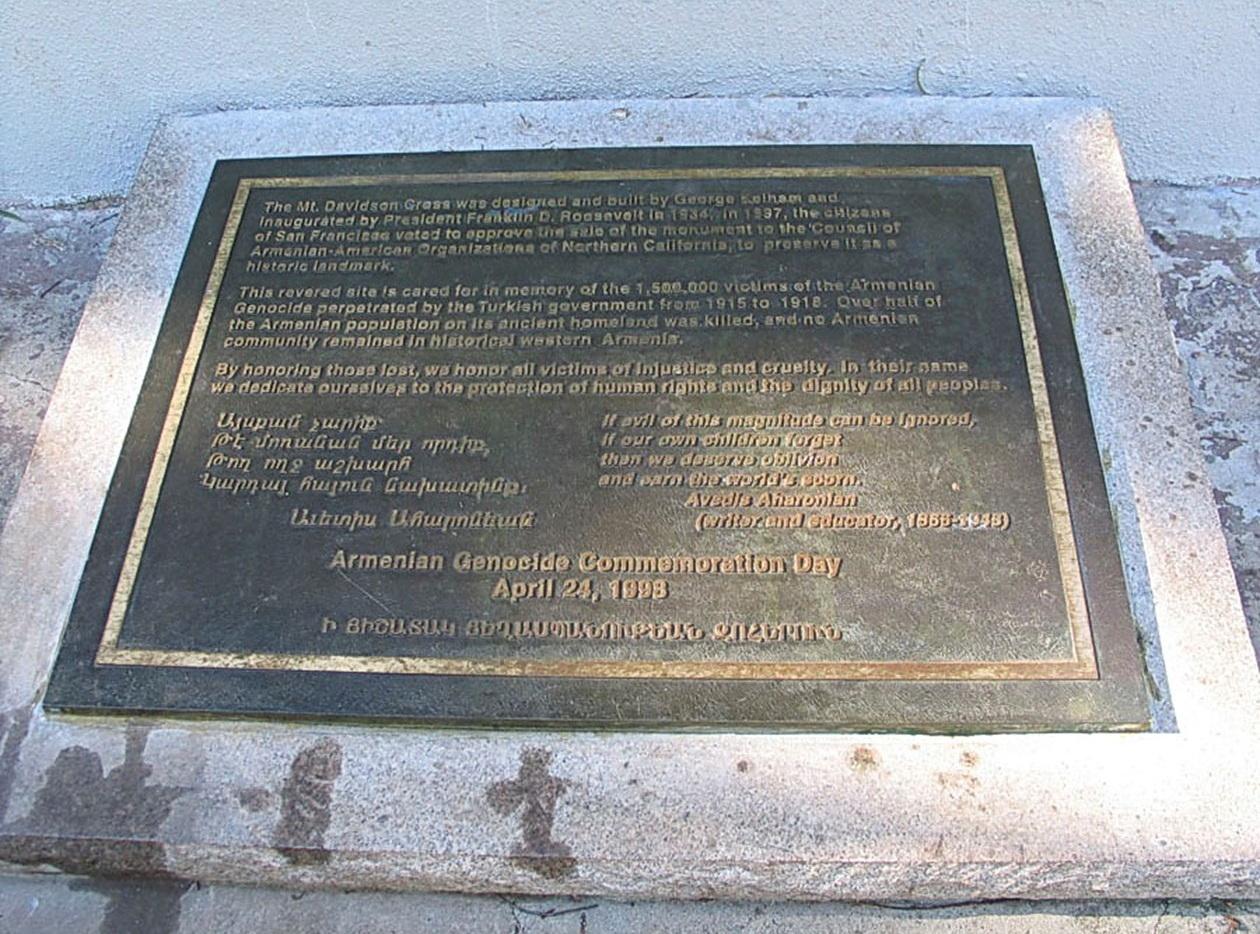 <![endif]>
Fig. 32.
<![if !vml]>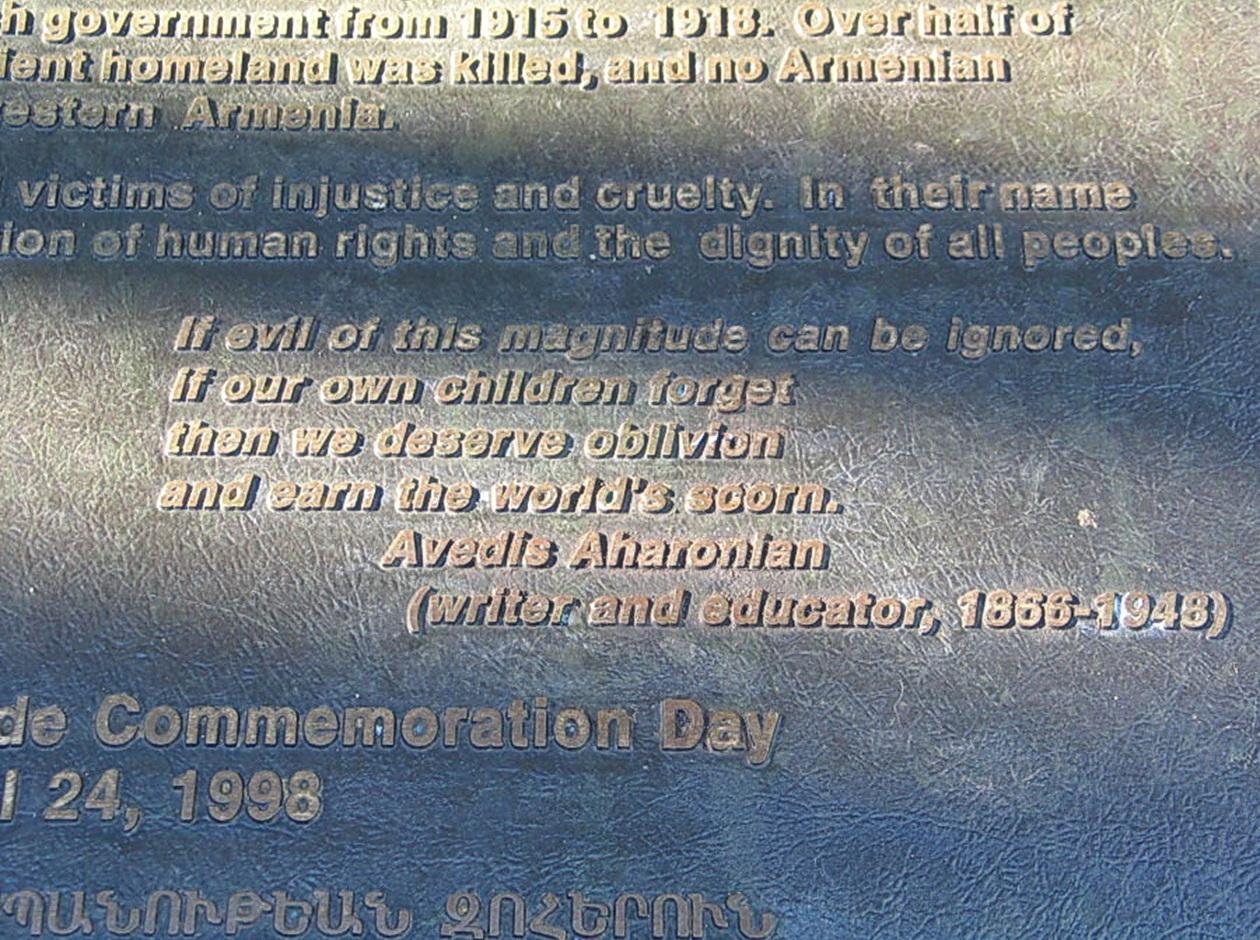 <![endif]>
Fig. 33.
<![if !vml]>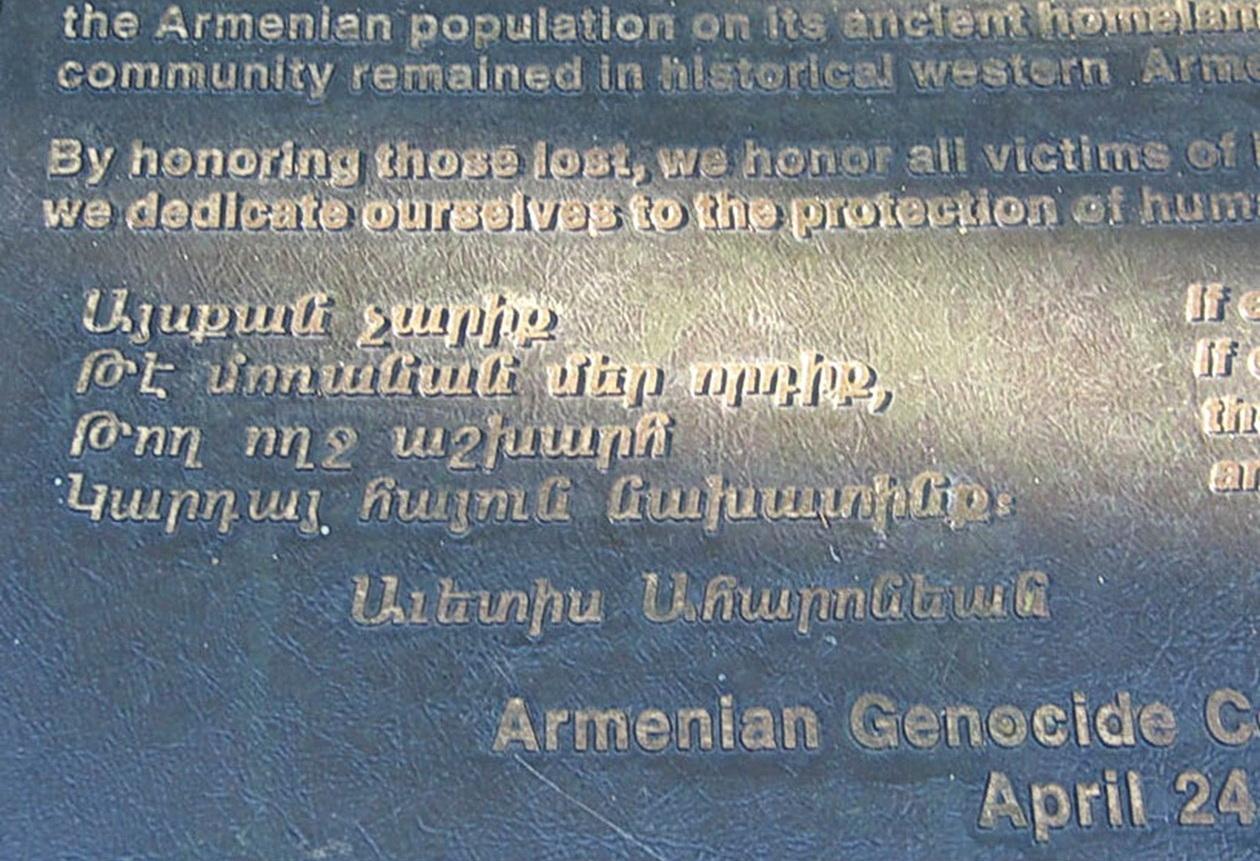 <![endif]>
Fig. 34.
<![if !vml]>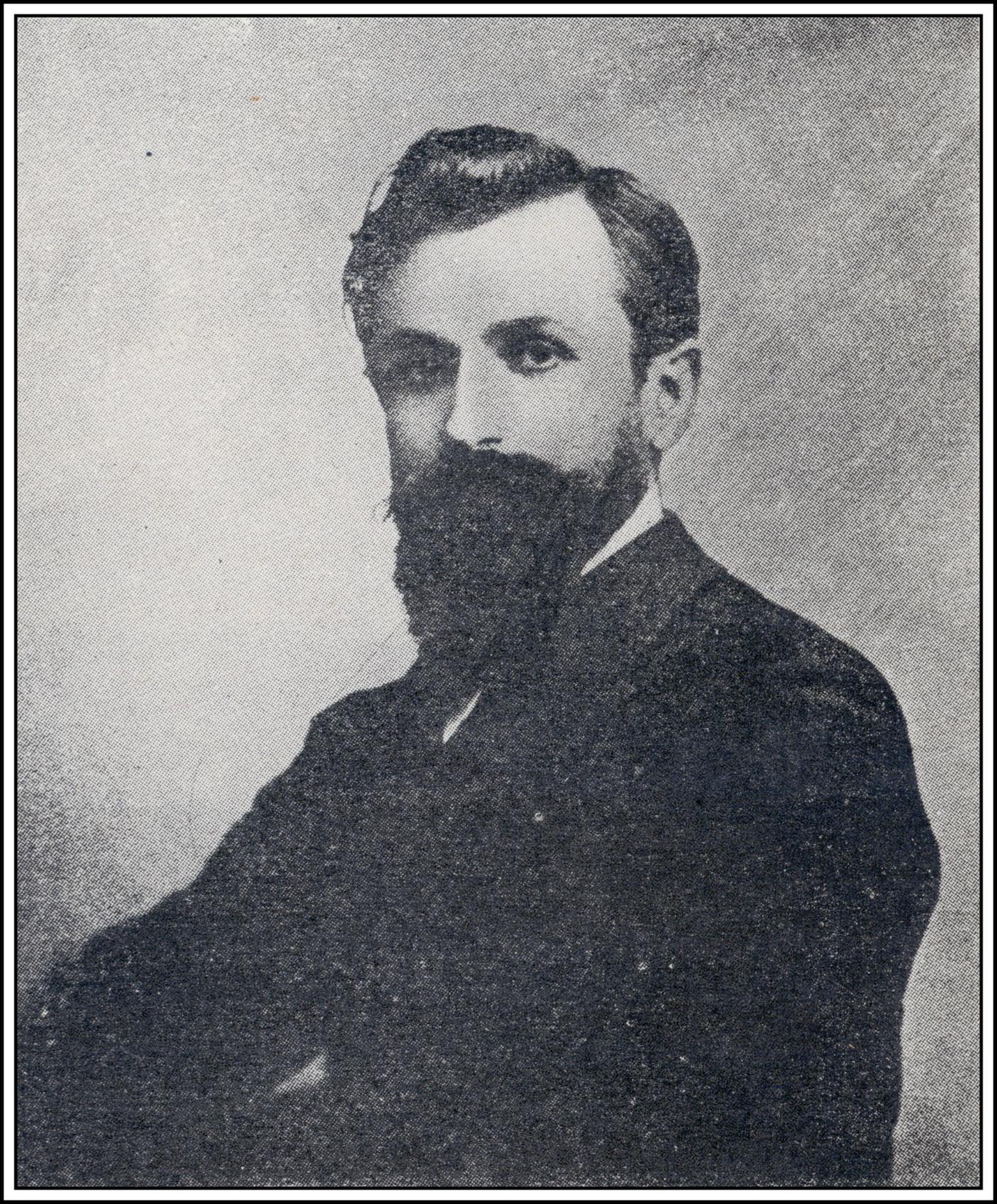 <![endif]>
Fig. 35.
Avedis Aharonian (1866-1948.)
Some have suggested that there has been much too little closure of the very old but still festering wounds dating back to the period of the Genocide and even considerably earlier.  Proper mourning to lay the matter of murdered ancestors and tormented grandparents, parents and relatives to rest once and for all, has clearly not yet taken place.  This is well reflected in Armenian literature.<![if !supportFootnotes]>[47]<![endif]>  Like many others we believe it is impossible to forgive if there is no admission of the reality of a genocide committed, much less acceptance of some responsibility.  It is well to recall the quotation on forgiveness from Alice Walker, and what has been voiced in an important encyclical from Pope John Paul II.<![if !supportFootnotes]>[48]<![endif]>  Walker wrote "All we can do is attempt to understand their causes and do everything in our power to prevent them from happening, to anyone, ever again." (Alice Walker Overcoming Speechlessness (2010).
More abstract responses to the question of 'What do the Armenians want from the Turks'? could be offered by others.  These might well be difficult to understand by those who have no personal connections.  In that case, "Justice" is the word that frequently enters into the reasoning.
Most would agree that the word "justice" is a politically pregnant word as well.  Justice for whom?  Justice for what?  There is a phrase chiseled in stone on the façade of the old Worcester County Massachusetts Court House building "Life under Just Law is Liberty."  A very lofty and noble sentiment indeed.  It would be enhanced considerably if "and Uniformly Enforced" were placed before "Law." <![if !supportFootnotes]>[49]<![endif]>
Then there are a number of more pragmatic aspects of the matter of genocide recognition that many on the Armenian side still insist must be resolved.  This includes a full apology from Turkey.  Not an apology of course for today's Government of Turkey having initiated and committed the genocide.  All those involved in planning and executing the genocides in Ottoman times have long since been dead.  The apology from the so-called Republic of Turkey is demanded because successive Turkish governments, bar none, from the early republic to the present day, have denied the reality of the Genocide; hence in their eyes there is no need to apologize. <![if !supportFootnotes]>[50]<![endif]> 
Few, other than the descendants of Armenians and massacred Christian groups, have even surmised, much less noticed, that the Republic of Turkey was built on the bones, ashes, property and wealth, of the murdered Christian subjects of the long moribund and decaying Ottoman Empire.  Many a Turkish or Kurdish bourgeois, and even peasant families, enriched themselves at the expense of the Armenians (and Greeks and Assyrians).  It was an unprecedented period of opportunistic gain. <![if !supportFootnotes]>[51]<![endif]>
Every Turk, and every Turk in the large Turkish diaspora, and Europeans and Americans with Turkish-born wives, and Americans with one or more parent with Turkish roots with whom we have discussed this matter, has freely expressed the view that successive governments of Turkey have feared having to make financial reparations, even territorial concessions, should the Genocide finally be acknowledged.  It is not only the money and land considerations, but also immensely substantial psychological components, which are vastly more overwhelming than either money or land. <![if !supportFootnotes]>[52]<![endif]>
We venture to say that all Americans feel tremendous patriotism when they go to places like the awe-inspiring Mount Rushmore National Memorial.  Presidents George Washington, Thomas Jefferson, Abraham Lincoln and Theodore Roosevelt stand out larger than life in the full meaning of the word, for their heads are some 6 stories high, and these four collectively symbolize all that is perceived as good about America.<![if !supportFootnotes]>[53]<![endif]>  They are important symbols of American democracy and have long since become living icons of America, much like the Statue of Liberty Enlightening the World National Monument on Liberty (Beddloe's) Island in New York harbor. 
Even so, many Americans generally recognize that these great leaders, rendered immortal as national icons on Mount Rushmore, were also human beings, and if they think about them a bit more, they will acknowledge them as icons of our political values, and as part of our political culture as well.  The public has slowly but surely become fully aware that George Washington and Thomas Jefferson were slave owners, and that Teddy Roosevelt was more than a bit of a war monger and so on.  Each of these men has been invoked in support of every known cause imaginable.<![if !supportFootnotes]>[54]<![endif]>
'The Turks,' on the other hand, seem absolutely determined to stick doggedly to their government-created myths, and anyone seeking to tamper with them, much less destroy them, is in for a battle.  They seem to need earnestly to believe that their 'founding father(s)' were virtually all "heroes" – no qualifications allowed.  Kemal Atatürk, "Father Turk" is still very much revered.  The very name Mustafa Kemal Atatürk literally translates as "the Chosen, the Perfect, the Father of the Turks."  Many would say that he is probably as much a cult hero today, even as he was in his own time.  A Turkish acquaintance said years ago "Well, he should be revered.  He saved Turkey from going down the drain after the Ottoman Empire was on the losing side of World War I, using whatever methods it took" [including ordering mass murders.]  In Turkey, statues honoring the Turkish dictator are endless, and portrait photographs of all sizes are still to be found all over Turkey, not just on postage stamps and currency. 
One might perhaps somehow understand, if not appreciate, that following the absolute nadir of Turkey at the end of the First World War, it was very important to regain some self-respect and stature – especially at the expense of truth.  Whatever it took seems to have been the order of the day.  Turkey's leaders, indeed its first and foremost savior in the person of Mustapha Kemal, Ataturk, and later 'lesser saviors', needed to be idealized above and beyond the pale.  This attitude of Turkish superiority grew to encompass the fundamental belief that the long-standing image of the 'Unspeakable' or 'Terrible Turk' had somehow had to be actively counter acted.<![if !supportFootnotes]>[55]<![endif]>  No place like starting with the next generation?  It was drilled into young school children that they were to be proud to be Turks, a people like no other.
There is a poignant scene in the emotion-ridden film Waiting for the Clouds ["Bulutları Bekleren"] that clearly speaks to this strategy of brainwashing youngsters in Turkish schools.<![if !supportFootnotes]>[56]<![endif]> 
In it there are Turkish school children, cute as buttons like all youngsters, who are shown reciting in a parrot-like manner in the schoolroom and outside in the school yard, a litany in unison of nationalistic boastings of Turkish virtues like "Turks never give up!"<![if !supportFootnotes]>[57]<![endif]> 
This is of course brainwashing − no more no less.  Salvaging their imagined lost integrity was rather effectively done by the Turkish leaders, at least domestically.  How far they have gone to rehabilitate their image elsewhere is a very open question.  Apparently, there is still a major need seen to counteract the negative image of the Turk that is still being promulgated here and there.<![if !supportFootnotes]>[58]<![endif]>
Turkey's ongoing and vigorous denial of the Armenian Genocide reflects an incapacity to express regret or remorse over the past behavior of their ancestors.<![if !supportFootnotes]>[59]<![endif]>  Having said this, there is a major element that has to do with the psychology of national leadership.  This just might hold potential for the ultimate recognition by Turkey of the Armenian Genocide.  All cultures have traditionally tended to place great importance on outward appearances.  The Armenian word 'amot', signifying shame or shamefulness, is a case in point which is applicable.  Vigorously hiding or denying unpleasant realities or historical truths have apparently, inevitably (?) been seen as critical to the overall good of the Turkish people and nation.  Most Turks avert their eyes from issues that might compel them to face facts that could be considered challenging or destabilizing to their perception of Turkish honor, and how Turks behaved in the past and still do today.  Difficult to see this attitude change.  That does not mean, of course, that it cannot change.  We all have blind spots and see what we want to see.<![if !supportFootnotes]>[60]<![endif]>
The period of outright physical massacres has supposedly since passed in Turkey (notice that we do not say long since passed, witness what has been done to the Kurds in Turkey) but the mentality which was extant then is still alive and well.  For example, there was a terrible "row" to quote BBC News, that broke out over reports that a Turkish national heroine, an adopted daughter of Kemal Ataturk named Sabiha Gökçen, pioneer aviatrix and fighter plane flyer, might in fact have been an Armenian by birth.
The notorious Penal Code law 301 that has enabled a number of Turkish intellectuals, including a Nobel Prizewinner in Literature, to be brought to trial for the crime of "Insulting Turkishness" is a case in point.  The wording of this Code was apparently modified under European pressure in 2008 and "Turkishness" was changed to the "Turkish Nation."  Apparently even lip-service to free speech did not come into the picture when this change was made.  This sort of use of legislation to enforce a governmental decree or viewpoint or desire is nothing new.  As an example, rather innocent in and of itself, but nonetheless conscious and deliberate, when the decision was made in 1928 to adopt a new Romanized Turkish alphabet in place of the old Arabic-Turkish one, it was made illegal to write in the old script after November 1928.  What the penalty was is something we have not tried to look up.<![if !supportFootnotes]>[61]<![endif]>  The direct access to YouTube, the video-sharing site, has frequently been banned in Turkey for posts that insult Kemal Ataturk.<![if !supportFootnotes]>[62]<![endif]>
All this is excessively nationalistic and pro-Turk.  No? Of course! Fantasies still held by some that the Turks have traditionally been very tolerant, liberal, progressive, and non-racist, have been around for many years.<![if !supportFootnotes]>[63]<![endif]>  The fact is that even those wishing to support the view that the Tanzimat reforms were progressive, ultimately must admit that they were not successful.  In everyday parlance, they were not what they were or have been 'cracked up to be.'<![if !supportFootnotes]>[64]<![endif]>
By the time we come down to the period of the Genocide that began in 1915, and immediately thereafter, we read that things were very different, indeed even that they had nominally temporarily changed for the better.  Even in an early biography of the exalted Kemal Ataturk, one reads repeatedly the oft quoted and pervasive statement "Turkey for the Turks."  It is stated that it was Ataturk's guiding principle throughout his life, just as it was with all the earlier, notorious Young Turk leaders.<![if !supportFootnotes]>[65]<![endif]>  In a word, one need not harken back to the period of the Armenian Genocide to see the erstwhile objective of the Turks to wipe the slate clean of non-Muslims.  Turks, not being the most efficient of peoples, certainly not like the Germans, continued the Genocide(s) for some years.  Some complained that they had not been thorough enough earlier and were determined to do a better job next time around.<![if !supportFootnotes]>[66]<![endif]>
For a particularly interesting example: "In November, 1929, as reported in the [London] Times and Manchester Guardian, there was an exodus of 6,000 Armenian refugees who crossed the Syrian border.  Here is a quote from the report of a British lady living in Aleppo:
"I expect you will have heard from other sources of the influx of refugees which began a short time ago, and is growing from day to day.  It seems that the Turks have been rounding up all the Armenians remaining in the outlying mountain districts, after robbing them of all their property and money (by such means as demanding all arrears in taxation) they let them go.  They are arriving here literally destitute, and are being housed in the most wretched and insanitary unfinished building which was occupies for four or five years by refugees who came in 1922.  The Armenian Benevolent Union is starting a soup kitchen, but it will take nearly £5 a day, and more people are coming every day.
These particular people had come from the region of Kharput and Diarbekir.  The majority of the refugees, however, crossed the border further north in the neighborhood of Kameschli, the frontier town near Nisibin" (quoted from Corbin 1932 pg. 606). 
Similarly, the infamous Varlik Vergisi Kanunu [Capital tax law or levy, No. 4305] passed by the Turkish National Assembly on 11 November 1942, was motivated in large measure by nationalism and racism.  Later there were many outpourings of predictable protestations that they were nothing of the sort.  A major objective supposedly was to tax the wealthy so heavily that it would aid Turkey's faltering economy, literally saving it from bankruptcy.  Yet another stated goal was to combat inflation and to tax the immense profits made by war-time profiteers.  The way it was selectively administered was, however, to deliberately economically weaken, even hopefully get rid of wealthy Greeks, Jews and Armenians.  In the very least it was appreciated that the minorities would be reduced, financially speaking, to non-entities. 
Rifat Bali directly states in his The Varlki Vergesi Affair that "It is now clear that the intent of the Capital Tax Law was not only to obtain badly-needed government revenue, but, more essentially, to erode the great power of the minority merchants in the market, and to replace them with Turkish Muslims" (emphasis ours) – see Bali, 2005 pg. 55.<![if !supportFootnotes]>[67]<![endif]>
Faik Ökte's authoritative The Tragedy of the Turkish Capital Tax (1987). goes into considerable detail on the matter from the perspective of an insider.  Also, it is of some interest that during that period some rather virulent anti-semitic cartoons, some originating from publications out of Nazi Germany and textually modified for Turkish consumption, and others fully generated locally in Turkey, were run in a number of newspapers and Journals (see for example several reproduced in Rifat Bali's "The Varlik Vergisi Affair" and for a larger sampling see Salomon und Rebecca.<![if !supportFootnotes]>[68]<![endif]>
For additional perspectives, one should also read chapter 2 of Ayan Aktar's book Varlik Vergisi: Ve Turklestirme Politiklari [Wealth Tax and Turkification Politics] (İletişm Yayınları, Istanbul, 2004) entitled "The Jewish Events in Thrace and Turkish nationalism – 1934" in which Jews are clearly described as "an undesirable element" by the government, see pg. 83.  In Frank Weber's The Evasive Neutral: Germany, Britain and the Quest for a Turkish Alliance in the Second World War (University of Missouri Press, 1979) we read of "astronomical assessments imposed on Jews wishing to emigrate from Axis countries in a desire to curry favor with Nazi Germany by following anti-Semitic policies." 
Turkey waited until 1 March 1945 to have an effective declaration of war on Germany and Japan.  This was some three months before the Armistice.  Just why Turkey decided to do so is not totally clear.  An endnote in Christian Leitz's Sympathy for the Devil <![if !supportFootnotes]>[69]<![endif]>…mentions that "For having declared war on Germany before 1 March 1945, the deadline set by the Allies, Turkey was permitted to participate in the founding session of the United Nations in San Francisco."  Be it said, however, that Turkey knew very well, indeed has always known, how to look after her own interests.  Maneuvering for the return of the sanjak of Alexandretta from France is but one example of being wily enough to extract major benefits in exchange for entering into various agreements.<![if !supportFootnotes]>[70]<![endif]>
Christian Leitz's analysis of the neutral nations of World War II in his very interesting book mentioned above, gives Turkey slightly better grades than say the Swiss and Swedes in their pro-Nazi actions, but also for being adroit enough to keep out of the war by sitting on the fence. 
Turkey did indeed sell Nazi Germany much needed chromite (chrome ore used in steel manufacture to render it harder and more corrosion resistant).  The title of Leitz's book "Sympathy for the Devil…" indicates very well that there really was more than passing sympathy for the Nazis in more than a few quarters in Turkey.
One British Foreign Office official put it this way: "Turkey's hope is to take material from both sides and sell to both sides and to remain neutral throughout the war, and be rich and powerful at the end of the war."<![if !supportFootnotes]>[71]<![endif]>
Corry Guttstadt, an expert on the Turkish minority in Germany as well as other areas, has written an immensely interesting and impressively documented book on the Turks, Jews, and the Holocaust.<![if !supportFootnotes]>[72]<![endif]>
One will recall from above that a major stated motive for imposing the Varlik Vergisi 'tax' was nominally to counteract war profiteering.  It makes one wonder just how much money was made, and equally, even more interestingly, who made it.  Are we to believe that it was still the remnant Christians and Jews, who were an absolute minority in Turkey, who were still responsible for carrying out critical business more than twenty years after the genocides, and expulsions and exchanges of populations? 
Despite all the above, we still encounter today various and sundry proclamations of Turkey's undying tolerance and beneficence, especially towards its Jews, indeed all Jews dating back to the time when Europeans were inevitably being intolerant and very hostile to them.  No one has as yet so far as we are aware, devoted much space to trying to understand the mentality behind accommodating religious differences in Turkey.  From time to time there have been veiled and not-so-veiled threats that the safety of the Jewish population of today's Turkey cannot be guaranteed in the event Israel should recognize the Armenian Genocide.  It is difficult to interpret this in any way other than to say that the accommodation of Jews is a very superficial façade and is essentially exploitative. 
In 1992 a Turkish coin was issued to commemorate 500 years of peace and harmony between Turkey and Jews.<![if !supportFootnotes]>[73]<![endif]>  A postage stamp was issued as well.  Since there are so few Jews left in Turkey one can only assume that the issuance of a coin and stamp was a studied political gesture to Israel, even as it helped disseminate, underscore, politicize and rehabilitate the notion of Ottoman tolerance.  After all, the Turks have been quite good at public relations (see Selim Deringil and references there cited).<![if !supportFootnotes]>[74]<![endif]> 
It might well be an 'eye-opener' for those who prefer to espouse the view of Ottoman tolerance to read the great detail presented in Malcolm MacColl's The Sultan and the Powers Longmans, Green & Co., London and New York (1896)  See: http://www.archive.org/details/sultanpowers00macciala 
Excerpts were re-printed from this book in The New Armenia (New York) vol. 9 no. 9 May 1, 1917 pgs. 133-135 and it has become very clear that hypocrisy and Realpolitik control the entire madness.<![if !supportFootnotes]>[75]<![endif]>
One may ask whether the day will ever come when any of the many Armenians of the Ottoman Empire will be recognized on stamps and coins not for their 'mere' presence in "Turkey", but for their long-standing contributions and achievements?  There are many examples that could be drawn upon.<![if !supportFootnotes]>[76]<![endif]> 
In the interest of at least trying to draw attention to, if not present, a fair and balanced perspective on Turkey and the Jews, see Stanford Shaw's The Jews of the Ottoman Empire and the Turkish Republic (1991).  Few readers with any background knowledge or understanding of the realities would deny that it is a highly biased, and even a revisionist description of the supposed love affair between Turks and Jews.<![if !supportFootnotes]>[77]<![endif]>
A reviewer of Shaw's 1991 volume (written when she was a young Assistant Professor and now an acknowledged and highly esteemed expert of Professorial rank specializing in the Ottoman period covered by Shaw) is most diplomatic and professional when she says:
'Stanford Shaw's book is a weighty work reflecting the author's distinct perceptions.  Rather than conceding the varied interpretations that the study of Ottoman Jewish history inevitably yields, Shaw offers a black and white history in which the Ottomans and their Jewish friends battle villainous indigenous and foreign Christians.  Shaw idealistically terms the empire's acceptance of the Spanish emigrés "the ingathering of exiles," downplaying any purely pragmatic motives on the sultans' part and skirting the fact that many Sephardim settled elsewhere before entering Ottoman territory" (see Jane Hathaway in Middle East Journal vol. 49 no. 1, winter, 1995 pgs. 165-167, esp. at 166.)<![if !supportFootnotes]>[78]<![endif]>
To guarantee that we not be accused of selective use of references, cherry picking as it were, and selection of isolated reviews for our focus, we draw attention to the comments of yet another expert reviewer of the Shaw's volume.
"During the 1930s and World War II, it was again Christians who brought anti-Semitism to Turkey, while neutral Turkey quietly assisted Jewish refugees seeking entry to Turkey, impeding German efforts to have them deported to death camps.  Although many poorer Turkish Jews emigrated to Israel after the war, over 20,000 remain in Turkey today [1993], fully integrated into society.  In Shaw's opinion the largest problem facing Turkish Jewry today is assimilation, the same as in other countries where Jews reside.  This appealing view of the history of Ottoman and Turkish Jewry may be fitting for Turkey's celebration of the quincentennial year, but it does not tally with much of the excellent scholarship on Ottoman Jewry in the last few decades. The author makes numerous generalizations and questionable assertions that are not supported by references […].  Had Shaw attempted to analyze the many works found in his lengthy (forty-two page) bibliography, a more balanced and credible picture might have emerged."<![if !supportFootnotes]>[79]<![endif]>
Attention should also be brought to a very interesting article by Marcy Brink-Danan in American Anthropologist vol. 112 no.3, pgs. 384-396 (2010) entitled "Names that show time: Turkish Jews as "Strangers" and semiotics of reclassification."  In it she describes in considerable detail how even today Jews are 'othered' and made not to fit into Turkish society.  This exclusion is a good indication of the reality of Turkey's attitudes towards non-Muslims.  Bora Isyar has devoted a paper to the analysis of "racialized citizenship in the Ottoman Empire: the displacement and elimination of Armenian citizens" and emergence of a dominant racialized Turkish citizenship in the Republic (see Bora Isyar "The origins of Turkish Republican citizenship: the birth of race," Nations and Nationalism vol. 11 no. 3 pgs. 343-360, 2005.) <![if !supportFootnotes]>[80]<![endif]>
In view of all this invented selfless generosity towards Jews on the part of Turks and by Turkey, supposedly even today, one therefore might well ask how long will this infatuation with Israel using the long history of Jews in the Ottoman Empire and shared values angle last?  Has it really been a subservient alliance as has sometimes been claimed?  Or has it been, as always, the realpolitik of one hand washing the other?<![if !supportFootnotes]>[81]<![endif]>
All this leads us to ask from a non-Turkophile perspective "What would the honest, educated and informed Turks of today really say about early modern period Turkish leaders like Enver Pasha, Talaat Pasha, Djemal Pasha, Kemal Ataturk, Ismet Inönü etc.?"  Would being absolutely honest necessarily be the equivalent of 'fouling the nest that reared you!?'<![if !supportFootnotes]>[82]<![endif]>
Are not all nations basically built on relatively recently fabricated myths and partially fraudulent histories - the only differences being that some are considerably more extreme than others? <![if !supportFootnotes]>[83]<![endif]>  One of the more recently revived controversies has to do with the flight of the Israelites from Egypt.  In a paper provocatively entitled "The use and abuse of the Exodus story", Erich S. Gruen adds considerable insight to the long-contested Biblical account of Exodus - that indeed much of the Exodus story is based on myth, and according to how one scholar said it, "was reshaped by the Jews." <![if !supportFootnotes]>[84]<![endif]> 
Coming down to more modern times, we see that there are those who revise and doctor history so as to leave Palestinians out of the story of Palestine, making them interlopers largely after Israel was made to flourish and the deserts were made green so to say.  Joan Peters book which gained so much praise in the USA, by an agency called by the late Edward W. Said a virtual "conspiracy of praise" was shown by Norman Finkelstein to be based on fraudulent scholarship.  See: https://en.wikipedia.org/wiki/From_Time_Immemorial
Others in Europe and Israel itself referred to the Peters volume as a perversion of history.  This is all pretty incredible in view of the conflict between Palestinians and Israelis.   'All' one needs is to have the history of the problem rewritten.  One reviewer, Anthony Lewis, entitled his book review of the Peters volume for the New York Times 13 Jan. 1986 pg. A15 "There were no Indians."  He asked the question "Has the life of the mind been so politicized in this country that intellectuals who welcome a book's political conclusion will shrug off challenges to its truth?  The answer is in the main "Yes!"<![if !supportFootnotes]>[85]<![endif]>  "Don't confuse me with facts."  But the late liberal Senator Daniel Patrick Moynihan from New York State, an intellectual and scholar (rare for his breed) once quipped "You are entitled to your own opinions but not to your own facts."  Facts can indeed be uncomfortable and disquieting.  No one has given an explanation on how, what is best forgotten turns into forbidden?  Nationalism (perhaps better rendered as 'tribalism') bears an enormous amount of blame for all kinds of atrocities, even genocides.<![if !supportFootnotes]>[86]<![endif]> 
Closing Comments
How one deals with those many historical truths that anyone in control of his or her full senses would certainly prefer to ignore and forget about, is what ultimately matters for the moral and psychological health of any country.  There is much room for improvement on that front as well for all countries, including (some might even say especially) the United States of America.<![if !supportFootnotes]>[87]<![endif]> 
Whether any of this aspect of Armenians insisting that Turkey face up to its genocidal past can go anywhere is not for us to comment on.  Speculation is of little value.<![if !supportFootnotes]>[88]<![endif]>  It has been said on more than one occasion that Armenians are never loath to espouse lost causes.
Some even say that Turkey continues, from time to time, to try to carry out genocide against the Kurds of Turkey.  The Armenian side sometimes voices aspirations to reclaim territory in eastern Asia Minor that was lost in the very remote past − well before the Armenian Genocide.<![if !supportFootnotes]>[89]<![endif]>  They claim to be ready to forge new alliances with the Kurds who now occupy much of what was historic western Armenia.  We bring this matter up only because such aspirations have definitely persisted in various, usually exaggerated in our opinion, forms in the minds of more than a few Armenians, especially those in the diaspora.  The notion of reconstituting an Armenia based on old boundaries was raised prior to the Treaty of Sevres and once again in the late 1940s, more than 20 years after the Treaty of Sevres.  It was still-born, and one wonders if the hope of land acquisition for Armenia was only a trial balloon that no one thought would fly.<![if !supportFootnotes]>[90]<![endif]>
Finally, and perhaps most importantly and definitely more relevant to the present and for the future, "What can be learned about achieving 'justice' and whether such knowledge and understanding of justice in the Armenian 'case' can be harnessed to prevent future genocides?"
Given the apparent importance for many, of the word "genocide" in the narrative, it seems imperative to understand the neologism<![if !supportFootnotes]>[91]<![endif]> as coined by Raphael Lemkin in as much detail as possible.  Towards this end, it necessarily becomes important to know and understand a fair amount about Raphael Lemkin.  We have not made any attempt to relitigate the past but we have tried to make compelling arguments that the Young Turk leadership largely based their plan to annihilate the Armenians and other Christians based on opportunism.  The Armenian Question was of tremendous ideological significance and it was worth their while to wait until the right moment.  One thing we inevitably will have failed to achieve is that a proper case can never be made for the lives of the survivors of the Armenian Genocide which were impaired and disrupted forever.
Despite our appreciation of this reality, we have attempted to achieve some degree of justice by giving an accurate history of the events and its far-reaching consequences.  Many have said and we concur, we can best honor the past by facing it squarely, honestly, and above all, openly.
Endnotes