Armenian News Network / Groong
Casting of actors portraying Talaat and Morgenthau is quite good in the film "the promise": A few images to substantiate this opinion
Armenian News Network / Groong
May 12, 2017
Special to Groong by Eugene L. Taylor and Abraham D. Krikorian
Long Island, NY
"Every time I hear Talaat's name, I see the image of Satan, sly,
cunning, dishonest and insincere, the repository of a black,
oriental soul. The dog was Mephistophelean [diabolical]…"
­­<![if !vml]>

<![endif]>
Statement attributed to Armen Garo (Karekin Pasdermadjian) by Assadoor Khederian [Endnote 1]
We saw "The Promise" on Thursday the 20th of April 2017 at the Lowe's Multiplex Cinema in Stony Brook, Long Island.  Initially we believed that we had arranged tickets for Friday, the 21st , which we understood to be the official day of opening at theaters nationwide.  Just how this mix-up occurred is not clear.  No matter, we saw it and thought it was a quite good film.  It certainly will put film making about the Armenian Genocide on a fresh new and important footing.
We were both especially pleased that the film included the notorious and outrageous scenario wherein Talaat asks for the names of Armenians who had taken out insurance policies.  Morgenthau relates "One day Talaat made what was perhaps the most astonishing request I had ever heard.  The New York Life Insurance Company and the Equitable Life Insurance Company of New York had for years done considerable business among the Armenians.  The extent to which this people insured their lives was merely an indication of their thrifty habits."
"I wish," Talaat now said "that you would get the American life insurance companies to send us a complete list of their Armenian policy holders.  They are practically all dead now and have left no heirs to collect the money.  …The State is the beneficiary now.  Will you do so?"  That was almost too much, and I lost my temper. "You will get no such list from me," I said, and I got up and left him." [Endnote 2]
The photo below shows Ambassador Morgenthau.  The photograph is undated but we suspect that it fits very well into the time frame of his service in Constantinople.  (He left Turkey on February 1, 1916, eventually departed Copenhagen, Denmark and Kristiana [Oslo], Norway on Monday February 7 and arrived in New York February 22, 1916.  Henry Morgenthau was nominally on home leave for 60 days but never went back.  The photograph of him in a bowler/homburg hat reproduced in Mostly Morgenthaus: a family history by Henry Morgenthau III (1991, Ticknor & Fields, NY – photos unpaginated) shows him and his son Henry Jr. being greeted by the family in New York on February 22, 1916.  The Ambassador wears the same kind of shirt winged collar as seen in the photograph we have decided to use here.  (Our dating is certainly in the correct time frame. The Library of Congress says it received the glass negative in 1919 but we would maintain that the photograph itself derives from an earlier period.  The glass negative is in the American Red Cross photograph collection [http://hdl.loc.gov.pnp/anrc.03467.; call number LC-A6195-5175 P & P].)
<![if !vml]>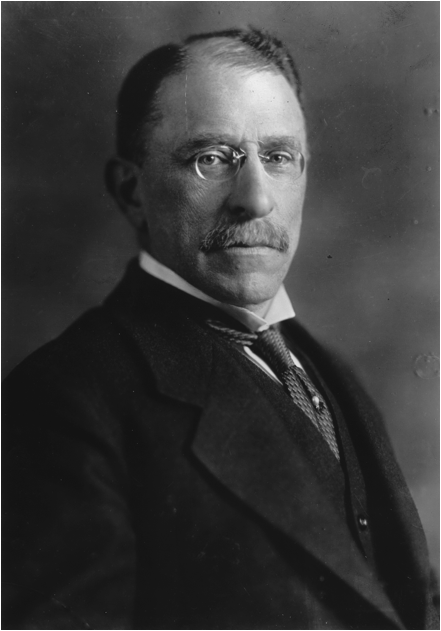 <![endif]>
James Cromwell, whom we recognized through our familiarity with his role as George Sibley in the popular 2001 to 2005 TV series "Six Feet Under" bears an uncanny resemblance to Henry Morgenthau and gives a very convincing performance.
One need only Google the names James Cromwell and Henry Morgenthau Sr. and one can see many examples that will enable one to make comparisons with the 'real' Ambassador Morgenthau and the Actor Cromwell.
Mehmed Talaat, variously transliterated as Talat or Talât etc., was played in The Promise by the British actor Aaron Neil.  Again, he was very convincing.  He was quite well cast on the basis of overall appearance, build and complexion.
There are a number of photographs of Talaat that we could have selected for use here but we believe that none even approximates the one we provide for poignancy.  
The photograph shown below derives from the work of Austrian artist Wilhelm Victor Krausz (1878-1959) and reproduced in his 1916  "Die Türkei im Weltkrieg.  Bildnisse und Skizzen" 1916 [Endnote 3]
Mehmed Talaat was of Pomak background, that is to say his ancestry was from Bulgarians who had espoused Islam.  Some have opined that he was of gypsy descent on his mother's side but we have not seen convincing evidence that this was so.  He was born in 1870 in Adrianople (today Edirne).  He was strongly built, stout even corpulent and apparently had huge square fists.  For us he looks more like an old time pro wrestler from the 1920s than someone who is described by some as being charming but a pragmatic zealot.  One could easily defend the view that Talaat was a thug of the old "political boss" school.  Talaat was convicted and sentenced to death in absentia in the 'Constantinople War Crimes trials.'  He was assassinated by the young Armenian student Soghomon Tehlirian in Berlin on March 15, 1921.
<![if !vml]>
<![endif]>
Talaat's image in partial profile here is listed in the Index of the Plates in Krausz's volume as Plate 5 and bears the designator in translation "Minister of the Interior Talaat Bey."  Incidentally, Talaat was not elevated to the rank of Pasha until early February 1917 when he was made Grand Vizier.  Bey rather than Pasha would have been appropriate when the Morgenthau episode under discussion here took place.
We printed Talaat's color portrait on glossy photo paper from a scan so as to examine his facial characteristics and especially the eyes more closely.  The dimensions of the Krausz volume (50 X 40 cm; 20 X 16 inches) are such that a good image could indeed be obtained.  It is a rare book and we were able to use the Princeton University Library copy. (The image is also reproduced along with other Krausz images in half-tone grey in Austria-Hungarian Military Attaché Josef Pomiankowski's­­ Der Zusammenbruch des Ottomanisches Reiches, Erinnerungen an die Türkei aus der Zeit des Weltkrieges, Wien: Amalthea Verlag, 1928 but the half-tone is not nearly as informative as the color one used here.)  We acknowledge Princeton's kind help in this matter and acknowledge especially the initial intercession on our behalf of Interlibrary loan specialist Donna Sammis at Stony Brook University and for her expertise in tracking the volume down so it could be used in the first place.
It is significant that the image of Talaat that is frequently encountered in print publications and on the Internet was photographed by the Armenian photographer Phebus.  Phebus was run by Boghos Tarkulian (he used the name Paul more often than the Armenian equivalent Boghos since he apparently thought it 'sounded more European' than the Armenian Boghos.) [Endnote 4]  The Phebus photograph of Talaat comes from the Henry Morgenthau Sr. materials at the FDR Presidential Library in Hyde Park, New York.  We thank the Library for allowing us to scan the photograph some years ago. 
<![if !vml]>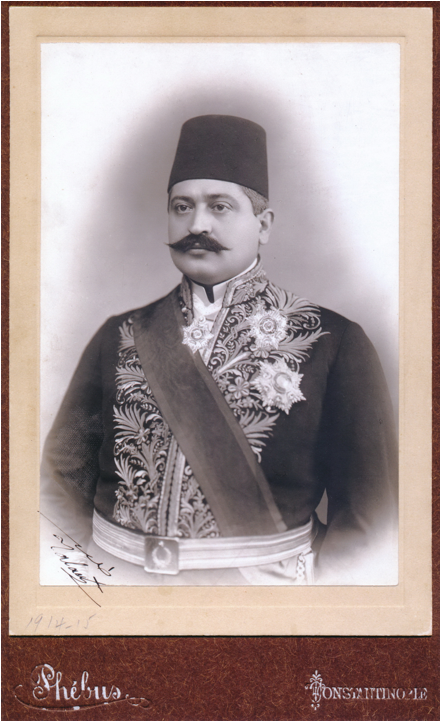 <![endif]>
Handwriting in pencil on the back (and front left) says that the photograph derives from the 1914-1915 time frame.  We will venture to say here that Talaat looks more benign here and that partly derives from the 'airbrushing' and printing technique used to soften the visage.  Talaat is wearing an impressive uniform which is embroidered with gold or silver (or both) wired thread.  The medals can be deciphered and attributed by using Eldhem (2004) as a reference if one is really interested [see Endnote 5].  It is ironic that this mass murderer of Armenians was photographed at an Armenian photographic establishment, and wore a uniform which more than likely was produced by Armenians.  Production of brocades and elegant garments and uniforms (and even more ordinary military ones) were usually in the purview of Armenian manufacturers and artisans.
Strange is it not?
When all is said and done, we think that the Krausz version of Talaat's face is the more appropriate and forceful given the epigraph from Armen Garo which we offered at the outset.  But we also will maintain, that as Hannah Arendt noted when she wrote about the trial in Jerusalem of Arch murderer of Jews and many others Nazi Adolf Eichmann, that Eichmann was really more of a clown than a monster.  Look deeply into Talaat's eyes, surely something is there.  Does he look like a monster or sociopath or …?  We leave it to you, the reader and viewer to see and conclude what he was all about.  Perhaps Arendt's "banality of evil" fits the bill? [6]
ENDNOTES
[1] Cited in Karekin Pasdermadjian (1982) "My last interview with Talaat Pasha."  The Armenian Review vol. 35, No. 2-138, Summer, pp. 115-127 at p. 117.  The original Armenian cited as published in an article about Armen Garo by Assadoor Kherdian is on page 130 in the full article in Hairenik Amsagir, Boston [Hairenik Monthly] vol. 1, no. 7, May 1923, pp. 124-132.  Christopher Walker in his Armenia, the Survival of a Nation (1980, Croom Helm, London and Sydney and St. Martin's Press, New York, p.362; and in the second edition, 1990 St.Martin's Press, New York p. 412) gives a succinct biographical entry on Armen Garo.  Walker acknowledges much help from Zaven Messerlian of Beirut on all the Biographical Notes at the end of his volume.  The entry reads: "Armen Garo (Garegin Pasdermadjian) (Erzerum 1873- Geneva 1924) Educated Sanasarian College, Erzerum and Nancy (France).  Joined Dashnak party in 1895.  Participated in seizure of Ottoman Bank, Constantinople, 1896.  Returned to Europe to pursue scientific training [he earned the Doctor of Science degree in Natural Sciences in Geneva in 1900]. To Transcaucasia; in command of Tiflis sector in combatting the 1903-5 tsarist measures and Tartar attacks.  Returned to Erzerum after Ottoman constitution of 1908; elected a deputy in the Ottoman Parliament. Quitted Ottoman Empire on outbreak of war; helped establish Russian – Armenian volunteer units. Became the Republic of Armenia's unofficial ambassador in Washington. A member of the revised delegation at the Paris peace conference April 1919.  Took part in organizing assassinations of Turkish leaders in 1921-2."
[2] See "Ambassador Morgenthau's Story" by Henry Morgenthau, 1918, Doubleday, Page & Company, Garden City, New York in Chapter 25 at p. 339, Talaat Tells Why He "Deports" the Armenians. For the digitized book see https://archive.org/details/ambassadormorge02morggoog
The shameful, well-known supposedly humorous example of chutzpuh (insolence in Yiddish) wherein a Jewish son murders both his parents and then has the temerity to ask special leniency on the part of the Court because he is an 'orphan' is perhaps the closest thing to Talaat's enquiry that we can think of for the moment.  See Bedross Der Matossian's "The Taboo within the Taboo: the fate of 'Armenian Capital' at the end of the Ottoman Empire, European Journal of Turkish Studies (Online). 2011 http://ejts.revues.org/4411
[3] See "Die Türkei im Weltkrieg.  Bildnisse und Skizzen" von Wilhelm Victor Krausz, 1916. Dem K.Ṻ.K. Hofphotochemigraphischen Kunstanstalten A. Krampolek Wien, IV. Victorgasse no. 14. The volume is dedicated to the Imperial War Support Office in Vienna and the Red Crescent in Constantinople.
[4] See Engin Ȫzendes,  "Photography in the Ottoman Empire, 1839-1919." Haset Kitabevi, Beyoglu, Istanbul 231 pages. See esp. p. 124  which includes a photograph of a self-portrait of "Bogos Tarkulyan."
[5] Eldem, Edhem. "Pride and Privilege. A history of Ottoman Orders, Medals and Decorations", Ottoman Bank Archives and Research Center, Istanbul, 2004, 527 pgs. chiefly in color.  See e.g. pp. 100-101 on the Dusian family and other Armenians of note are mentioned throughout the volume.
[6] Arendt, Hannah. "Eichmann in Jerusalem: a report on the banality of evil" (Viking Press, NY, 1963).
Redistribution of Groong articles, such as this one, to any other media, including but not limited to other mailing lists and Usenet bulletin boards, is strictly prohibited without prior written consent from Groong's Administrator.
Copyright 2017 Armenian News Network/Groong. All Rights Reserved.
| Home | Administrative | Introduction | Armenian News | World News | Feedback |