Armenian News Network / Groong
United States Consul Leslie Ammerton Davis Assumes Duties at Harput, Turkey on 31 May 1914
A Rare Photograph of Him and his Predecessor Consul William Wesley Masterson Together in the Garden of the American Consulate in Mezereh
Armenian News Network / Groong
April 21, 2017
---
Special to Groong by and Abraham D. Krikorian and Eugene L. Taylor
Long Island, NY
One of our objectives over the years has been to track down photographs of individuals who are connected in one way or another with the Armenian Genocide. These include American Consuls who served in Asiatic Turkey during those fateful years.
Since a few of our recent posts deal with United States Consul at Harput Leslie Ammerton Davis (1876-1960) we think it appropriate now, especially at this time of year, that we present a rare glimpse of Consul Davis on location as it were in Mezireh. The photograph below shows him with his predecessor Consul William Masterson (1861- 1922). Masterson is on the left and Davis on the right in the garden of the spacious rental property which constituted the American Consulate in Harput.
(For additional details on the Consular site see Achieving Ever-Greater Precision in Attestation and Attribution of Genocide Photographs by Abraham D. Krikorian and Eugene L. Taylor pp. 389-434 in "The Genocide of the Ottoman Greeks. Studies on the state-sponsored campaign of extermination of the Christians of Asia Minor, 1912-1922 and its aftermath: history, law, memory" edited by Tessa Hofmann, Matthias BjŅrnland and Vasileios Meichanetsidis, Aristide D. Caratzas, New York and Athens, 2011. Also see Filling in the Picture: Postscript to a Description of the Well-Known 1915 Photograph of Armenian Men of Kharpert Being Led Away under Armed Guard by A.D. Krikorian and E.L. Taylor on June 13, 2011, especially the references there cited. We plan to elaborate further on the Consulate at a later date.) http://www.groong.org/orig/ak-20110613.html
<![if !vml]>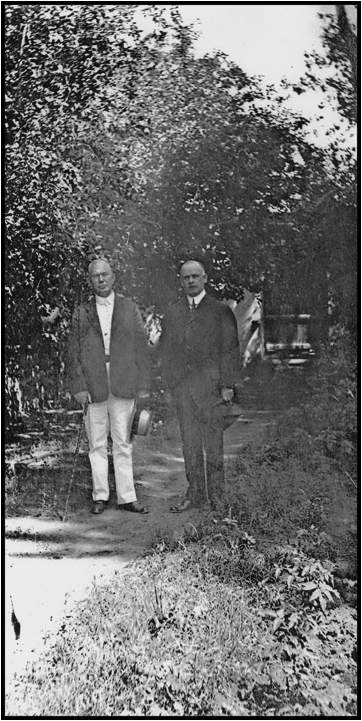 <![endif]>
<![if !vml]>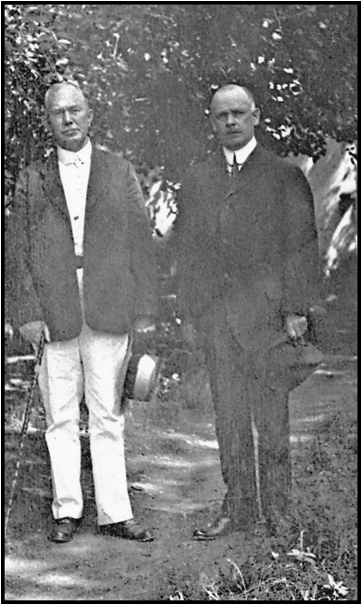 <![endif]>
We received this photograph from Mary Masterson showing her father Consul Masterson on the left and Consul Davis on the right.

The cropped enlargement should make the faces clearer.
(When Mary died in 2007, we published a brief appreciation of her on Groong.

See Mary C. Masterson, Daughter of Harput Consul William W. Masterson, Dead at Age 92 by June 11, 2007 http://www.groong.org/orig/ak-20070611.html)
The photograph is not dated but may be placed some time between 31 May and 23 July 1914. It was more than likely taken by Mrs. Masterson.
The reason for the dating follows [dates derive from documents in our files]:-
<![if !supportLists]>1. <![endif]>24 April 1914 Davis appointed to Harput with promotion via communication to Batum, Russia. His response:- A "CIPHER Telegram Received From Batum undated, Rec'd April 30, 1914, 2:30 A.M. Secretary of State, Washington, Thanks promotion. Will proceed Harput as soon as possible. DAVIS"
<![if !supportLists]>2. <![endif]>Consul Davis left Batum for Harput on May 8, 1914.
<![if !supportLists]>3. <![endif]>Arrived Harput via Samsun on the Black Sea coast May 31 and assumed charge of the Consular Office.
<![if !supportLists]>4. <![endif]>Left Harput July 23 on leave of absence to go home to America to visit his ailing parents. Consul Davis traveled to Beirut with the Mastersons - specifically Consul William Wesley Masterson, his wife Louise Carroll Masterson and their month-old baby daughter Mary Carroll Masterson (born in Mezereh at the American Hospital). Consul Masterson was leaving the post in Harput to assume Consular duties in Durban, South Africa.
<![if !supportLists]>5. <![endif]>Consul Davis arrived in Alexandria, Egypt August 13, received an urgent message that he should return to Harput due to existing war conditions. Davis took an Italian steamer for Beirut on August 15, 1914.
<![if !supportLists]>6. <![endif]>Davis returned to Harput and was back on duty September 4, 1914.
Although the photograph shows its age, we believe it is especially fitting since it shows him at the Consulate premises.
Redistribution of Groong articles, such as this one, to any other media, including but not limited to other mailing lists and Usenet bulletin boards, is strictly prohibited without prior written consent from Groong's Administrator.
Copyright 2017 Armenian News Network/Groong. All Rights Reserved.
Home | Administrative | Introduction | Armenian News | World News | Feedback |