­­­Armenian News Network / Groong
---
United States Consul Leslie A. Davis's Communication to Ambassador Henry Morgenthau at
American Embassy in Constantinople Concerning Arrests and Subsequent Murders of Harput Men­­
Armenian News Network / Groong
April 17, 2017
---
Special to Groong by Abraham D. Krikorian and Eugene L. Taylor
Long Island, NY
Those who saw and read our recent Groong post (April 7, 2017) entitled "United States Consul Leslie A. Davis's Photographs of Armenians Slaughtered at Lake Goeljuk, Summer of 1915" will know it focused on the story of various infamous photographs of the murders at Lake Goeljuk. The events and subsequent history of those photographs is still in the making. (The publisher of The Slaughterhouse Province, Aristide Caratzas passed away June 2016 and we have learned from his widow that such Davis photographs as were available are no longer in Athens. More on that as the story fills out some more. It indeed seems to be an ongoing saga.)
The saddest aspect of it all ("it" meaning facts, substantiating photographs and the like) is that in the context of today's political realities, truth matters all too little in far too many quarters. (We are especially appreciative of a perceptive statement we heard the other day on Democracy Now! made by a journalism professor at Columbia University Dr. Jelani Cobb. He referred to a situation, indeed a culture, wherein there is an "ą la carte approach to reality." Pathetic but accurate and certainly not really funny.)
As chilling and harrowing as the images are, pen pictures as they used to be commonly referred to, are every bit as disturbing – perhaps even more since there is an impending feeling of immediacy about it all.
The pen picture, or in this case more precisely the photos of the 'cipher telegram correspondence below will give a good example of what we have just stated. The essence of the message is communicated in ciphered code (the encryption method by numbers is another story that we will cover on another occasion. Suffice it to say that when this was sent there was as yet no restriction on diplomatic code communication. This changed.)
<![if !vml]>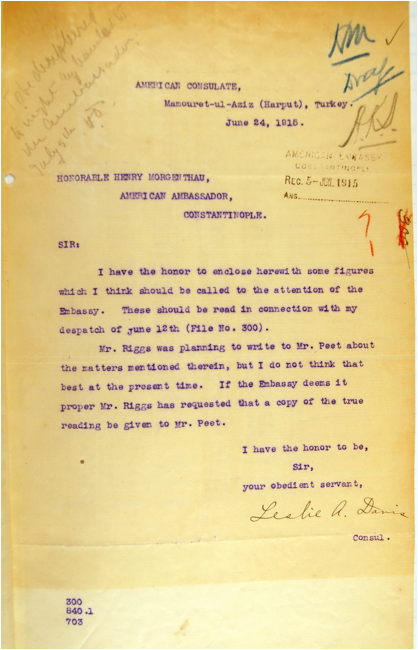 <![endif]>
<![if !vml]>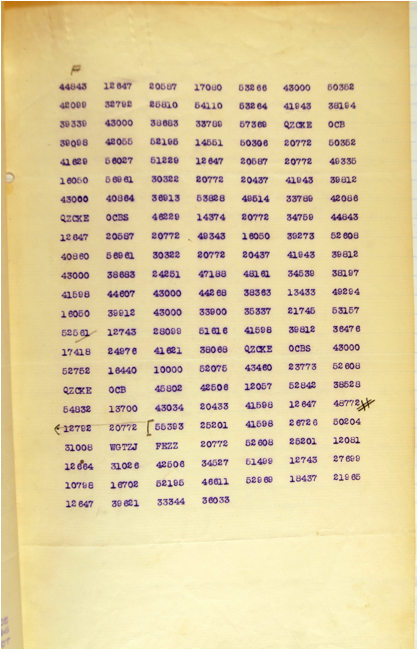 <![endif]>
<![if !vml]>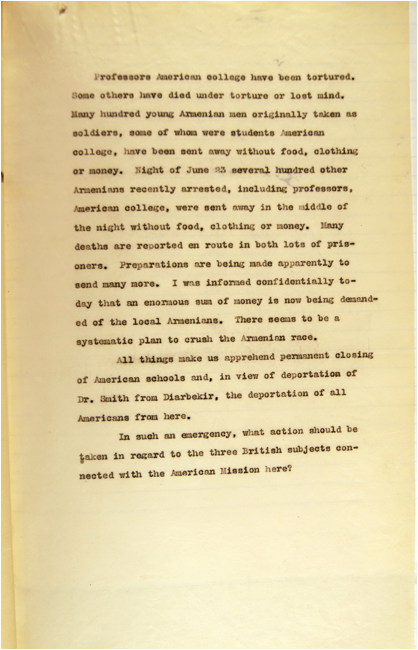 <![endif]>
Little more needs to be added for now.

Nearly 6 years ago a post was made (June 13, 2011) entitled "Filling in the Picture: Postscript to a Description of the Well-Known 1915 Photograph of Armenian Men of Kharpert Being Led Away under Armed Guard" http://www.groong.org/orig/ak-20110613.html.
Shortly after (June 27, 2011) we presented text to go with a familiar photograph of images of the professors: it was entitled
"
Finding a Photograph for a Caption: - - - Dr. Ruth A. Parmelee's Comments on some Euphrates (Yeprad) College Professors and their Fate during the Armenian Genocide

"
http://www.groong.org/orig/ak-20110627.html.
Acknowledgements
We thank the United States National Archives at College Park, Maryland for their help in giving us access to these materials – esp. RG59/867 and all related hard copy materials, i.e. not microfilm.

We had to photograph the pages presented here many years ago since they were bound in thick, rather unwieldy volumes.

The policy at the Archives was that no flat bed scanning was allowed from bound volumes.
Redistribution of Groong articles, such as this one, to any other media, including but not limited to other mailing lists and Usenet bulletin boards, is strictly prohibited without prior written consent from Groong's Administrator. Copyright 2017 Armenian News Network/Groong. All Rights Reserved.
| Home | Administrative | Introduction | Armenian News | World News | Feedback |