Armenian News Network / Groong
---
Armenian Immigrants Rebuilding their Lives in America
A seemingly innocent photograph of a group of Worcester Armenians and a few of their children born in America could yield considerable information if one wanted to use it as a starting point for discovery, commentary and discussion.  Sadly, one day in the not too distant future, someone might only see it as a "problem of perspective or interpretation".  Others might even disrespectfully see it as one of the many "noises of history."  In point of fact, the photograph represents a microcosm of the Genocide committed against the Armenians under cover of World War I.  What follows is a very modest effort to get some facts down before it is too late.
Armenian News Network / Groong
April 23, 2016
---
Special to Groong by Abraham D. Krikorian and Eugene L. Taylor
LONG ISLAND, NY
'Hoolis ihn aden'neruh er…tsorehn'neruh chayn ta kaghadz… Bolor martik'kuh, dughak'neruh darin morte'tsin; mez'ahl hah'netsin, khuss'tetsin. Dzar'av, an'oti aksorvetsak…amen desag gesh'ootiun, char'charankov…  Jendarman'neruh kaleh'tsutsin minchev tser'eruh chi gurtsahn ahl kal'eyn.  Togh'tsutsik tser'eruh, im Medzmaman; yev mez ahl khuss'tetsin – Huhrr'eh t'sin--arak, arak--pahnov.  Chi toght'sut'sin han'chik, gam dtor deghereh kahleyk...bahnts'er degeruh, karod degeruh…Shad eruh adbess meh'ran… Mehradz'ihn mahrmineruh g'ourehn'ayn, sevtsan…gashee'bess.'[Endnote 1]
["It was in July, the wheat had not yet been reaped... They took all the men and youth away and killed them; then they ejected us [from our homes] and drove us out.  We were thirsty, hungry as we were exiled…every sort of evil and wickedness [prevailed].  The gendarmes drove people on until the oldsters could no longer walk.  We had to leave the old people (like my Grandmother) by the wayside as we were driven on – shoved on - quickly, quickly at bayonet point.  They did not allow us to rest or walk where it was flat, and [thus easier to negotiate]…[rather] where it was hilly and rocky …Many died in that way.  The bodies of the dead became swollen and blackened like leather, etc. etc."] 
Account above made by ADK's mother relating her experience on the 'deportation' from Körpe village, Kharpert.
"Chib'bee piss agh'dod Turkuh nerik, yev voch bidi mornak, baitz bidi abrik!"
["We will not forgive the nasty, dirty Turk, nor will we forget, but we will get on with our lives."]
Survivors expressing their feelings on the Armenian Genocide
(Personal recollection of ADK from the mouths of a number of survivors from various Kharpert villages.)
We joked with one another that the title along with the epigraphs do not really constitute a title; they should more properly be viewed as providing an abstract of this posting!  Maybe so, but at least it gets our prime point across.
Our objective is to achieve two goals: the first is to emphasize that the K.S. Melikian Collection of photographs at the Library of Congress has items that will need a fair amount of work to render them fully useable.  This is of course, a common challenge with all incompletely labeled or poorly labeled or unlabeled photographs.  The second objective is to put a specific photograph of Armenian immigrants to Worcester from a specific area of the Old Country in a more exact context and provide identifications of the individuals in it.  We hope that this exercise will render the photograph far more valuable than might appear on first sight.  It could well serve as a point of departure.  (It is our understanding that there has been more recently a surge of interest in Armenian Genealogy.)
We also hope that this effort might well serve as a sort of "template" to be used in the establishment of context or explanation whenever similar photos but with different subjects or people from different places are encountered.  We dare say that time is of the essence and the ability to do this is arguably well on its way to being an impossibility.
The K.S. Melikian Collection
Considerable effort has already been made by the two of us to draw attention to the photos collected and produced by Kazaros Sarkis Melikian that have been donated by his daughter and only child, the late Mary C. Melikian, to the Library of Congress Prints and Photographs Division.  Since Mr. Melikian did not personally take all of the photographs, it was appropriate that the Library decided to refer to it as the K.S. Melikian Collection.[2 through 5]
While the Melikian Studio was still functioning, more than a little effort was made by Mary Melikian and her cousin June Benoit in trying to obtain identifications of those present in various early photographs so they would have some semblance of meaning 'for posterity.'  Just what was going to be done with all these valuable photographic materials was something that had not yet been really seriously contemplated, much less decided.  For the time being, it was enough for Mary and June to keep the Worcester Armenian photos together and work on them as the situation permitted.  That was not often possible since it was, after all, a working studio with many pressing priorities that are inevitably associated with running a high quality product business.
It should be stated first of all, that the oldest photographs in the K.S. Melikian Collection, which were kept over the years in scattered albums, would not have been easy for anyone to identify in very great detail.  Even the older Armenian immigrants to Worcester, many of whom were survivors of the massacres and deportations, would more than likely not have been able to offer much new information to that which was already known.  Certainly any identification was beyond the scope of the first generation born in America.  All this underscores why it is so important to label photographs in as much detail when the information is available, otherwise it is lost forever.
We predict that the oldest 'Old Country' photos will probably end up being the most fascinating to researchers and would-be scholars but they will undoubtedly present formidable challenges if they are to get the story right.  We are also quick to add that these challenges should not be adjudicated as inevitably insurmountable without first casting a wide net.  
This extemporaneous "identification of individuals etc. to the extent possible project" undertaken by Mary and June obviously was not an easy undertaking.  Whatever is done with various specific items, now out of their hands, from the collection in the future is anyone's guess.  One can only hope that the quality of the effort will remain as high as the intent.
In this identification effort, first initiated over the years after Mr. Melikian's death, Mary and June sought the help of a range of friends and acquaintances in the fairly tightly-knit Worcester Armenians born in the USA.  For example, our late cousin Paul Krikorian (1926-2015) was one of those who dropped by often to the Main Street Studio to say 'Hi' and lend a helping hand in identifications.[6]
The "Ashvantsi Picture"
The photograph that we will pay special attention to here was always referred to by ADK's parents as the Ashvuntsi photograph [Ashvuntsi Badger'uh].  So far as we know, no effort was made by Mary or June to undertake identification of the individuals in this photograph.  We do not even know for certain if an 'original' print or negative of the photo exists or existed among the latter day K.S. Melikian materials.
Ashvan, more often than not pronounced Ash-vuhn, was a town in Old Armenia.  Most of the individuals in the photograph were people from Ashvan or Asvantsis.  There were a few Körpetsis, that is individuals born in Korpeh or Keropeh, in the photograph as well.  (See maps below.)
While the Ashvuntsis and Körpetsis were well-acquainted with each other in Worcester and intermingled regularly, the individual remnant or survivor groups, small as they were, remained distinctive, superficially at least.  There was considerable loyalty first to the memory of the Homeland, the Erghir, then the Province or Nahank, and finally, perhaps most strongly, the Village or kegh.  See map below.
We still believe that one of best maps of the region showing many of the various villages of 'greater Kharpert' is one dating from long ago.  (See below).  It is by no means perfect but it serves our purpose well.  (It is a pity that no one seems to have risen to the challenge of preparing a more up-to-date, more exact map using changed names along with the names in 1915.  The lengthy volume edited by Vahe Haig 'Kharpert and Her Golden Plain' (1959) has an interesting map in Armenian on page 702 but there are some problems with it including a spelling error for Ashvan which should be Աշվն.  (Not shown.)
A more modern map, made a bit more confusing because of elevational contours and roads etc. follows this simple map below.
<![if !vml]>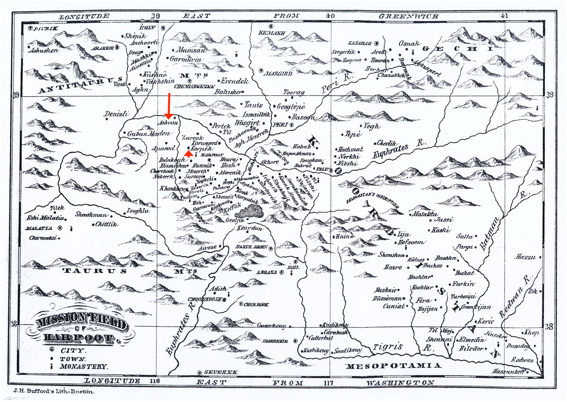 <![endif]>
Map of the Mission Field of Harpoot Outlined by the American Board in Boston (ca. 1868)
<![if !vml]>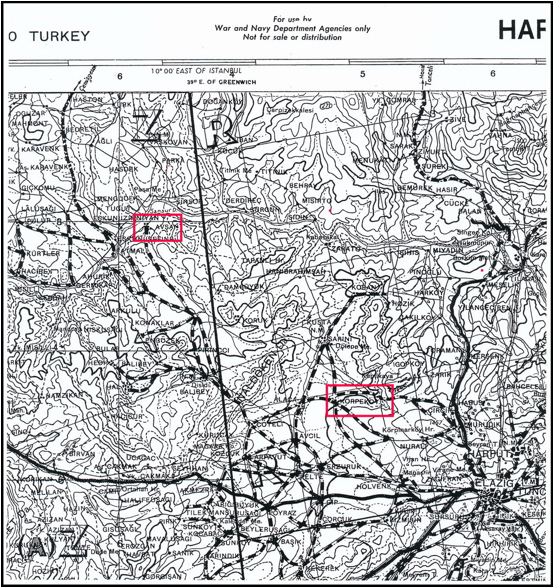 <![endif]>
Map with Körpeköy and Aşvan circled in red.  Scanned from a map of Harput-Elazig (scale 1:200,000) put out by the Geographical Section, General Staff No. 4193, published by the War Office, 1941. Army Map Service, Map Library, 1948, copied from a Turkish original dated 1938.  From US National Archives.
Having located both and Kerope on the above maps (in red) we can proceed to the photograph itself.  The Ashvuntsi photograph was for certain taken by K.S. Melikian (personal knowledge of ADK since his parents are in the photograph and he was told that Mr. Melikian took the photo.  The family owns a print of the photo which is mounted on studio board).  
We did not encounter a glass negative of the photograph in the course of our work at the Melikian Studio but that was certainly not an exhaustive effort.  It would have taken ten years to go through the materials!  If a glass negative exists, so much the better.  As an aside, we were told by Mary that many of the very early photographs taken by her father had been damaged by water in a storage area of the Studio.  This was the result of a fire in the building (not in the Studio itself).  The fire was not directly devastating but a number of materials were lost.  What the exact details of the fire were, Mary was unable to relate.  Over the years, there were print copies made along the way of the many group photographs taken by Mr. Melikian, for many reasons and purposes.  Parenthetically, this is an absolute certainty.  Making an inventory would probably not be worth the effort.  (More on that below.)  In short, whether the Ashvuntsi photograph negative(s) was a casualty is not known.
As it turns out, identification efforts were undertaken years ago by one of us (ADK) so as to put this specific photograph on a good setting.  The intent was to include it in a family history.[7]  This was especially important since there are relatively few photos of that period. 
At that time, which is now quite a few years ago, the more limited motivation was simply to make a record to the extent possible of the individuals in the Ashvuntsi Photograph.  It was not as serious an effort as it might have been.
The Krikorian family copy of the photograph by K.S. Melikian was copied on a large format camera just as was the photo of "NaNa's family" in the Old Country photo, and at the same time and place - namely, Ithaca, New York.[8] 
Many years later, in 2009, in the course of a cross-country trip, we encountered a very similar picture of the 'Ashvuntsi Photograph' in a volume written by Marion Der Kazarian of Worcester entitled Sacrifice and Redemption, and subtitled A personal chronicle of the 1915 Armenian Genocide and the Worcester Armenian Community (1995, Baikar Publications, Watertown, Massachusetts, 276 pages and 42 leaves of plates).  (See photo below).
<![if !vml]>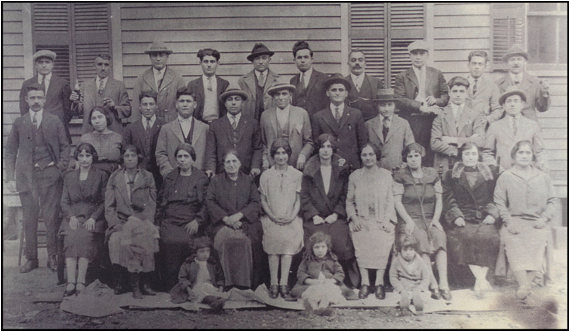 <![endif]>
The chance encounter of the book occurred in the library of the Church of Jesus Christ Latter-day Saints Family History Center in Salt Lake City.  We had stopped in Salt Lake City for a few days to use their remarkable archives to do some family immigration history.  As it also turns out, it was the first we had heard that the Armenian Church of Our Saviour in Worcester records had been microfilmed.[9]
Finding the Der Kazarian volume thus yielded an unexpected bonus because it enabled us to correct the alleged place where the photograph was taken (it was not in front of the Social Democratic Hunchagian Party Club house on Chandler Street, Worcester; neither was it in front of the Laurel Street Church of Our Saviour.)[10]  It also allowed us to add a few names to our list that had not been available to us.  It further enabled us to correct a few surnames and to fill in identifications that had eluded Marion Der Kazarian and were thus designated in her book as unidentified by question marks.
Thus, by a happy set of circumstances, we were able to come up with a near-perfect key to the photograph.
The Ashvuntsi Photograph
<![if !vml]>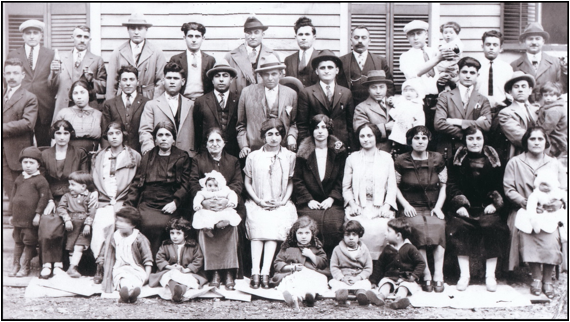 <![endif]>
We will proceed to dissect this photograph piecemeal. First of all, and with absolute certainty, this photograph was taken behind the triple-decker house (now demolished) at 172 ½ Chandler Street, Worcester, Massachusetts.  One of us (ADK) spent some years growing up in this house on the second floor.  The date of the photograph is stated as 1927 by Marion Der Kazarian.  This is in our view, a good estimate but could equally well have been taken in 1926 but definitely not earlier.  In any case, 1926 to 1927 will have to do until more specific evidence emerges.  Most of the adult males in this photograph were in America before the Genocide began.  As we put it, they got out while the getting was good, one way or another.  Only a few were survivors, as young persons.  Those are other stories.  Had they been in the Old Country they more than likely would have been massacred in the course of the massacres – charter'oon gam godoradz'in aden'neruh (at the times of the massacres or slaughters.)
While the majority of those in the photo are from the village of Ashvan [spelled AŞVAN in modern Turkish, and referred to, albeit rarely, by Ashvuntsis as the more proper Ashodavan in Armenian], there are, in fact, others who are from the village of Körpe [Keropeh], both towns in the Vilayet of Kharpert (again, refer to the maps above). 
We will take it as a given that the town of Aşvan was flooded as a result of the Keban Dam Project in eastern Turkey.  Not having visited there, we cannot swear to this but the town may possibly have been relocated before flooding with the original name retained.  (There are precedents for this by the way.)  We express our doubt here that the town was saved from flooding by a last minute change in plans.  Any information on that will be appreciated, one way or another.  
Below we present some maps from Doomed by the dam: a survey of the monuments threatened by the creation of the Keban Dam flood area, Elazig 18-29 October 1966. Orta Dogu Teknik Universitesi (Ankara) Restorasyon Bolümü (1967, cf. pg. 3).
<![if !vml]>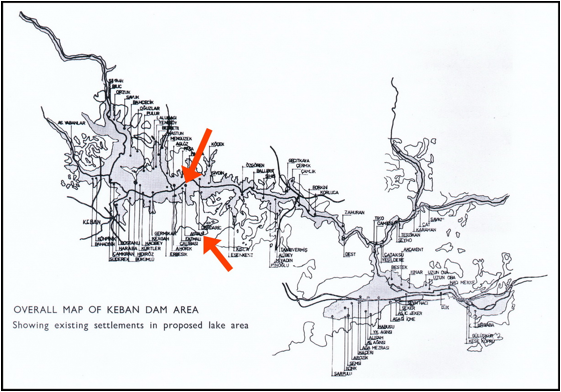 <![endif]>
<![if !vml]>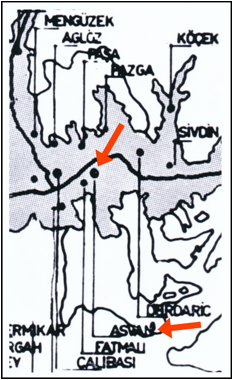 <![endif]>
<![if !vml]>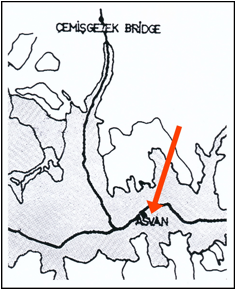 <![endif]>
Ashvun apparently was of considerable archaeological interest and there is a fair amount published on official Turkish governmental efforts to salvage antiquities.[11]
As will be apparent from the maps of the area presented above, the village of Kőrpe still exists and may be found located on maps as Körpeköy.
Why there are a few Körpetsis present in this "Ashvuntsi" photograph may be explained in the following way.  The Hovanesian's (see below where we provide an expanded caption) lived on the top floor at 172 ½ Chandler Street.  [Sometimes in jest referred to as hyr'uhr yotanasoon'uh yergook ou gess 'Changal Poghotz'uh, = 172 and a half Chandler Street.  The 'half' numeric deriving from the fact that the house was located far behind the main street; and a changal being a "hook and eye" latch in Turkish; poghotz, sometimes with an added 'n' - ntz meaning street in Armenian.]  The Krikorian's (the Der having been dropped for the most part around that time) lived on the second floor.  The Krikorian brothers, Bedros and Abraham [Aprahm, ADK's father and namesake] lived as a unit on the second floor until their families started to grow and render the space over-crowded and Abraham and family moved out.  It was more than likely in the spirit of communal friendship that the Korpetsis were included in the activities which had been planned more specifically for the Ashvuntsis.
Front row, left to right, children born in America seated on the ground – first girl with blurred face is stated to be Zarouhi (Irene) Boghosian by her mother Oghda Boghosian (personal communication); Sharkey [Shakeh] Der Harootunian (later Mrs. Sahag Davagian); Carol Papazian (later Kasparian); Mary Kazarian (later Goshgarian); boy with face turned, Kirkor (George) Krikorian, son of Bedros and Altoon Krikorian (not in the photograph but his paternal uncle, Abraham and Aunt Takouhie Der Krikorian, parents of one of the authors of this notice, ADK, not yet born for several years, are in the photo).
Second row, left to right, woman with two sons by her side, Oghda Bogoshian (the older one is son Paul and the other one is son Peter [the Bogosian 'kids' were from the eldest to youngest, Paul, Irene [Zarouhi] later Choboian, Peter, Altoon [Goldie] later Mooradian; Sarah Alexadrian Kazarian (Mrs. David Kazarian) ; Mrs. Anna [Mannig] Alexandrian, called 'Granny' by the kids (Sarah Kazarian's mother); [Yeretzgin, a title of address for the wife of a Priest] Noonufar Der Harootunian (Sharkey's [Shakeh] paternal grandmother); child in her lap is Susie Der Harutoonian (later Kasparian);  Rose Der Harootunian (later Davidian); Marion Der Harootunian (later Der Kazarian); Manushag Der Harootunian (Sharkey's [Shakeh's]  mother); Tervez Kazarian (mother of young Mary Kazarian siting on the ground and wife of Maljan Kazarian in third row left); Baidzar Manoogian (wife of Sahag Manoogian, fourth row center; Veron Hovanesian holding daughter Elsie (later Mrs. Aram Arvanigian) in her lap.
Third row, left to right, Maljan Kazarian (husband of Tervez seated in second row and father of Mary Kazarian, child in the very front right; Takouhie Der Krikorian and Abraham Der Krikorian (their young daughter Armenouhie – Alice (later Mrs. Michael Gulbankian) was upstairs in the 2nd floor apartment sleeping); Ovnan Stepanian; Sarkis Kazarian; Stepan???; Bedros Der Harootunian (Sharkey's father and husband of Manooshag Der Harootunian in the second row (also brother of author Marion Der Harootunian Der Kazarian); Toros Norazian; child unidentified but clearly his child; Zaven Hoogasian; Musegh Hovanesian holding daughter Eunice (Yeprad, later Mrs. Nick Improta).  His wife Veron is the last person seated in the second row holding sister Yeprad's older sister Elsie -  Musegh's mother is 'Granny' in the second row, and a sister is Sarah; another genocide survivor younger sister Margarit (Nishanian) is not in the photograph. (Musegh became an attorney by the way.)
Fourth row, left to right; Nigoghos Boghosian (husband of Oghda–first in the second row) and future brother-in-law to Sarkis Kazarian in the third row (Mr. Kazarian is unmarried in this photograph.  [He is present in the photograph of the Mechigian family of Körpe in our posting on Groong – http://groong.usc.edu/orig/ak-20150710.html entitled a "Family photograph from Korpeh…]  Sarkis' future wife, Varter, was Nighohos' sister.  The Boghosians later moved to Fowler, California, in March, 1938.  Nigoghos Boghosian was Godfather to several of the Krikorian children including ADK); Donabed Alexanian; Khazar Kochoian (also recalled as Manushag's father – Manushag meaning Violet  ̶  they too, like the Boghosians moved to Fowler, California.  Baron (Mr.) Khazar's wife was Zabel, Diggin Martha Avakian Merzigian Kevorkian's sister [Diggin Marta Merzigian is not in this photograph. Still later on she would become Mrs. Maljan Kazarian]; Garen Der Harootian; Marsoob Kazarian; Sahag Manoogian (husband of Mrs. Baidzar Manoogian in second row); Hagop Hagopian; Moosegh Hovagimian holding daughter Margie [Mrs. Victor Hovagimian, the wife and mother is not in the photograph]; Manoog Alexandrian (his mother is 'Granny' who is seated in second row; Manoog's older sister Sarah is in the second row; Mardiros Mardirosian.
The Boghosians and Der Krikorians and Sarkis Kazarian, Khazar Kochoian, Maljan Kazarian were the Körpetsis amongst the others. (Mr. Khazar Kochoian is not in this crop of the photo.)
<![if !vml]>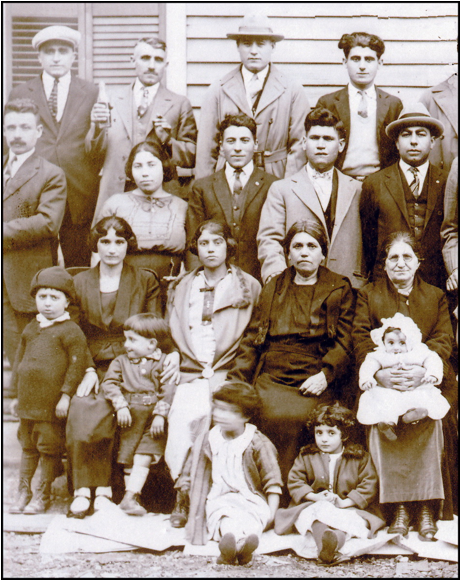 <![endif]>
Closing Commentary
We are pleased to be able to provide so detailed a commentary on this K.S. Melikian photograph.  There are a number of copies of it around but who knows how many or where they might be?  The photograph presented by us is a different shot from the one provided by Marion Der Kazarian in her book but it is identical to the one (without identifications) in Pamela Apkarian-Russells' The Armenians of Worcester, Arcadia, 2000).  The Der Kazarian photo does not have as many children in it as the better quality Ashvuntsi photograph shows.  If memory serves ADK right, there is yet another print without any children in it.  If that recall is correct, where that is, is yet another question.  Hopefully they will show up at the Library of Congress.
The identifications provided here are about as complete as they can now be.  The last of the Körpetsis, ADK's Godmother Oghda Tooshonts Boghosian (shown in the front row seated) died in Fowler, California February 6, 2009.[12]  
The two older women in the photograph, dressed in black, Yeretzgin Noonufar and Diggin Mannig Alexandrian are the only women who were described by ADK's mother to him on one occasion as being in the same age bracket as her own mother, Mariam Babajanian Tashjian, who died of exhaustion on the road to nowhere after two of her children, a daughter, Zarouhie, younger than Takouhie and son, Kapriel, still a child died during the aksor, exile.  In each case, and on different occasions, a quick crude burial was carried out so as to at least cover the bodies in an attempt to keep dogs or jackals from devouring the corpses.
No one in ADK's generation, even in the recall of his older siblings (e.g. 90, 88 and 84 year old sisters) knew anyone who had a "real" Grandmother.  Granny Alexandrian was called Granny by all who did not have a grandmother.  Both women were often viewed as heroines because they survived the massacres and deportations with their kids.  This was virtually unheard of, and indeed, ADK does not recall anyone in Worcester with a Grandmother that had survived the massacres and deportation.  There may well have been but the usual supposition has always been that these women must have come over before the Genocide.[13]
ADK also recalls one episode in particular that took place on the Kazarian farm in Wilkinsonville, Massachusetts.  A male calf, so-called 'hohrrt' or 'son' calf, was born to a cow, and the decision to butcher it and have an old Country style pit barbecue was sufficient for a big get together.  The owner of the farm Baron Davit [Mr. David Kazarian, married to Sarah Alexandrian, and later God-father to the children of Baron Sarkis Kazarian and his wife Varter] was the son-in-law of Granny Alexandrian. 
She and ADK's mother were seated next to one another as barbecue was being served, and ADK vividly recalls hearing, since he had so-called "long ears" and was in close earshot, Piss Turkihn ashkuh kornah [let the evil Turk's eye be blinded].  That was not the first time ADK had heard that curse.  The survivor's made no bones of what happened to them and their families.  As one family friend, Lizzie Kazarian Wheeler recently deceased put it, these people had no support groups, professionally led or otherwise.  They constituted their own support group by talking openly about their experiences. 
ADK recalls being told that as survivors from various Kharpert villages, especially those close to the city proper or the lower town of Mezreh, would make it to Worcester, they would meet and catch-up and visit with those who had arrived earlier, compare notes and tell their stories of survival.  Baron Maljan was one of those who had gone back to the Old Country after the War, to Adana so as to retrieve his survivor wife Tervez.  Et cetera, et cetera.  Those are many other stories.
Our guess is that those in this photograph who survived the genocide would throw up their hands in exasperation if they were told that there were individuals 'out there' – among them self-proclaimed and self-promoting scholars and the like - officiously stating that what happened to them was not the result of a pre-planned and direct Young Turk [Yeni Turk] policy.  Or, 'better yet', what happened during those fateful years was much overstated and exaggerated as a result of hysteria. 
The sarcastic comment or retort "Aduhl dag'ihn metch ehl'lihr"--- "[Get out from underneath that (slick nonsense)] is what would most likely have been stated in absolute amazement and disgust.  Seriously, how could college graduates get it all so wrong! 
[Kolej ehn gaht'serr - They've gone to college, have they!? said in contempt.]
Stated briefly, revisionists who would portray survivor recollection and memory of the events as necessarily needing to brought into question are essentially, in our not-so-humble opinion engaging in activities that reflect a 'genocide industry.'  It turns out that this 'revisionist sophistry' would happen both before but more frequently, after the deaths of grown survivors.  (It is of course much easier to dismiss the testimony of those who were kids.)  That any honest and accurate testimony of theirs, who were adults, would be dismissed out-of-hand as "biased" would really have boggled their minds.  To quote a brother-in-law, speaking of his late genocide-survivor mother "My mother did not need a Ph.D. to know that what she and her family went through was genocide." 
These Genocide survivors were not youngsters with either no memory or faulty, distant recall.  ADK did not have to hear stories from grandparents who were born in Old Armenia, or hear it once-removed from American-born parents who had in turn heard it from their parents.  He heard it directly and often from those who went through the Genocide.  Just what and when something would trigger recounting of events and opening up about what they had experienced is hard to say, except it was not a rare occurrence.
It is also essential also to state at the same time, the Armenians in Worcester who experienced the genocide were not pre-occupied with it but neither did they sublimate it.  They had lives to rebuild and lives to live.  That may seem like a very broad statement but it is by and large quite true.  ADK is constantly amazed when he hears that the relatives, usually grandkids, of some waited until being on their death beds before telling their stories or disclosing their true identities.  Not so with the Kharpertsis ADK knew and grew up amongst.
We are frequently told that Armenians should 'ease up' on 'the Turks' and not be so adamant about using the word Genocide.  But if Raphael Lemkin the man who coined the word "genocide" and used it to describe the Armenian experience, that is good enough for us.
We "amateurs" have done enough work in various archives to know that it was a genocide.  It is in fact amazing to us that we have probably, never mind 'probably', for sure spent more time in various archives in America than most so-called experts have.[14]  We call ourselves "amateurs" because we do not make a living at all this.  In fact we have spent more than a little money on Armenian studies.  Moreover, we have candidly said to ourselves, more than once, that if we were as incompetent at our real jobs as some 'self-appointed" professional scholars seem to be, we would have been thrown out on our ears.  Harsh words?  Maybe, maybe not!  There are many topics pertaining to the Armenian Genocide which have not been touched.  It would seem that it's too much work?  It is certainly much easier to rehash what has been already rehashed umpteen times.  Old wine in old bottles?  Assessments of Armenian Genocide studies are subjects of accolades.  Time will tell if they are merited. 
To paraphrase a right-wing militarist, whom we most assuredly do not admire, stated "A shelf full of paper will not deter… [we leave it to the reader to fill in] perhaps "deter" denial of the Armenian Genocide?
Words certainly matter and it is not merely a matter of stubbornness on the part of Armenians or their supporters.  The fact is that whoever controls the vocabulary, controls the argument.  In our view, it takes a fool not to believe that.
This simple fact of truth may be the entire crux of the failure of Armenians and Turks to reconcile their differences.  All are expected to be mature and forget the past.
'Out there' perhaps 'everywhere' there is, as educator and critic Henry Giroux has
stated, a violence of organized forgetting.  Some of this forgetting is arguably unavoidable, but more than a little bit the story of the "ergir" [yerghir, the land, the earth, the ground, the globe, the world] as known by the first Armenian immigrants to America is within reach of reconstruction – at least some of it, but and this is a "big but", it needs to be sought out.  This will involve a lot of work.  Most would agree that it would take a lifetime to unravel the strands that make up the close weave of Armenian village history, and the people who left these villages of their own free will seeking a better life in places like the United States of America, or those who were survivors of mass murders and violent, genocidal, ruthless uprootings and dispersals.
The photo that we have presented has so far concentrated on names.  Marion Der Kazarian's detailed accounting as to what she and her family went through is typical. 
So far as we know, there are no written family histories of those in the photograph other than that of the Der Harootunians as written by Marion Der Kazarian.
We are not going to approach the subject of Gunkamayr [Godmother] Oghda being kidnapped by being yanked from her mother's hand by two Turkish boys and then sold, and then end up later being tattooed on the face etc etc.[15]
Nor are we going to approach the subject of Diggin Victor Hovagimian whose face was tattooed while with 'the Arabs.'  These could not be removed surgically but eventually faded with time.  She was a very modest woman and would routinely chat with ADK's mother.  It is a pity for as number of reasons that she was not in this photograph.
We are not going to approach the subject of ADK's great grandfather being dragged off and submitted to the falaka [bastinado] so badly that he could not walk for weeks.  He was tortured because one of his sons knowing that murders were being done routinely on Armenian recruits, had run away from the army, [zinvohr dar'in- pagh'av; "they took him as a soldier – he ran away"].  He ended up in Chicago.  And then shortly after patriarch Khachadour Tashjian was dragged off and murdered with the other males and youths in his household.  We won't go into how the family horse, requisitioned by the military and taken away, only to have the horse run away and return "home" and have the gendarmes come to Korpeh, harass an aunt who happened to be baking tohp hats [a roundish raised bread] and who in turn bravely took a huge stick used in putting bread into poorr-style ovens and whack a menacing Turk with it in self-defense.   She paid dearly for that.  She was whacked back [agh'vorr mi sharpe'tsihn—they whacked her good] and they took the horse away, this time for good.  Being somewhat incapacitated as a result of that encounter before the "deportations" she had to be left by the roadside because she, like so many others could not keep up.  ADK's mother was one of two (female) survivors from the entire household.  If it were not for Kurds in the Suruj area who took her in into their household in Ordee, she would not have survived.  The beehive village of Ordee seems no longer to be there but has apparently been incorporated into Suruç itself as the place has grown.  A few tattoos were acquired along the way (not on the face, but on the forearms and hands) as well as a name change from Takouhie (Queen) in Armenian to Ade'leh (in Kurdish).[16]
Neither will we tell of ADK's father and Godfather who joined the Armenian Legion, the Légion d'Orient, trained on Cyprus at Lanarka and saw service at Marash and environs - getting wounded.
Perhaps reading some of this will be easier to understand why many Armenians are so adamant about calling what happened by its real name. 'Social re-engineering is one that is particularly offensive, as is 'ethnic cleansing'.  ADK is particularly so, despite the assertion that there is a nominally hallowed and widely subscribed to opinion "out there" that survivor testimony is to be taken with a huge grain of salt!  We are told that we should disdain survivor testimony.   We say Utter Nonsense!  No one says that one should base things only on survivor testimony but it should and can be used effectively as a very important supplement to other records. 
We are the first to acknowledge that what we have written here and there are hardly to be taken as anything more than incidents in the life of a "deportee" survivor.
Historical memories are generally fragmentary and partial.  Professional historians
may delude themselves into thinking that their interpretation is detached and therefore best, is to us nothing short of fatuous.
In the very least, survivors can relate what happened, when it happened, if not why it happened.  For us, ignoring or distancing survivor testimony is a perfect recipe first of all for distortion, inaccurately re-writing and ultimately forgetting and burying the human face of history.
Acknowledgements
Identifications in this picture derive from a group effort spearheaded by ADK along with his cousin Pearl Krikorian McBride, sister Alice Krikorian Gulbankian, the late Sahag and Sharkey Davagian, Bizer Simonian and others.  Efforts to fill in the few remaining 'blanks' with Gunkamayr Oghda Boghosian in Fowler, California were unsuccessful.  She confirmed those that we had but the unidentified remained unidentified as far as she was concerned.  Not a bad batting average.  Sadly, everyone in the photograph including those who were kids at the time is deceased.
Endnotes
[1] Modern phonologists would probably have a conniption over our spelling in transliteration.  Happily there is little chance they will ever encounter this Posting.  Suffice it to say, we have attempted to produce a spelling that will reflect (phonetically) the pronunciation.  There are very few these days who speak "Keghatsi Kharpertsi", that is Village Kharpertsi.  What a pity because it is a very colorful dialect and is replete with loan words.
[2] After considerable work we were able to convince the Division of Prints and Photographs of the Library of Congress to accept the material as a gift from K.S. Melikian's daughter, Mary Christine Melikian.  See  http://www.loc.gov/pictures/item/2015645298/
[3] "Armenian Master Photographer Kazar Sarkis Melikian Collection and Melikian Photo Studio Work Donated to the Prints and Photographs Division of the Library of Congress.  K.S. Melikian's Daughter Mary Christine Melikian Passed Away 22 September 2015 (unexpectedly and peacefully) the morning after an "open letter of thanks" to those involved in the project had been completed."  Armenian News Network / Groong October 15, 2015.  See http://groong.usc.edu/orig/ak-20151015.html
[4] See " Mary Christine Melikian of Worcester, Massachusetts died at the age of 89 on 22 September 2015.  A SAD NOTE OF PASSAGE, AND A HAPPY NOTICE OF A MAJOR LEGACY OF PHOTOGRAPHS FOR ARMENIANS AT THE LIBRARY OF CONGRESS: Commentary, and a Notice of a Video Posting on You Tube by Taylor and Krikorian entitled "Kazar Sarkis Melikian Studio, Worcester, Mass."  Mary's father, Kazar Sarkis Melikian, was an important preserver and photographer of Armenian heritage and the Armenian experience – from Kharpert to America.  The video was made in 2006 and can be seen at: https://www.youtube.com/watch?v=zyenw3n7xJA.  Those Interested in Armenian and Armenian-related Photos Can Show their Commitment to Preservation of their Heritage.  What follows includes an overview of the Melikian Project.  It includes a letter of thanks from Mary completed and finalized late in the afternoon the day before she died peacefully and unexpectedly. Armenian News Network / Groong October 11, 2015.
[5] "Armenian Master Photographer Kazar Sarkis Melikian Collection and Melikian Photo Studio Work Donated to the Prints and Photographs Division of the Library of Congress.  K.S. Melikian's Daughter Mary Christine Melikian Passed Away 22 September 2015 (unexpectedly and peacefully) the morning after an 'open letter of thanks' to those involved in the project had been completed."  Armenian News Network / Groong, October 15, 2015  http://groong.usc.edu/orig/ak-20151015.html
 [6] Paul was one of those rare individuals who was gifted with a prodigious memory for names and exact circumstances.  His easy going, and humor-loving personality endeared him to all who knew him.  There are [or used to be] a huge number of yellow sticky notes attached to spare photos or copies of photos protected in archival shields in the K.S. Melikian Collection.  As it turned out, the father of Paul's wife, Gladys Benneyan, "Charlie" Benneyan, a tailor, died of a heart attack while socializing at the K.S. Melkian's Studio.  The Studio was a gathering place, now and again, for those with some free time.  Buddies would meet in the course of an ever-constant 'open house'.  Paul never met his father-in-law but K.S. Melikian did take a wedding photograph of Gladys' parents.  Paul's parents were married in Korpeh [Armenian Keropeh].  See our posting on Groong http://groong.usc.edu/orig/ak-20150710.html Abraham D. Krikorian and Eugene L. Taylor (July 10, 2015) "A Family Photograph from Korpeh, Kharpert, Old Armenia Bears Forceful Witness to the Genocide", Armenian News Network / Groong.
[7] This is a still ongoing project which is proceeding at a turtle's pace.  "Hope springs eternal in the human breast"? 
[8] See Groong for the posting entitled "A Family Photograph from Korpeh, Kharpert, Old Armenia Bears Forceful Witness to the Genocide", July 10, 2015 at http://groong.usc.edu/orig/ak-20150710.html for details.
[9] https://familysearch.org/locations/saltlakecity-library.  The catalog entry for the Worcester Church records is:-" Church Records, 1897-1988 [Worcester, Massachusetts] Armenian Apostolic Church of Our Saviour. Manuscript on Film) 8 microfilm reels – 35 mm.  Records prior to 1956 chiefly in Armenian; later records in English].  We emphasize that the microfilming ended in 1988.  That means of course that at this point in time 2016, some 17 years are not accessible on microfilm.  A feature of the "Mormon Library" is that microfilms can be requested in advance at any of the LDS Family History Centers.  If a given microfilm is 'popular enough' to be requested for renewal enough times, then the copy is retained at the local site.  Costs of potential digitizing are another matter.  So far, we have not been impressed by efforts on the part of the 'Armenian Community' to secure any of their heritage that may be available through Church records.  For example, and incredibly, the Worcester Church claims not to have copies of the microfilms.
[10] The photograph is reproduced on page 66 of Pamela E. Apkarian-Russell's "Armenians of Worcester" (Arcadia, 2000).  It is erroneously identified as being taken in front of the Laurel Street Armenian Church of Our Saviour.  The Church was clapboard as was the house on Chandler Street.  This kind of small error was rational but as frequently occurs, wrong.
[11] David French et al. (1973) Aṣvan 1968 - 1972.  An interim report.  Anatolian Studies. Journal of the British Institute of Archaeology at Ankara vol.  23, 301 pages.
[12] On our last visit with her, she said that her copy of the photograph was in the Bank for safe keeping.]
[13] Indeed one of ADK's sisters-in-law had a paternal Grandmother, Mariam Nordigian - Diggin Haroutiun Nordigian - who came over before the genocide from the village of Tadem.
[14] See Eugene L. Taylor and Abraham D. Krikorian (2011) "Educating the Public and Mustering Support for the Ratification of the Genocide Convention: Transcript of United Nations Casebook Chapter XXI: Genocide, a 13 February 1949 Television Broadcast Hosted by Quincy Howe with Raphael Lemkin, Emanuel Celler and Ivan Kerno." War Crimes, Genocide & Crimes against Humanity Volume 5, pgs. 91‐124.
https://www.youtube.com/watch?v=CXliPhsI530
[15] Fortunately they were rather skillfully removed by an Armenian physician in Adana, surnamed Krikorian (no relation).
[16] It has not been possible to trace either the bee-hive village of Ordee or the head of the household who took her in, Osso Hydan Chorteh Rashid.  A fellow American who was spending a lot of time with Kurds from that general area and had kindly agreed to take on the task for us was not able to make any progress on that front.  The village was then occupied by semi-nomadic Kurds and residents would go 'to tent' in the summer for grazing [yaa'zihn ger'taik].  Osso insisted that ADK's mother Takouhie hide whenever Turks, whether gendarme or soldiers, appeared at the village to carry out 'clean up' operations so as to retrieve Armenians who might have escaped their clutches.  That is yet another series of stories.
Redistribution of Groong articles, such as this one, to any other media, including but not limited to other mailing lists and Usenet bulletin boards, is strictly prohibited without prior written consent from Groong's Administrator.
Copyright 2016 Armenian News Network/Groong. All Rights Reserved.
| Home | Administrative | Introduction | Armenian News | World News | Feedback |