Armenian News Network / Groong
---
Ninety-three Years ago Today: the fires of Smyrna are still smoldering and not totally out. Reports by credible witnesses are today forgotten. Forceful Witnesses to the Genocide are muted, and the Republic of Turkey issues a boastful stamp in 1972 commemorating the 50th anniversary of the entry of the glorious Turkish Army into Izmir.
Special to Groong by Abraham D. Krikorian and Eugene L. Taylor
September 22, 2015
LONG ISLAND, NY
It is generally acknowledged that the victors of any given conflict reserve the right in some fashion or other to tell their story most forcefully.
The Turkish stamp below so far as we know, is the only one issued to celebrate and commemorate the victorious entry of the Turkish Armey into Smyrna.
<![if !vml]>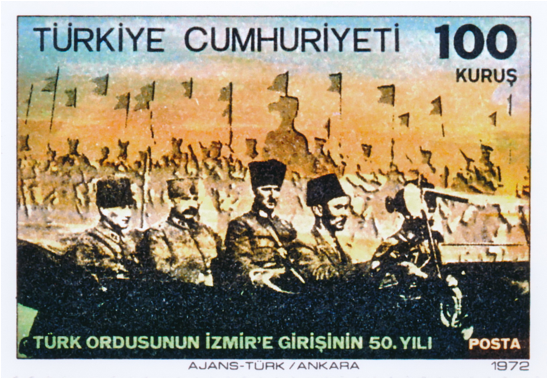 <![endif]>
But there is another perspective that various articles in the New York Times reported about what went on at the time. For example, one published on September 22, 1922 pg. 2 reported that
"Although eight days have passed since the fire obliterated Smyrna, 75,000 survivors remain exposed on the quay, destitute, distracted and abandoned. No allied vessel has offered to salvage this last wreckage of human life. Nearly a dozen warships remain in the harbor, but none has shown a disposition to aid the wretched population except for the American destroyers. Deportations continue and Turkish soldiers are beginning to carry off the Greek and Armenian girls, leaving their parents in a frantic state." … "At intervals Turkish soldiers are driving groups from the quay through the ruined city to unknown destinations in the interior. Many must die on the roadside before they go far."…"Smoke is still emerging from the ruins. The Turkish authorities explain that this is due to the burning of human bodies."…
The Smyrna Holocaust is a well-documented story and there are many papers and books analyzing it. One of the very best relatively short and very well illustrated contributions, we think, is written by our friend, Nikolaos Hlamides. There is little doubt that the Turks burned Smyrna [Giaour Infidel, Izmir]. Nikos' paper is entitled: "The Smyrna Holocaust: the final phase of the Greek genocide", in The Genocide of the Ottoman Greeks. Studies on the State-Sponsored Campaign of Extermination of the Christians of Asia Minor (1912-1922) and its aftermath, history, law, memory (eds. Tessa Hofmann, Matthias BjŅrnlund, Vasileios Meichanetsidis), Aristide D. Caratzas, New York and Athens, 2011, pp. 195-244.
A still more recent work that we can recommend is The Great Fire, One American's Mission to Rescue Victim's of the 20th Century's First Genocide by Lou Ureneck (HarperCollins, 2015).
Redistribution of Groong articles, such as this one, to any other media, including but not limited to other mailing lists and Usenet bulletin boards, is strictly prohibited without prior written consent from Groong's Administrator.
Copyright 2015 Armenian News Network/Groong. All Rights Reserved.
| Home | Administrative | Introduction | Armenian News | World News | Feedback |